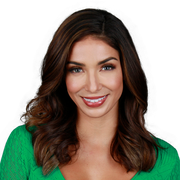 Bianca Peters is the co-host of Good Day New York weekdays from 7 a.m. - 10 a.m.
Peters joined FOX 5 in September 2019.  She was previously the co-host of Good Day Wakeup weekdays from 4:30 a.m. – 7 a.m.
Peters comes to FOX from WFOR-TV in Miami, Florida, where she served as a traffic anchor and sports reporter. Prior to that, she was a news anchor and reporter for KOBI-TV in Medford, Oregon. Previously, Peters held the position of host and segment producer for JUCE TV in Tustin, California.
Before that, she served as a host and reporter for ESPN's X Games in Los Angeles, California. Peters began her career in broadcasting as a sports anchor and reporter for College Beat Productions in Long Beach, California. A graduate of California State University, she holds a Bachelor of Arts degree in Communications.
The latest from Bianca Peters