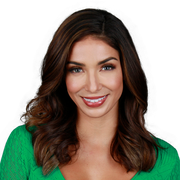 Bianca Peters is the co-host of Good Day New York weekdays from 7 a.m. - 10 a.m.
Peters joined FOX 5 in September 2019.  She was previously the co-host of Good Day Wakeup weekdays from 4:30 a.m. – 7 a.m.
Peters comes to FOX from WFOR-TV in Miami, Florida, where she served as a traffic anchor and sports reporter. Prior to that, she was a news anchor and reporter for KOBI-TV in Medford, Oregon. Previously, Peters held the position of host and segment producer for JUCE TV in Tustin, California.
Before that, she served as a host and reporter for ESPN's X Games in Los Angeles, California. Peters began her career in broadcasting as a sports anchor and reporter for College Beat Productions in Long Beach, California. A graduate of California State University, she holds a Bachelor of Arts degree in Communications.
The latest from Bianca Peters
Matt Ford, one of the first Americans to be infected with monkeypox in this current outbreak, detailed his experience with the illness. Although he's on the road to recovery, he said it's been painful and disruptive.
It's a sight New Yorkers see all the time whether they scurry past you on the streets or they're dragging full slices of pizza down subway stairs.
With October being Breast Cancer Awareness Month, it's is always a good time to remind women to get their yearly mammogram. Getting a mammogram can be a nerve racking experience, between the anxiety and discomfort some women are simply putting it off. New technology means they don't have to.