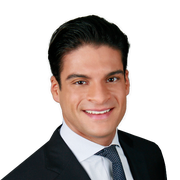 You can find Richard Giacovas most nights on "The 10 O'Clock News" on FOX 5, where he's been a reporter since May of 2019.
 
During his time at FOX 5, Richard has reported on everything from presidential visits to the annual 9/11Tribute in Light at Ground Zero. He also covers the Rockefeller Center Tree Lighting ceremony and has led FOX 5's New Year's Eve coverage for two consecutive years. Most recently, Richard was on the frontlines of the COVID-19 pandemic, reporting on the streets of New Rochelle when the first community-spread case of coronavirus was detected in the city. 
 
Richard loves telling local, human interest stories in Westchester County to the FOX 5 audience. Prior to FOX 5, he covered the streets of the Hudson Valley as a reporter for News 12 networks.
Richard is the recipient of two awards in his career, so far, including Westchester's "40 Under 40 Rising Star Award" and 914 Inc.'s "Westchester Wunderkinds Award."
 
When he's not on TV, you can find Richard at the gym or at the beach. He loves trips, especially ones to Disney World. Richard calls Rye home and loves spending time with his girlfriend, Jenna. 
 
The latest from Richard Giacovas