Mother sucked into plane engine, Fox News meteorologist attacked, the dirtiest cities: This week's top stories
NEW YORK - From a Fox News meteorologist attacked on a NYC subway train, to Chase locking up some ATMs at 5 p.m. due to crime, here's a look at the top viewed stories on FOX5NY.com from Jan. 22 to Jan. 27:
RELATED: Illegal pot stores, officers reportedly caught having sex in car, COVID boosters: Top stories for Jan. 15-21
Mother of 3 sucked into plane engine was warned to stay back: NTSB
1. An Alabama airport worker who was sucked into a plane engine was pulled in so violently that it shook the entire aircraft.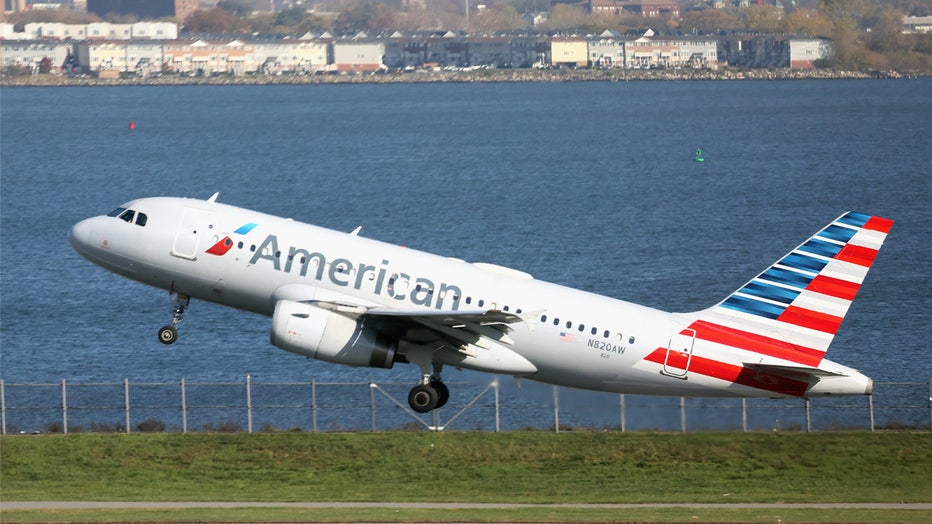 An American Airlines jet takes off at LaGuardia Airport on Nov.10, 2022 in Queens. (Photo by Bruce Bennett/Getty Images)
Federal investigators say she had been warned to keep her distance from the engine.
She died after being sucked into a plane engine at Montgomery Regional Airport on New Year's Eve. She is being remembered as a "loving mother" of three children.
Courtney Edwards, 34, was a ramp agent for Piedmont Airlines. She was killed shortly after an Embraer 170 plane operated by Envoy Air landed at Montgomery Regional Airport with 63 passengers on board.
A report from the NTSB said the aircraft involved in the incident "shook violently" and shut off with a "bang" when it happened.
The preliminary report states the aircraft had an inoperative auxiliary power unit and that its captain signaled for it to be connected to ground power after arriving from Dallas, opting to "leave both engines running for the required two-minute engine cool down period."
As the captain was shutting off the plane's right engine, he received a message that the aircraft's front cargo door had opened and "the first officer opened his cockpit window to inform the ramp agent that the engines were still operating," the report says.
MORE: American Airlines worker killed in incident at Alabama airport
The NTSB found that the captain then told passengers to remain seated until the seat belt sign turned off and said to his colleague that the airplane's left engine would be shut down after it was connected to ground power.
The NTSB, citing surveillance video, said Edwards was seen "walking along the leading edge of the left wing and directly in front of the number one engine" before she was "subsequently pulled off her feet and into the operating engine."
The report said just prior to the plane's arrival, the ramp agents held two safety briefings "to reiterate that the engines would remain running until ground power was connected."
Fox News meteorologist attacked on subway train
2. FOX News meteorologist Adam Klotz is recovering from a brutal subway attack in New York City.
Klotz was riding a train early Sunday morning when he saw a group of four teenagers smoking marijuana on the train and allegedly trying to light a passenger's hair on fire.
He intervened, and the group turned on him. They started beating him and even chased him to another subway car when he tried to escape.
Klotz was left with bruised ribs, black eyes and cuts on his face.
The NYPD says it happened just after 1 a.m. on a southbound 1 train as it was approaching the 18th St. and 7th Ave. station in Manhattan.  The four teens and Klotz all got off the train.
EMS took Klotz to NYC Health + Hospitals/ Bellevue in stable condition.
MORE: Fourth suspect arrested in NYC subway attack of Fox News meteorologist
Prior to joining FOX News, Klotz served as a weekend meteorologist and multimedia journalist for FOX 5 in Atlanta, Georgia.
A fourth suspect has been arrested in connection with the brutal New York City subway attack of FOX News meteorologist Adam Klotz, the NYPD announced.
Chase locking up some ATMs at 5 p.m. due to NYC crime
3. Some Chase ATMs in the city are no longer available around-the-clock.
Chase Bank announced that various ATM vestibules will be closed at the same time as the branches due to rising crime and vagrancy.
In a response to a tweet calling a locked ATM "annoying" Chase Support said that it decided to close "several" ATM vestibules at 5 p.m. or 6 p.m.
A company spokesperson said that the lockdowns may be temporary.
It is not clear which locations are affected but FOX 5 News saw one on the Upper East Side that is now closing nightly at 10 p.m.
New York City Mayor Eric Adams says he understands why banks would want to close early.
"People don't want to walk into their ATM and see someone urinating, see someone screaming and yelling," Adams says.
This is an ongoing trend in New York City. In August, it was reported that other banks were locking up NYC ATM vestibules to keep out homeless people.
From setting up makeshift shelters to using them to relieve themselves, homeless people have become a nuisance problem at some Midtown Manhattan banks.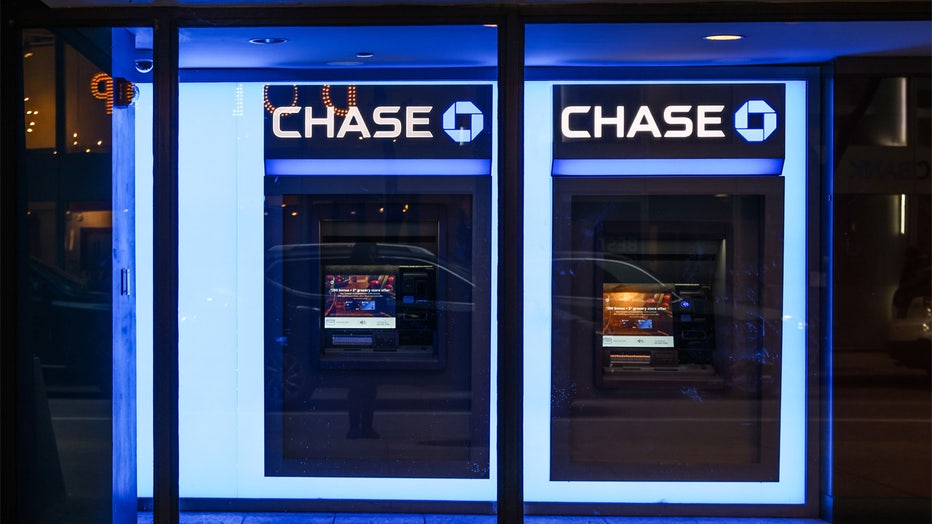 Chase bank ATMs are seen in Chicago on Oct.18, 2022. (Photo by Beata Zawrzel/NurPhoto via Getty Images)
Here are the dirtiest cities in the U.S.
4. In a list that no one wants to be on, Houston has been named the dirtiest city in the United States.
Newark, NJ came in a close second. New York City came in 12th.
The report was compiled by the lawn care company LawnStarter. It looked at various data for 152 cities in the U.S.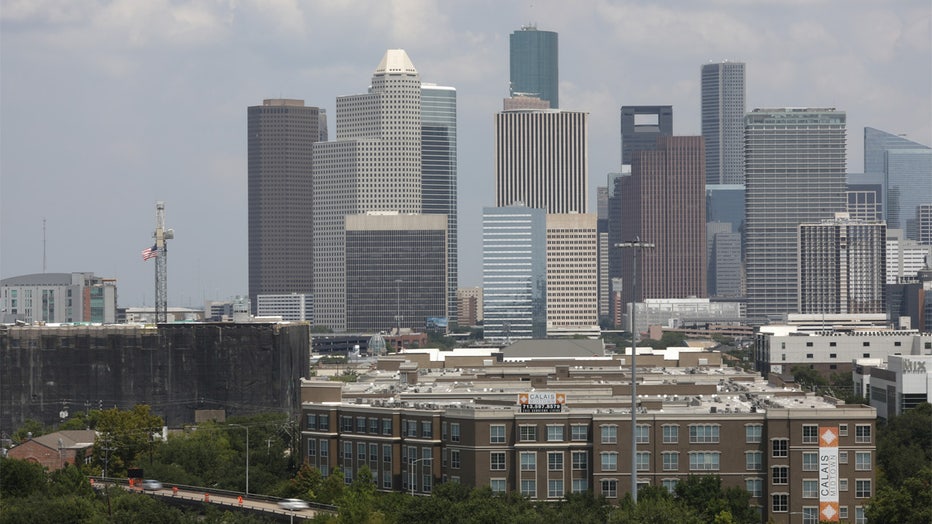 The downtown skyline is pictured on August 25, 2018 in Houston, Texas. (Photo by Loren Elliott/Getty Images)
The report cited Houston's petrochemical facilities for polluting the air, and it cited Houston's high greenhouse gas emissions. It also noted that Houston has a big cockroach issue.
Virginia Beach, Va. ranked best on the list.
Newark was listed as the dirtiest city in the previous report, so it improved one spot because of Houston.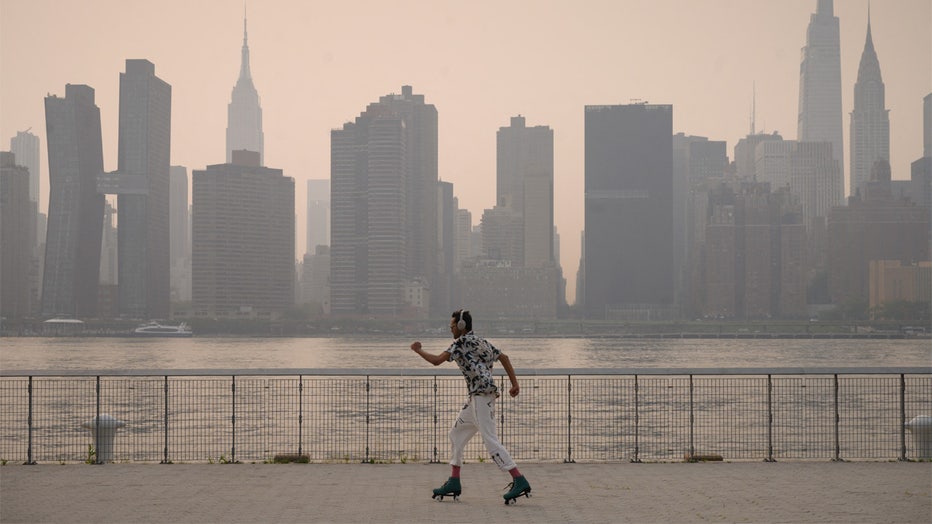 A man skates before the Manhattan city skyline at a Brooklyn park on July 20, 2021. (Photo by ED JONES/AFP via Getty Images)
4 migrants arrested for stealing more than $12K in goods from Long Island Macy's
5. Four migrants who were bused to New York City are facing charges in connection with a snatch-and-grab robbery of a Long Island Macy's store.
It happened earlier this month at the Roosevelt Field Mall in Garden City.
The Nassau County Police Department says they got the call just after 8:30 p.m. on Monday, Jan. 9, 2023, of a larceny committed by four men who took off in a 4-door BMW.
Officers found the car driving eastbound on Ring Road.  They say the driver was committing multiple traffic infractions.
They pulled over the car and say they found $12,489.00 worth of unpaid merchandise.
Wrallan Cabezas Meza, 19, of the Bronx, Jose Garcia Escobar, 30, Miguel Angel Rojas, 21, and Rafael Rojas, 27, of Manhattan were all arrested.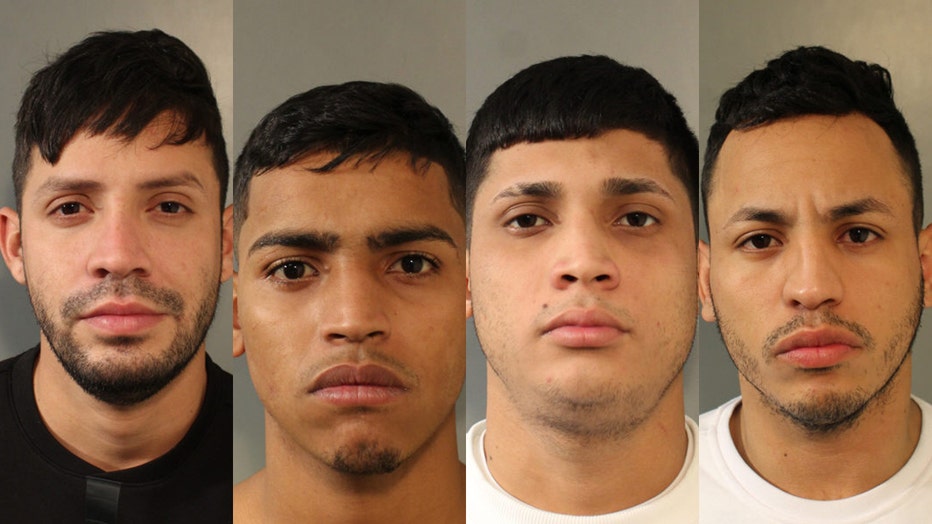 (l-r)Jose Garcia Escobar, Miguel Angel Rojas, Wrallan Cabezas Meza, Rafael Rojas
All four were charged with Grand Larceny in the 3rd Degree.
Meza was issued multiple traffic citations.
All four were arraigned in Hempstead. Escobar and Rafael Rojas were released with no bail.
Police say all the stolen merchandise was returned to Macy's.  They did not detail what items were stolen.
According to Newsday, Nassau County police said the four may have ties to a South American thievery ring.