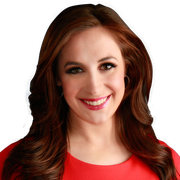 Teresa Priolo joined FOX 5 News in March 2012. As a general assignment reporter, Priolo has covered Superstorm Sandy, the tragedy in Newtown and Super Bowl XLVIII.
Priolo previously spent four years as a reporter and morning anchor at WRGB-TV, the CBS affiliate station in Schenectady, NY. During her time at WRGB, she covered a number of high-profile stories such as the scandal that forced Governor Eliot Spitzer from office and the mass shooting at Binghamton's American Civic Association that claimed the lives of 14 people.
Priolo began her on-air career at KIDK-TV in Idaho Falls, Idaho.
Her first exposure to TV news came as an intern and assignment desk assistant at WFSB-TV in Hartford, CT. Prior to working in TV news, she worked for the British production company, RDF Media, on the network reality series Wife Swap.
A graduate of Fairfield University, Priolo resides in New Jersey with her husband, her child, her Goldendoodle, Duke, and her rescue cat from Idaho named... Ida.
The latest from Teresa Priolo