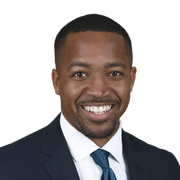 Kendall Green is a general assignment reporter at FOX 5 News.
His career in journalism began as a part-time photographer at 16WAPT News during his junior year at Jackson State University's School of Journalism and Media Studies.
He joins FOX 5 News after two years as a reporter and fill-in anchor for WMAR-2 News in Baltimore, Maryland where his coverage ranged from the city's deadly crime, its root causes, and corruption to the city's rich art, culture, and community activism. Prior to that, Kendall was a multimedia journalist (one-man band) in Waco, TX, and an MMJ/ENG live truck operator at his first station on-air at WDAM in Hattiesburg, Mississippi. That's where he learned to use his position to amplify voices, issues, and characters in the heart of the community. 
The example of journalists, both in front and behind the camera, in his hometown of Jackson, Mississippi kindled his love for storytelling.
Kendall is both excited and grateful to be an eye ear and voice for those who call New York home.
When he's not reporting the news, he is recording music, working out, trying new food, or exploring a new part of town.
If you see Kendall, feel free to say hello and connect with him on social media.
The latest from Kendall Green