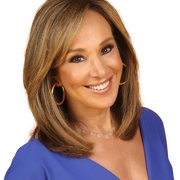 Rosanna Scotto is the co-host of Good Day New York. She has been a member of WNYW-FOX 5 News since 1986.
Scotto began her career in television at WTBS, Ted Turner's UHF television station in Atlanta, where she was a reporter for two local programs and an associate producer of the station's evening newscast.
She returned to her native New York in the early 1980s as a reporter for WABC's "Good Morning New York," which eventually became "Live with Regis and Kathie Lee."
After a year with "Good Morning New York" and "The Morning Show," Scotto joined WABC-TV's "Eyewitness News" as a reporter, where she remained until she joined FOX 5.
Having covered many major stories in the tri-state area, her assignments have also taken her to Israel, Rome, and across the United States. As a reporter, she won an endless string of coveted assignments including the first exclusive interview with Diana Bianchi, the other woman in the Christie Brinkley divorce case, the Woody Allen/Mia Farrow child custody battle, the notorious "Preppie Murder Trial" and the trials of Joel Steinberg and the "Swiss Nanny."
Scotto also led FOX 5 News to the forefront in getting Marty Tankleff a new trial and was granted an exclusive interview with him in jail.
Scotto has won four Emmys for anchoring FOX 5 News at 10 and Good Day New York. She is the winner of the 1995 New York State Associated Press First Place Award for her report "New York Survival Guide" and also the winner of three other Associated Press First Place Awards, including two special Associated Press Award nominations.
Scotto has received a host of honors and awards for her community service work.
She is a graduate of Catholic University and holds a bachelor's degree in fine arts. She received an honorary doctorate from Mount St. Mary College in 2014. She also received an honorary doctorate from St. John's University.
Born and raised in Brooklyn, Scotto lives in the New York area with her husband and their two children.
The latest from Rosanna Scotto