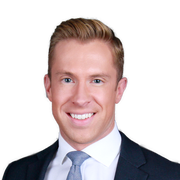 Thrilled to be calling New York home once again, Chris Welch is the anchor of "The Noon" and a general assignment reporter for Fox 5 News. He covers everything from breaking news, to politics and the trendiest pancake joint in town.
Chris got his start in the news business thanks to a high school internship at KTIV in Sioux City, Iowa. Since then, his career has taken him around the country—and internationally.
Following graduation from the University of Nebraska-Lincoln, Chris was hired as CNN's Iowa-based producer covering the first-in-the-nation 2008 presidential caucuses. When then-Senator Barack Obama came out of the Hawkeye State on top of the field of democratic candidates, Chris was assigned to travel full-time with the presidential hopeful's campaign covering his historic path to the presidency.
In the years since, he's worked as a CNN reporter and producer in both Minneapolis and New York where he covered stories ranging from an Amish beard-cutting cult in Ohio, to the 100th anniversary of the sinking of the Titanic, which included live reporting from the North Atlantic Ocean.
Most recently Chris was a national correspondent for E.W. Scripps based in Denver, where his work could be seen in dozens of local markets. While at Scripps, he covered a variety of stories, ranging from migrants seeking asylum at both of the U.S. borders, to every type of natural and man-made disaster.
Chris is an Emmy Award-winner and was part of CNN's Peabody Award-winning coverage of the 2008 presidential election.
The latest from Chris Welch