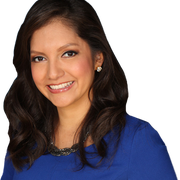 Ines Rosales
Traffic Reporter
Ines Rosales is the traffic anchor on Good Day New York. She joined FOX 5 in April 2007. Rosales joined FOX 5 from Metro Traffic, where she worked both as a reporter and camera operator, controlling the traffic and sky cameras for five New York City television stations. She also served as traffic reporter on various radio stations both in English and Spanish, NY1 and was a freelance traffic anchor for WNBC. A New Jersey native from Newark and Belleville, Ines's parents are from Guatemalan. She has a lot of family still there and visits as much as she can. She graduated from Montclair State University with a Bachelor of Arts degree in 2004. Ines has covered many traffic incidents throughout her career at FOX 5. But some of the major ones are weather-related. There's the Blizzard in Feb. 2008 that left cars stranded under snow on the Long Island Expressway. As well as, Hurricanes Irene and Sandy. Sandy significantly impacted the commute for the tri-state area for weeks with the suspension of mass transit and the inundated tunnels with water. When she's not updating you on the conditions of the road and rails and telling you what to avoid, Ines likes to visit museums and hike the Palisades. She is also involved with a lot of motivation programs, inspiring young adults.
The latest from Ines Rosales
Firefighters continued to put out hotspots of a five-alarm fire at a garbage facility on Long Island that disrupted LIRR service for several hours.
If you're still looking for a holiday gift to give, think self-care, spirits and even some new gadgets to help you get that list all crossed off.
Penn Station is in the middle of a multi-million dollar renovation.  But at one point it was a much larger and grander transportation hub.