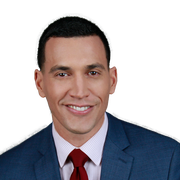 Dan is the host of Good Day Wakeup weekdays from 4:30 a.m. – 7 a.m.
The three-time Emmy Award winner is also the host of a true crime podcast called "The Tape Room With Dan Bowens."   In addition, he also writes and helps produce FOX 5's Emmy nominated series, "Jazz Stories."
In 2018, Dan was part of a team at WNYW that won a New York Emmy for a special report on Autism. In 2015, Dan was nominated for a NY Emmy Award for General Assignment Reporting. He also helped launch three other Emmy-nominated series at the station, "The Big Idea," "FOX Docs" and "FOX 5 Films."
Prior to working with FOX 5 in New York City, Dan worked at WRAL-TV in Raleigh, NC where he won two regional Emmy Awards. He also worked at WINK-TV in Fort Myers, Florida and KEPR-TV in the Tri-Cities, Washington.
Dan has been active in the community, volunteering his time at schools and other community organizations. He has also served as Master of Ceremonies for numerous events, including at the famed Apollo Theatre in Harlem, and the annual Cultural Awareness Salute Gala with the Black Culinary Association.
A New Jersey native, Dan, his wife, and their three children call the Garden State home.
The latest from Dan Bowens