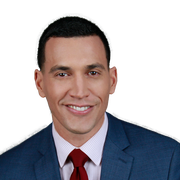 Dan is the cohost of Good Day Wakeup weekdays from 4:30 a.m. – 7 a.m.
The five-time Emmy Award winner is also the host of a true crime podcast called "The Tape Room With Dan Bowens."   In addition, he also writes and helps produce FOX 5's Emmy-nominated series, "Jazz Stories."
In 2021, Dan anchored the Sunday evening broadcast on FOX 5 that won the NY EMMY Award for Weekend Newscast. The honor recognized the entire FOX 5 News weekend team for coverage of George Floyd protests in New York City.
Prior to working with FOX 5 in New York City, Dan worked at WRAL-TV in Raleigh, NC where he won two regional Emmy Awards. He also worked at WINK-TV in Fort Myers, Florida and KEPR-TV in the Tri-Cities, Washington.
Dan has been active in the community, volunteering his time at schools and other community organizations. Dan is also a member of the Selection Committee for Big Brothers Big Sisters of Essex, Hudson & Union Counties.
A New Jersey native, Dan, his wife, and their three children call the Garden State home.
The latest from Dan Bowens