Jordan Neely: At least 11 protesters arrested, Molotov cocktail found
NEW YORK CITY - It was another night of unrest on New York City streets, as a Monday protest demanding justice for Jordan Neely ended in at least 11 arrests.
Demonstrations started out peacefully, as protesters returned to the Broadway-Lafayette station where the 30-year-old Neely lost his life, demanding justice and accountability.
RELATED: Jordan Neely: What we know about his subway chokehold death
But the situation quickly escalated, as the crowd spilled out into oncoming traffic and refused to stop, using a microphone system, even after being ordered by police to do so.
Protesters yet again clashed with police, resulting in several arrests.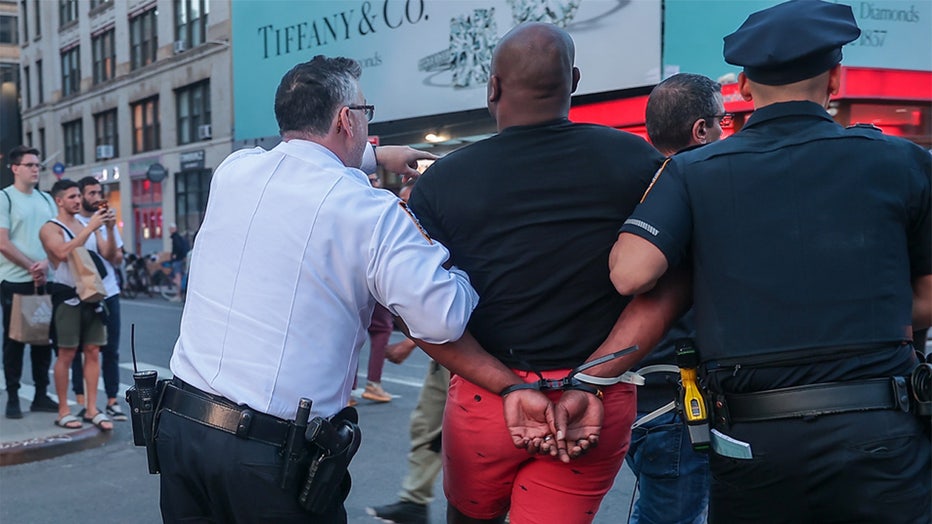 Protesters are taken into custody by the police. (Photo by Selcuk Acar/Anadolu Agency via Getty Images)
NYPD Chief of Department Jeffrey Maddrey confirmed the arrests during a press conference Monday night, and said police monitoring the protests also discovered a Molotov cocktail on the ground.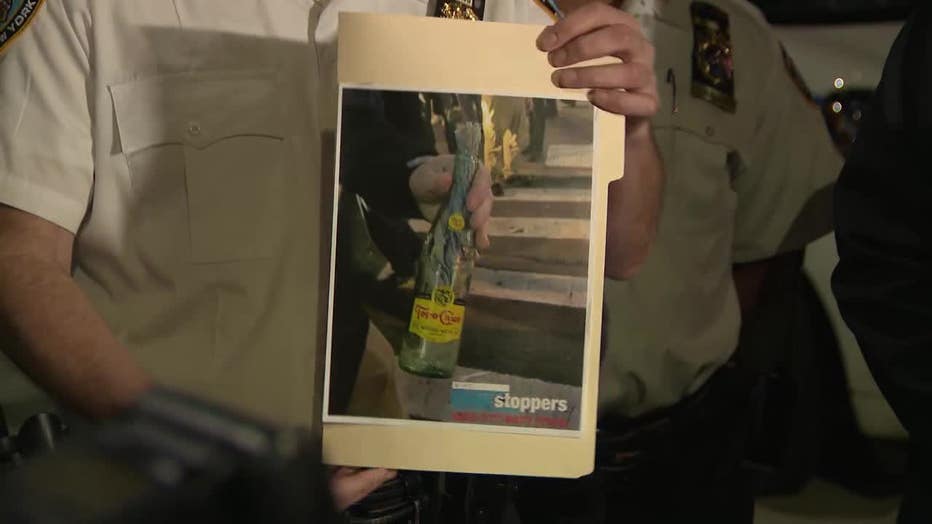 Molotov cocktail found at the scene.
RELATED: NYPD seeks 6 protesters accused of storming NYC subway tracks
"We cannot have people coming out to protest, at what we want to be a peaceful protest, bringing out dangerous substances like this," Maddrey said. "As you can see, it's a glass bottle with a liquid in there. We don't know what the liquid is as of yet. It has not been tested."
Protests over Jordan Neely's death
The NYPD is looking for several people accused of storming city subway tracks over the weekend as a call for justice in the chokehold death.
Police arrested 13 people Saturday night for fighting with officers, and are still seeking six others in connection with the protest that unfolded inside the Lexington Avenue/63rd Street subway station on the Upper East Side.
Demonstrators jumped onto the tracks, forcing an inbound 'Q' train with hundreds of passengers on board to come to an abrupt halt as it pulled up to the platform. 

How did Jordan Neely die?
The death of Neely was ruled a homicide by the New York City Medical Examiner's Office, sparking public outcry, with many calling for 24-year-old Marine Veteran Daniel Penny to be placed under arrest.
According to the medical examiner, Neely died just over a week ago as a result of compression of his neck caused by the chokehold.
Video showed riders on a northbound 'F' train attempting to subdue Neely, who was in the midst of an apparent mental breakdown. Lying on the floor of the subway car, the Marine veteran had Neely in a sleeper hold from behind while another man tried to immobilize his arms.
A separate video showed EMTs attempting to revive him.
The DA's office is still weighing whether to charge Penny.
How are elected officials reacting to Jordan Neely's death?
In the absence of video showing what happened before the chokehold, many were reserving judgment.
MORE: Adams responds amid outrage over homeless man's death
Among them was Mayor Eric Adams, who stressed the importance of letting the investigation play out.
"Let's let the DA conduct the investigation with law enforcement officials," Adams said. "To really interfere with that is not the right thing to do."
How is Neely's family responding? 
The law firm representing the Long Island veteran insists he was acting in self-defense, and offered condolences to those close to Neely.
But Neely's family responded directly to Penny's attorneys in a statement:
"Daniel Penny's press release is not an apology nor an expression of regret. It is a character assassination, and a clear example of why he believed he was entitled to take Jordan's life. In the first paragraph he talks about how 'good' he is and the next paragraph he talks about how 'bad' Jordan was in an effort to convince us Jordan's life was 'worthless.' The truth is, he knew nothing about Jordans history when he intentionally wrapped his arms around Jordan's neck, and squeezed and kept squeezing."
"In the last paragraph, Daniel Penny suggests that the general public has shown 'indifference' for people like Jordan, but that term is more appropriately used to describe himself. It is clear he is the one who acted with indifference, both at the time he killed Jordan and now in his first public message. He never attempted to help him at all. In short, his actions on the train, and now his words, show why he needs to be in prison."