Jordan Neely protests end in multiple arrests as victim's family speaks out
NEW YORK CITY - A protest demanding justice for Jordan Neely ended in several arrests on Monday, after Neely's family said that 24-year-old Marine veteran Daniel Penny, needed 'to be in prison.'
Monday's demonstration turned into a clash with police after some protesters refused to stop using a microphone system.
Neely's family was responding to a statement released Friday by attorneys for Daniel Penny, whom video showed holding Neely in a headlock on the NYC subway before Neely died.
In a statement, Neely family attorneys Donte Mills and Lennon Edwards said:
"Daniel Penny's press release is not an apology nor an expression of regret. It is a character assassination and a clear example of why he believed he was entitled to take Jordan's life. In the first paragraph he talks about how 'good' he is and the next paragraph he talks about how 'bad' Jordan was in an effort to convince us Jordan's life was 'worthless.' The truth is, he knew nothing about Jordans history when he intentionally wrapped his arms around Jordan's neck, and squeezed and kept squeezing."
"In the last paragraph, Daniel Penny suggests that the general public has shown 'indifference' for people like Jordan, but that term is more appropriately used to describe himself. It is clear he is the one who acted with indifference, both at the time he killed Jordan and now in his first public message. He never attempted to help him at all. In short, his actions on the train, and now his words, show why he needs to be in prison."
How did Jordan Neely die?
Neely was reportedly having a mental breakdown last week on a northbound 'F' train – behaving erratically and pacing back and forth – when video showed 24-year-old Daniel Penny put him in a chokehold, with two others helping to hold him down.
RELATED: What we know about the death of Jordan Neely
Video of the encounter quickly went viral.
The medical examiner's office ruled Neely's death a homicide caused by compression on the neck.
Penny was briefly taken into custody, questioned and then released, sparking outrage across the city. Many took their anger out into the streets.
Attorneys for Penny release statement
On Friday, attorneys for the Marine veteran released a statement. It reads: 
"We would first like to express, on behalf of Daniel Penny, our condolences to those close to Mr. Neely. Mr. Neely had a documented history of violent and erratic behavior, the apparent result of ongoing and untreated mental illness. When Mr. Neely began aggressively threatening Daniel Penny and the other passengers, Daniel, with the help of others, acted to protect themselves, until help arrived. Daniel never intended to harm Mr. Neely and could not have foreseen his untimely death.
"For too long, those suffering from mental illness have been treated with indifference. We hope that out of this awful tragedy will come a new commitment by our elected officials to address the mental health crisis on our streets and subways."
The Manhattan DA's Office has launched an investigation into Neely's death, reviewing videos, taking a closer look at the ME's report, and interviewing witnesses to see if charges are warranted. The case could even go before a grand jury this week.
Upper East Side weekend protests
The NYPD is looking for several people accused of storming city subway tracks over the weekend as a call for justice in the chokehold death.
Police arrested 13 people Saturday night for fighting with officers, and are still seeking six others in connection with the protest that unfolded inside the Lexington Avenue/63rd Street subway station on the Upper East Side.
RELATED: Protesters clash with police, jump on subway tracks
Demonstrators jumped onto the tracks, forcing an inbound 'Q' train with hundreds of passengers on board to come to an abrupt halt as it pulled up to the platform.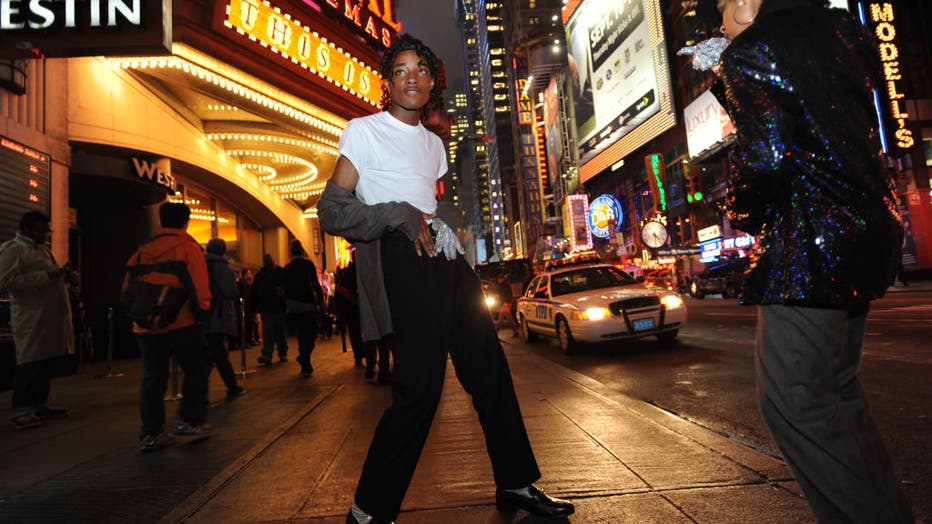 Jordan Neely is pictured before going to see the Michael Jackson movie outside the Regal Cinemas in Times Square in 2009. (Andrew Savulich/New York Daily News/Tribune News Service via Getty Images)
Neely was once best know for impersonating Michael Jackson. He was experiencing homelessness, and witnesses said he was shouting about his situation right before he was restrained on the train.