New York weather: Thunderstorms, heavy rain Thursday into Friday
NEW YORK - A cold front that is moving across the Northeast on Thursday has the potential to trigger severe weather in the metropolitan New York City region. The front will bring thunderstorms, moderate to heavy rainfall, and gusty winds to parts of New York, New Jersey, and Connecticut, according to forecasters.
"A strong frontal system will bring moderate to locally heavy rainfall, gusty winds, and isolated thunderstorms to the region, mainly across eastern sections going through tonight," the National Weather Service said. "Scattered heavy downpours and isolated to scattered thunderstorms are likely this evening and into the overnight further east."
The worst of the storm is expected north of New York City and on eastern Long Island.
When is the storm hitting NYC?
Forecasters predicted that scattered heavy downpours and isolated thunderstorms would develop on Thursday afternoon and evening. The heaviest rain occurs late Thursday evening and overnight but may persist for eastern Long Island and southeast Connecticut into Friday morning.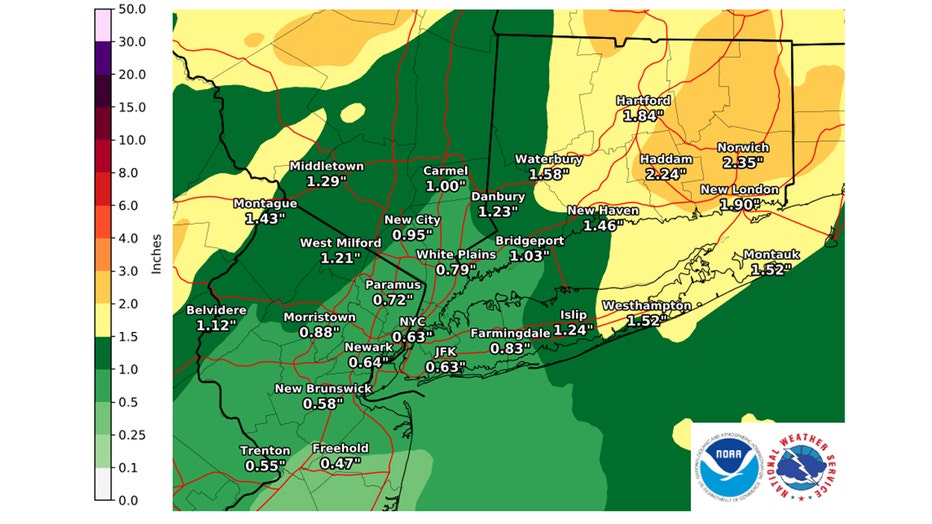 The official National Weather Service forecast of expected rainfall from Oct. 13, 2022, at 3 a.m. through Oct. 16, 2022, at 4 a.m. (National Weather Service New York Office)
Heavy Rain and Other Hazards
Rainfall rates of 1/2 to 1 inch per hour are possible
A widespread 0.5 to 1.5 inch rainfall is expected further west, with the heaviest rain expected across eastern areas
A Flood Watch is in effect for central and eastern Connecticut where 2 to 3 inches of rainfall is expected, with some locally higher amounts
Areas of minor urban and poor drainage flooding along with localized flash flooding possible
Sustained southeast winds of 10 to 20 mph with gusts of 45 to 50 mph
Isolated wind gusts in excess of 58 mph are possible late Thursday and overnight, especially east and northeast in any thunderstorms
Weather Resources
Follow the FOX 5 Weather Team on Twitter