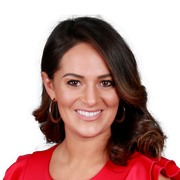 Briella Tomassetti joined the Fox 5 New York news team in April 2019 as a general assignment reporter.
A native New Yorker, Tomassetti was born in Queens and raised on Long Island.
She graduated Magna Cum Laude from the University of Delaware with a B.A. in Mass Communication and minors in Journalism and Italian Studies.
Tomassetti began her career as a student journalist by writing, editing, and field producing weekend segments for sister station FOX 29 Philadelphia.
Shortly after graduating from college, she landed a job reporting and producing for WRDE-TV, an NBC affiliate in Rehoboth Beach.
Tomassetti then moved on to report for hyper-local cable station Fios1News, exclusively covering breaking news stories on and around Long Island.
During her free time, she enjoys singing, playing the piano, and spending quality time with her pup, Mr. Chester.
The latest from Briella Tomassetti