New York weather: Remnants of Ian affecting area
NEW YORK - Hurricane Ian has fallen apart but the storm's remnants are still affecting the greater New York City region.
The New York and New Jersey region will likely see moderate rain through Wednesday, according to the National Weather Service. Rainy, breezy, and cool conditions are lingering from the Mid-Atlantic to southern New England.
"A stubborn upper-level low will remain entrenched over the Mid-Atlantic for at least another day, continuing the rainy, breezy, and cool conditions that have plagued the region since the weekend," the National Weather Service said. "Another 1-2 inches of rain are possible along and east of the I-95 corridor through the Mid-Atlantic and along the coast in southern New England. Fortunately, rainfall rates have been relatively low keeping the threat for any flash and urban flooding down. Breezy conditions will also continue, particularly along the coast, and coastal flooding will remain a concern."
Coastal Flood Advisories are posted for all of Long Island and western Connecticut, all of coastal New York City, and all of coastal New Jersey. Parts of coastal New Jersey are under Coastal Flood Warnings.
"Lingering coastal low pressure will continue to influence our weather until it pushes off to the east Wednesday," the National Weather Service office in Mount Holly, New Jersey, said. "High pressure builds for Thursday before a cold front crosses the area Friday. More high pressure with cool temperatures arrive for the weekend."
The New York City area will have cloudy skies and periods of showers throughout the day, with temperatures in the upper 40s to mid 50s, according to the National Weather Service office in Upton, New York. Northeast winds of 10-20 mph with gusts reaching 25-35 mph are expected. The strongest winds will be near the coast.
"Widespread minor flooding of vulnerable areas is expected near the waterfront and shoreline, including roads, parking lots, parks, lawns, and homes and businesses with basements near the waterfront," the National Weather Service said. "Some road closures are likely, and vehicles parked in vulnerable areas near the waterfront will likely become flooded. Flooding will also extend inland from the waterfront along tidal rivers and bays. Brief and localized minor flooding is possible during the morning high tide cycle."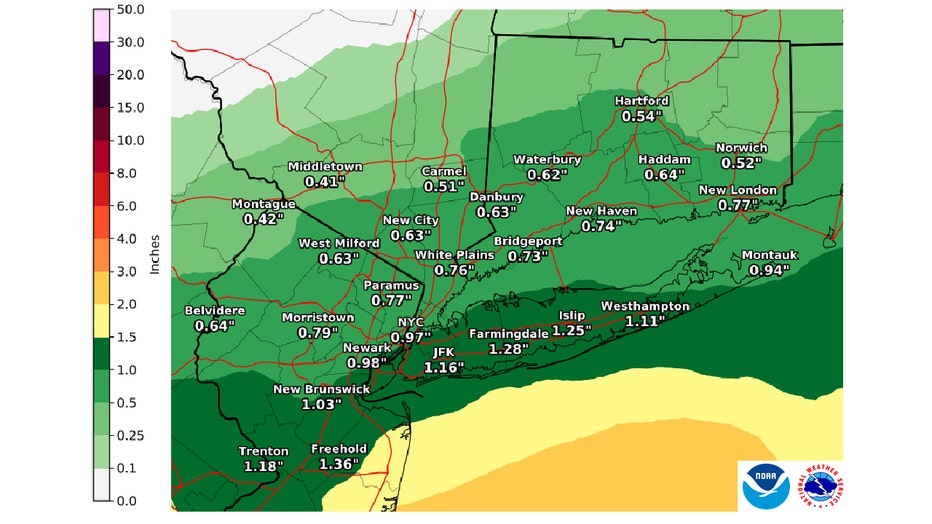 Expected rainfall from Oct. 3 through Oct. 7, 2022. (NOAA/National Weather Service)
Download the FREE Fox 5 NY weather app and always stay updated on storms. Apple App Store: https://apple.co/2GrlPnz Google Play Store: http://bit.ly/2IPSlTd
Weather Resources
Follow the FOX 5 Weather Team on Twitter