The latest developments on the coronavirus pandemic for April 9, 2020
NEW YORK - LIVE BLOG - FOX 5 NY is updating this blog with the latest developments on the coronavirus outbreak so you can get the information in one spot.
11:21 PM: Despite being named "essential businesses," many restuarants across New York City simply aren't making enough money from take-out and delivery and are being forced to close.
11:09 PM: With the federal stockpile drained of protective gear, states are turning to each other, private industries and anyone who can donate in a desperate bid to get respirators, gloves and other supplies to doctors, nurses and other front-line workers.
10:41 PM: New York City's taxi drivers say they are struggling to get by as fares have dried up as a result of the coronavirus pandemic.
9:44 PM: A whopping 72% of Americans polled said they would not attend sporting events should they resume soon without a vaccine for coronavirus.
9:25 PM: Hoboken Mayor Ravi Bhalla says that the city has 14 new coronavirus cases and 3 more residents have died.
9:16 PM: The number of Americans getting on airplanes has sunk to a level not seen in more than 60 years as people shelter in their homes to avoid catching or spreading the new coronavirus. One analyst estimated that air travel demand won't return to pre-outbreak levels until the middle of next year under the best outcome, and it's likely to be later.
8:35 PM: The USPS' 'Informed Delivery' service could help recipients track their COVID-19 stimulus check.
8:05 PM: "Saturday Night Live" will be back on the air this weekend with a show that abides by social distancing rules.
The comedy sketch show will include include a "Weekend Update" news segment and original content from "SNL" cast members, NBC said Thursday.
2:40 PM: A week after New York City officials conceded that wearing a face covering in public could help slow the spread of the coronavirus, New York state officials issue similar but somewhat less urgent guidance; "NYSDOH supports members of the public who choose to wear cloth face coverings in public settings, where social distancing measures are difficult to maintain (e.g., grocery stores and pharmacies), especially in areas of significant community transmission."
2:24 PM: Commissioner Persichilli says she has never seen anything like this where patients come into the hospital and very quickly need respiratory support and decline fast.
2:15 PM: Gov. Murphy: FEMA has committed to hosting its two testing sites through May 31. 
2:06 PM: Commissioner Persichilli: The hospital doubling time is increasing, which is good—that means that the hospitalization rate is slowing.
1:55 PM: Col. Patrick Callahan, NJSP superintendent: Authorities shut down and cited a liquor store in Elizabeth that had a back room filled with people consuming alcohol, a tavern in Paterson that was serving patrons, a barber shop/salon in Brick Township, and a gathering in Union City.
1:47 PM: Commissioner Persichilli: This is a difficult time; social isolation and other things happening cause anxiety; taking care of your mental health is very important right now; you can call this number for support: 866-202-HELP (4357).
1:45 PM: New Jersey Health Commissioner Judith Persichilli: 20 of the new deaths were residents of long-term care homes.
1:27 PM: Gov. Murphy: Marriott says it will provide free rooms at the Marriott Courtyard Newar to nurses and doctors as part of the hotel chain's nationwide Rooms for Responders initiative.
1:24 PM: Gov. Murphy orders a 60-day grace period for health and dental insurance premium payments and 90-day grace period for auto, home, renters, and life insurance premium payments, insurance premium-financing arrangements, and more; "No New Jerseyan should lose their insurance during this emergency."
1:22 PM: Gov. Murphy says unemployment insurance benefits hotline has been overhelmed with calls; assures residents that they will get their benefits; says the state's jobs portal has nearly 50,000 active job listings from more than 630 employers: http://jobs.covid19.nj.gov.
1:20 PM: Gov. Murphy says he closed state and county parks based on facts and in consultation with various authorities; police reported crowded parks and a large number of vehicles with out-of-state license plates in parking lots; says if he opened parks in rural areas then people from all over would "end up on your doorstep."
1:15 PM: Gov. Murphy: Bergen Community College testing site will be open Friday, April 10, and Saturday, April 11, to symptomatic NJ residents only; PNC Bank Arts Center will be open Saturday, April 11, to symptomatic health-care workers and first responders only; you can find information about all testing sites here.
1:08 PM: Gov. Murphy pays tribute to some of the victims of COVID; Kevin Leiva, 24, of Pompton Lakes, was an EMT in North Bergen and at St. Claire's Hospital; "We thank him for his service to our state and our families. We will not forget him."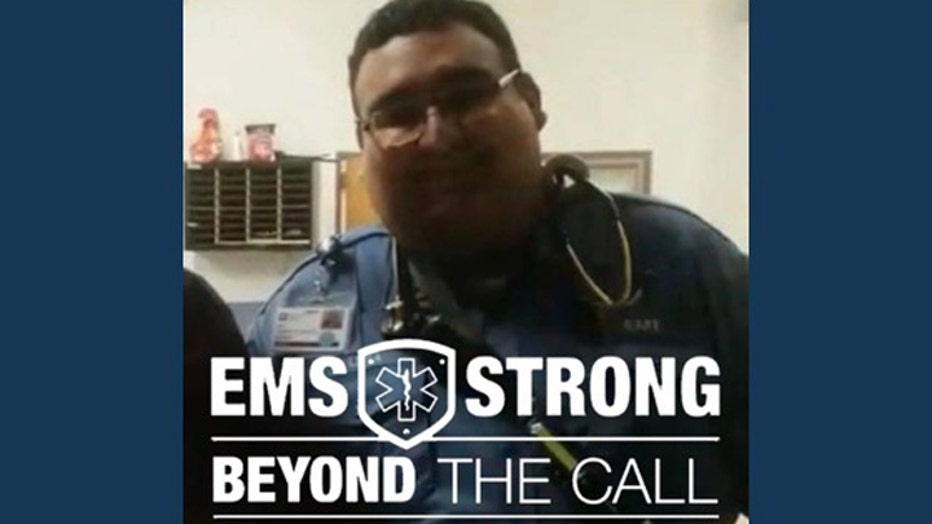 EMT Kevin Leiva of Pompton Lakes, N.J.
1:04 PM: Gov. Murphy: New Jersey has 3,748 new positive cases, statewide total is 51,027; another 198 deaths, 1,700 total.
1:03 PM: New Jersey Gov. Phil Murphy holds an update on the state's response to the coronavirus crisis | WATCH LIVE: https://fox5ny.com/live
12:35 PM: Nassau County hospitals say that there is an urgent need for disposable gowns that medical workers wear.
12:34 PM: A Valley Stream volunteer EMT has died of coronavirus.
12:33 PM: 10 FEMA ambulances are helping in Nassau County.
12:13 PM: "I'm not going to guess," Cuomo says about when things might reopen.  "I have no idea."
12:09 PM: Cuomo says supplies remain an issue.
12:05 PM: Cuomo's announcement on deaths:
https://www.fox5ny.com/news/cuomo-virus-is-effective-killer-799-more-deaths-in-ny
11:57 AM: Cuomo asked about unemployment benefits system crashing: You have the government shut down the private economy. The next shoe to drop is millions of people are going to crash the system that handles the unemployment claims. We're working with Google to come up with a system that bypasses phone certification. Whenever you sign up, your benefits will be retroactive.
Melissa DeRosa, Cuomo aide: Last week there were 350K unemployment claims in NY last week. This week, 810K claims were made in the past three weeks. 600K have been processed. Between 5  pm and 7 pm the system will be down today. At 7 pm the new system will be up. Hopefully it will be more streamlined.
11:55 AM: Cuomo: Today we can say that we haven't lost anyone because they couldn't get the best health care that they could. We didn't loose anyone that we could have saved. 
11:54 AM: Cuomo: We are seeing numbers creep up in Nassau, Suffolk and Rockland. We are watching those closely.
11:50 AM: Cuomo: Before you start talking about restarting the economy, you have to address the present situation. Most of the peope in this state live pay check to pay check. You have families that are in true economic hardship and are impoverished. Our healthcare system is pushed to the max. We did what we had to do to be ready but we have done a lot of damage in the midst that has to be undone. That is something we are working on immediately. We need the federal government to pass legislation that works.  Our costs have been the highest in the country. We were told would bring $6 billion to healthcare it turns out when we read the language it was $1.3B to the state of New York. The funding disqualified one third of New York's medicaid recipients which no one said. I spoke to Sen. Schumer.I spoke to Sen. Gillibrand, this is no time for politics. There is also a mental health issue. We have a growing problem with domestic violence cases. If you need help we have a support hotline.
11:49 AM Cuomo: We are starting a blood drive asking those who are recovering from the virus to donate blood.
11:47 AM: Cuomo: We are going to be bringing in more testing in African American communities.
11:46 AM: Cuomo: There will be an effort called NY Loves where people can help. We will coordinate all the people who want to help.
11:44 AM: Cuomo: There are 799 new deaths reported. The highest number ever. We are going to bring in additional funeral directors to deal with the numbers of people who have passed.  2,753 people died because of 9/11 while 7,067 have died from coronavirus.
MORE: https://www.fox5ny.com/news/cuomo-virus-is-effective-killer-799-more-deaths-in-ny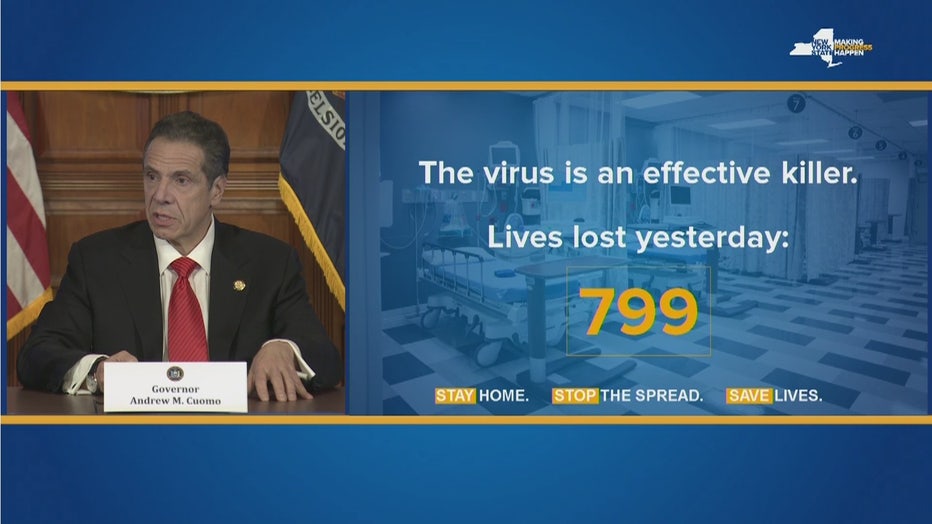 11:40 AM: Cuomo: We are flattening the curve so far. We sould all be concerned. You can't relax. The flatenning of the curve yesterday happened because of what we did the day before and the day before that. I showed the projection models because we can't handle the worst case scenarios. We don't have an option if the curve goes higher. We've had a 200 increase in hospitalizations since this nightmare started.
11:37 AM: Cuomo: We had been using different models. 136,000 people could be hospitalized. We had the McKinsey model that had 110, 000 hospitalized statewide. The Gates study had 73,000 cases statewide. We only have a 53,000 bed capacity in NYS and 36,00 bed capacity in NYC. We are about 18,000 people hospitalized statewide right now. We are at a 90,000 bed capacity.
11:36 AM: Cuomo: It's been 80 days since we've had the first COVID case in the United States. 
11:35 AM: Gov. Andrew Cuomo updates the public on the coronavirus response in New York State. Watch live at this link: https://www.fox5ny.com/live
11:26 AM De Blasio: This is a long tough battle. There are a lot of heroes. Every day New Yorkers you have,too. God bless you all. We can get to that better place. Keep doing what you're doing. Thank you all.
11:21 AM: Dr. Barbot: Over the course of this outbreak we have evolved our guidance as the science has become available. If you are unable to self-isolate at home, use face coverings in the home and that if you are a caretaker, take proper precautions. We will need every New Yorker to recite this recommendations in their sleep.
As I mentioned, taking that hotel space to create a place for people who have to be out of their homes. Over time, we can open the hotels to isolation for families that need it. That can relieve pressure for people in tight quarters.
11:18 AM: Dr. Varma: For this type of infection, we have two types of testing, The first tells you if the person has infection. The second is a test to tell you if you've had it in the past. Making this harder is that there is a lot of uncertainty.
11:07 AM: De Blasio asked what is needed in terms of testing from federal government. I wish it were one thing. A lot of component parts to mix the ingredients together. We don't have that. The supply chain is complex. The availability is very uneven. We want to be able to test anyone at any time. If we had that from day one it would be entirely different. It's expanded in NYC but it's still not enough.
Dr. Jay Varma: We don't know if the techology we want will be there. But if we don't prepare we won't be ready when they are available.
11:03 AM: De Blasio asked about data regarding who is dying from COVID-19 and about juvenile facilities. We are now 1100-1200 inmates have been released. We are looking at who can be appropriately released. Some releases are continuing. We need more decisions by the DAs and the State. This is a crisis, here and now. On the the juveniles, a substantial number have been released.
10:59 AM: De Blasio asked about response in Staten Island. We have been supplying constantly the Staten Island hospitals. I have been constantly talking to Borough President Otto. When we talk about ventilators, N95 masks, whatever the Staten Island hospitals have needed we have provided. All the efforts to support healthcare workers is also for Staten Island. We will work to have more testing for the hospitals.
10:56 AM: Dr. Barbot: We are ensuring that every New Yorker who dies from COVID-19 gets counted. To date, we have only been reporting on people who have had the test. We are commited to providing racial demographic data. We are facing the same challenges as other data.
10:52 AM: De Blasio asked about how the city is handling people dying at home and how the city is counting those people. Also, how to access new data that the city will start publishing on Monday. The data will be available on the DOH website. Whatever the office of the medical examiner needs they will get. The first thing they said they need is a huge amount of personnel and they got it from the federal government. On the question of the data, the driver of this huge uptick on these deaths at home is COVID-19. It is the tragic X-factor. I want it to count it in the facts we're putting it out now.  There is going to be some challengs and lag in that.
10:48 AM: De Blasio asked about data on children learning remotely. We know a lot kids still don't have internet access. Not ever kid is logging on as much as we wanted. We will get you data. It's a problem. It's a problem we predicted. We will get better that more kids get devices. 
10:43 AM: De Blasio asked about speaking with people inside Lincoln Hospital. The healthcare workers were applauding the Air Force as they arrived. To literally see the calvary come. Dozens and dozens of people. From all over the country. It was so inspiring to our healthcare workers. There were three people who called out that they were concerned. What they really talked about were alot of the disparity concerns we talked about yesterday. There are a lof people who are afraid. Who can't speak English. A lot of undocumented immigrants. I thanked them. When the first met they were agitated but it help deepen our shape of our strategy.
10:41 AM: De Blasio asked about early medical data provided being inaccurate. This is the best data we have provided. When disease detectives were dealing with the first cases, we learned a lot about statistics along the way. Which have been less crucial. Which have been more accurate. Some are lagging more. I am not going back to litigate the past.
10:39 AM: De Blasio asked about plans for schools to reopen. There is a series of conversations going on if there is one last chance to open schools for a meaningful amount of time. We are a few days away from making that decision. 
10:35 AM: De Blasio asked about lack of answers from mayor and staff about burials. I don't think it's fair to people who are grieving. To not make this a public discussion, there needs to be real sensitivty to the families that are suffering. Are we able to address this painful reality? The answer is yes. We have an excellent medical examiner. The federal government has sent whatever I've asked them about this. Every family is treated individually. Every body will be treated individually. Some of the rumors suggest something much more horrible or inhumane but that's not true.
10:33 AM: Dr. Oxiris Barbot, NYC Health Commissioner: It's also imporant to note that there is no set cookbok to this. The intent with regards to starting to loosen up some of the restriations to social distancing allows the city to take steps to get back to a new level of normal. Perhaps different types of businesses reopen. We can have some level of gatherings again.
10:29 AM: De Blasio asked what a scenario would be like if there is easing of restrictions in mid-May: Let's win April and try to get into May. It maybe May, it may be June. Let's make that clear. To see that different rules ease like a menu, you may relax one but you may not relax others at all. We would coordinate that with the State of New York. The point is to understand the possibility. What is fare to say? We in any scenario want to see the maximum number of people to work from home for a long time. We want to keep anyone who can work from home, work from home. 
10:29 AM: De Blasio takes questions from reporters.
10:26 AM: De Blasio: Thank you to all our healthcare workers and everyone who is supporting them. 
10:19 AM: De Blasio: How do we get to the Promise Land. More and more testing. We have already been dealing with this since January. From that day to today there not been a single day that the federal government has provided the number of testing we need. Second, we need manpower. People doing the outreach. When we want to stay in touch with people who have the disease or may have the disease. Giving them the care they need. We need to use communication to track people and what they need. To use IT as a tool. We are going to need more options for quarantine and isolation. We've been building hotels into temporary hospitals. To get to no transmission, that requires a lot of capacity for people. Let's say someone has to be away from their family. We are going to be doing that on a big scale. Hopefully we'll need less of those rooms for hospitals but we'll use them for isolation and quarantine. And, we need advancement in the medical community in terms of treatments.
10:18 AM: De Blasio: We will show you three indicators every day: number of people admitted to hospital for COVID-19 admission. Second we will show you number of people admitted to ICUs and we will show you the number of people who test positive for COVID-19. All three have to move together for at least 10 days to 2 weeks sustained, consistent. We need to see a clean, clear pattern to even discuss some of the changes we want to see. You will see this in real time.
10:15 AM: De Blasio: If you see crowding, call 311. It will be addressed immediately.
10:12 AM: De Blasio: The phase we want to get to is when we get back to normal. Always aware we are up against a ferocious virus. When we have the ability to see very low cases. We need a lot of testing.  The no transmission phase means we're out of the social distancing business. That again is months away but that is something we can envision. In that phase, you do a lot of testing. 
10:09 AM: De Blasio: How do we get to the next phase? Keep social distancing. We have a chance of seeing change in May or June. In low level transmission, I'd love to see in later May or June, you can trace the cases. You can use the disease detectivs again to trace the universe of the virus. You can do some relaxing of the restrictions. You can start to make life a little more normal. If we're patient, if we're measured we can do this. We need some greater capacity (for testing). It's not clear where we are going to get that. The federal government is the single most important component to this equation. 
10:08 AM: De Blasio: What do we need ? more testing from the federal government. We still need them to produce in way they have not done.
10:05 AM: De Blasio: We want all New Yorkers to be part of the solutions and actions we have to take. In this first phase, wide spread transmission. We are constantly seeing new cases. We can't trace the initial source. We do need in this phase strong guidelines and we have to ration testing. Testing is being focused on saving the lives of those already in danger of losing their lives. Next, to keep our health care workers in the game and have the testing they need and then for our first responders.  Those are where the priorities are in this testing where we don't have a lot of testing.
10:03 AM: De Blasio: This is what we have done so far: close bars, close restaurants, social distancing, facial masks, close schools, limited outdoor recreation, ordered shelter in place. This will remain through April and most of May. If we do things right, some of these pieces can start to be relaxed.
10:00 AM: De Blasio: We have to make sure we do everything we can to help people practice shelter in place, practice social distancing. We need to get the word out to the most vulnerable. And, the guidelines can be adjusted. If the virus hits us in some way, restrictions would have to go up. It's not what I envision today. It's not what I want. Nobody watching today wants to be told pretty lies. If we do things right and get more testing from the federal government we can make progress. But tighter restrictions are an option.
9:58 AM: De Blasio: We are starting to put together a game plane for the future. Number one: we can not allow resurgence. Second, our health care system, protecting it is paramount.
9:56 AM: De Blasio: We need to win our way to the next phase. I'm going to talk to you about what it will look like to go forward. Don't expect instant gratification. We still have widespread transmission. I don't see anything getting easier in April. I have said get ready for a long, tough May. If we make progress, May might be easier. April and May are when we have to win this phase and open that door to the next phase. Our leadership will give you more updates so you can see the fruits of your labor. We will not jump the gun. 
9:51 AM: De Blasio: We have to fight back this virus. We can actually push this virus back. I'm going to show you that today. The road back is not going to be back. This virus can resurge. The last thing we can afford is to let down our guard and see the numbers spike up.
9:49 AM: De Blasio: Law enforcement, parks enforcement officers are finding most people are following social distancing rules. We are finding that people need to be reminded especially for younger people. Call 311 the second you see people crowding. This is the highest priority for the NYPD and law enforcement agencies. Generally speaking, folks have been following these rules.
9:46 AM: De Blasio: For everyone who is frustrated, feeling cooped up, it's hard to imagine doing this for a long period of time/ I hear people say they're bored, deeply disconnected. I share that. We all feel it. You have been finding a way in an incredibly noble, consisten way. You all have been practicing social distancing.
9:45 AM: NYC Mayor Bill de Blasio holds the daily coronavirus briefing. Watch: https://www.fox5ny.com/live
9:00 AM: From the NYC Office of Emergency Management If you see price increases for items in short supply due to COVID-19, report it by calling 311 or visiting NYC.gov/dcwp.
8:41 AM: 10% of US labor force now out of work since virus slammed economy as 6.6 million file for jobless aid.
MORE: https://www.fox5ny.com/news/record-16-6-million-have-sought-us-jobless-aid-since-virus
8:22 AM: USSG Adams asked how often people shold go out to do grocery shopping. As little as possible. Once or twice a week. This virus thrives on social contact.
8:21 AM: USSG Adams asked whether you should wear gloves. They're not a subsitute for good hygiene.
8:20 AM: USSG Adams asked about mask wearing all the time outdoors: The CDC, the WHO, my office first advised against wearing masks all the time. We always suggested that people who are sick wear masks. Now we recommend that if you're going to be in public, that you wear a mask. You protect them. Wash your hands before you put on a mask. Save theN95 masks for healthcare workers.
8:17 AM: U.S. Surgeon General Jerome Adams says it's not clear if the warmer weather will slow the coronavirus. He is speaking with Good Day New York. CLICK: https://www.fox5ny.com/live
7:45 AM: The government is set to report another shocking level of unemployment claims Thursday even after nearly 10 million people applied for benefits in the previous two weeks because of business shutdowns from the coronavirus. 
MORE: https://www.fox5ny.com/news/jobless-claims-report-thursday-could-hit-7-million-or-higher
7:00 AM: Watch 'Good Day New York' at this LINK: https://fox5ny.com/live
5:45 AM: One medical treatment facility crewmember aboard the USNS Mercy hospital ship has tested positive for COVID-19, Public Affairs Officer Lt. Joseph Pfaff confirmed Wednesday. The crewmember is currently in isolation aboard the ship and will be transferred soon to an off-ship isolation facility where they will self-monitor for symptoms, Pfaff said.
MORE: https://www.fox5ny.com/news/usns-mercy-hospital-ship-crewmember-tests-positive-for-covid-19