NYC-area Thanksgiving travel threatened by storm: Forecast for traffic, weather, airports, more
NEW YORK - The dreaded holiday travel season has begun, as millions in New York, New Jersey and Connecticut are facing off against a coastal storm threatening their journeys – home and away – for Thanksgiving.
Here's what travelers need to know before hitting the road, heading to the airport or booking their Amtrak ticket this season:
Air Travel
The Transportation Security Administration announced it's expecting the upcoming holiday travel season to be "the busiest ever."
The declaration comes after the TSA recorded seven of its 10 highest volume travel days in its history so far in 2023, with the 2,884,783 passengers on June 30 being the most on record.
According to the TSA, the holiday season begins with a Thanksgiving travel period between Friday, Nov. 17 and Tuesday, Nov. 28.
Experts recommend passengers arrive two hours ahead of domestic flights and three hours ahead of international flights, while also keeping a close eye on airlines' websites for potential delays.
Best and Worst Times to Drive
AAA projects 55.4 million travelers will be heading 50 miles or more from home over the Thanksgiving holiday, starting Wednesday through Sunday. 
The volume prediction is up 2.3% from last year, marking the third-highest Thanksgiving travel week since AAA began tracking in 2000. 
The Wednesday before Thanksgiving is the worst time to travel, specifically from 2 to 6 p.m., AAA said. Travelers are urged to leave before 11 a.m.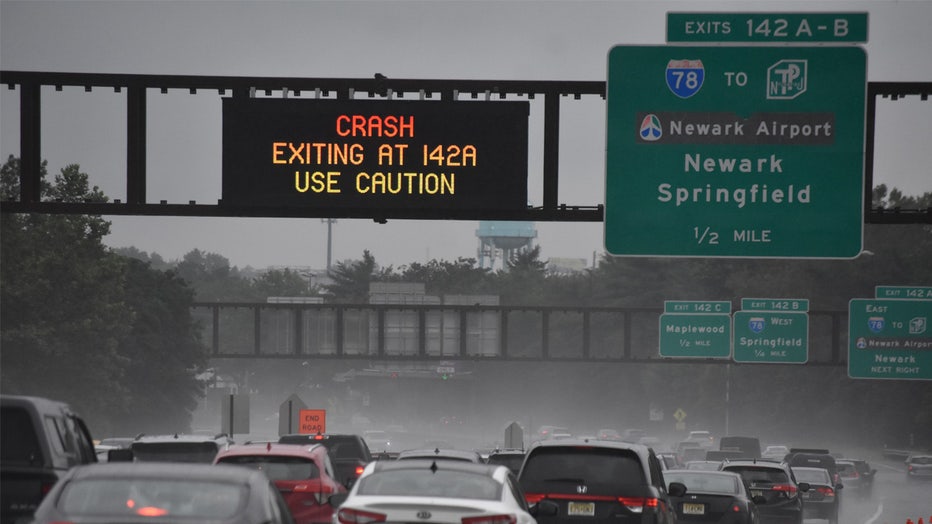 A view of a traffic jam after flooding on the Garden State Parkway Northbound in Newark. (Photo by Kyle Mazza/Anadolu Agency via Getty Images)
Thanksgiving: The worst time to travel is between 11 a.m. to 3 p.m. Travelers are urged to leave before 10 a.m. or after 5 p.m.
Black Friday: The worst time to travel is from noon to 4 p.m. Travelers are urged to leave before 11 a.m. or after 7 p.m.
The weekend: The worst time to travel is between 3 p.m. to 5 p.m. Travelers are urged try to leave before noon.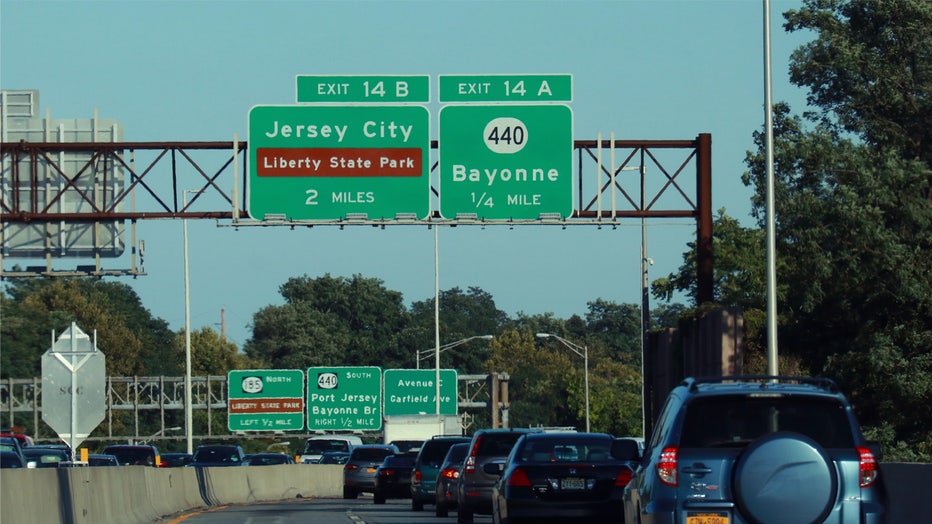 Cars travel on the New Jersey Turnpike. (Photo by Gary Hershorn/Getty Images)
This Thanksgiving weekend, AAA said the New York City area will see its worst traffic on the Garden State Parkway on Sunday, Nov. 26. Drivers traveling northbound from the Jersey Shore to New York can expect to stay on the parkway for 1 hour and 51 minutes around 11:15 a.m.
Thanksgiving travel weather
Travel experts are already predicting delays.
Heavy rain will begin to wind down by the time we get into Wednesday afternoon.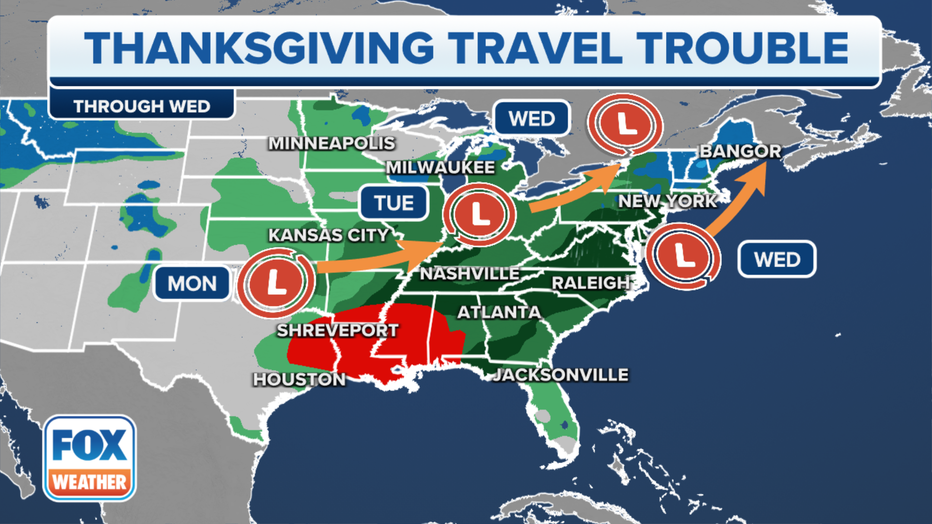 The Thanksgiving travel weather outlook. Green represents chances for rain, while blue represents chances of snow. Red represents chances for severe weather. (FOX Weather)
Impacts could linger a bit longer for cities along the coast like Boston and areas of Maine as the storm scrapes the coast, but the worst of the weather should wrap up by Wednesday evening.
The Greater New York City area is expected to see dry and sunny conditions this Thanksgiving.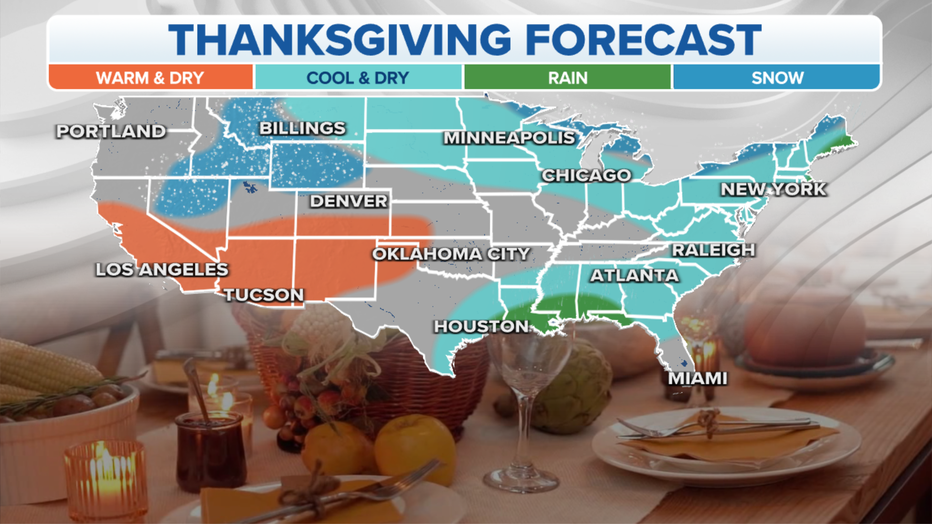 Thanksgiving forecast. (FOX Weather)
- FOX Weather's Andrew Wulfeck , Brian Donegan and Scott Sistek contributed to this report.
Amtrak
To meet the surging demand for the Thanksgiving holiday, Amtrak announced that it will add more service and extra cars to existing trains between Monday, Nov. 20 and Monday, Nov. 27. 
"On the Northeast Corridor, Amtrak Acela and Northeast Regional trains will operate full and extended schedules with additional frequencies and added capacity during Thanksgiving week. Additionally, Keystone, Pennsylvanian, and Empire Service trains will offer extended holiday capacity and require advanced reservations," according to Amtrak.
Despite these accommodations, prices for many Northeast Corridor trips this week are high, and some are already sold out.
Amtrak encourages customers to book in advance during this busy week.