NYC congestion pricing: Gov. Murphy questions impact on NJ's residents
NEW JERSEY - As congestion pricing is expected to become a reality soon, New Jersey Gov. Phil Murphy is hoping to pump the brakes on the plan.
Murphy sent a 15-page letter to federal highway officials.
In the letter, the governor makes the case the final environmental assessment "disregards New Jersey's interests and discounts significant environmental and other harms to New Jersey residents."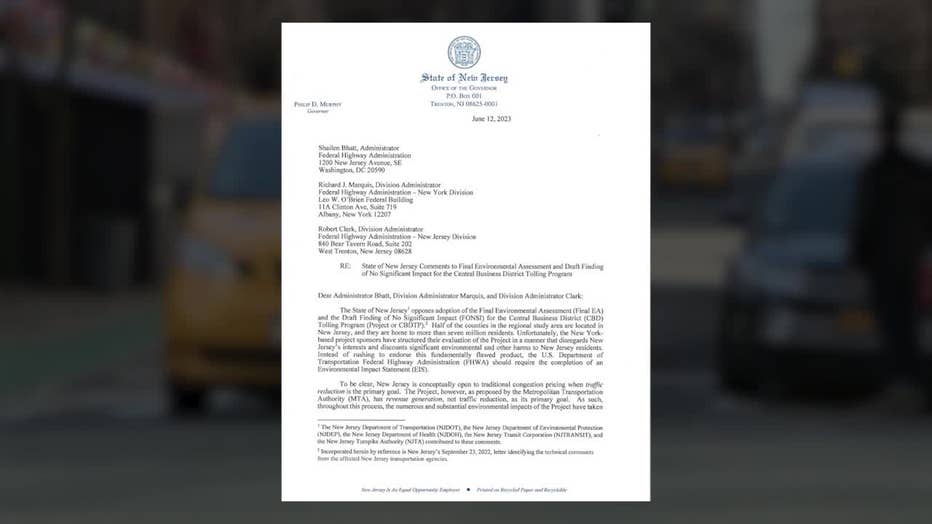 Murphy said he's open to traditional congestion pricing when traffic reduction is the primary goal, but believes the MTA's proposal is about generating revenue. 
RELATED: MTA's environmental assessment supports plan
Similar sentiments have been echoed by other New Jersey leaders, including Rep. Josh Gottheimer.
"They're so desperate for cash," Gottheimer said last month. "They've so mismanaged the MTA now for so many years that they're running deficits of $2 billion."
However, the MTA disagrees, believing the plan will reduce traffic while also improve public transit.
"It's the one thing that keeps New York affordable, mass transit. Congestion pricing is going to invest in people," said MTA CEO Janno Lieber back in May after the Federal Highway Administration gave the go-ahead to the project's final environmental assessment. 
In a statement attributed to MTA chief, external relations John J. McCarthy, "Every detail of this issue has been studied extensively as evidenced by the 4,000-plus page environmental assessment, and now it's time to deal with the congestion that's clogging roads and slowing down buses, emergency vehicles and commerce while also polluting the air we breathe."
Murphy's letter comes after the MTA released its final environmental assessment last month, saying its findings are positive for the tolling project. 
The Federal Highway Administration had declared there's no reason to derail or postpone congestion pricing – the plan to toll drivers coming into Manhattan from the 59th Street bridge and heading south of 60th. 
The go-ahead is based on the findings of the project's final environmental assessment.  
The study also considered feedback from dozens of public meetings and tens of thousands of comments. 
In all the issues New Yorkers brought up, the MTA and DOT came up with ways to mitigate them.