Latest developments in the coronavirus pandemic for March 20, 2020
NEW YORK - LIVE BLOG - FOX 5 NY is updating this blog with the latest developments on the coronavirus outbreak so you can get the information in one spot. 
10:25 PM: A member of Governor Andrew Cuomo's press office has reportedly tested positive for coronavirus.
9:35 PM: The New York State Thruway Authority has announced new emergency toll procedures due to the COVID-19 outbreak. The plan will convert the collection of cash tolls to toll billing by the license plate.
8:47 PM: Governor Phil Murphy announced he has signed legislation for the New Jersey Economic Development Authority to provide grants during a state of emergency and to extend business documentation submission dealines.
7:59 PM: The Broadway League and the Unions of Broadway have announced that they have reached an emergency relief agreement, providing Broadway employees with pay and health insurance during the shutdown caused by the COVID-19 crisis.
7:36 PM: The White House says a member of Vice President Mike Pence's staff has tested positive for coronavirus. Officials say the staff member, who is not being identified, did not have "close contact" to either the vice president or President Donald Trump.
7:11 PM: Chancellor Carranza: If students have trouble getting online, they should call 311.
7:02 PM: Some communities at the Jersey Shore are asking people who own second homes/vacation homes there to please stay away for now.
6:24 PM: Mayor de Blasio says people are allowed to go into parks and get exercise but should keep distance from each other; police officers will ask people to spread out, get in their workouts, and go home.
6:18 PM: NYC Health Commissioner Oxiris Barbot: Testing people who have mild or no symptoms is not only a waste of time, it is a waste of scarce supplies, such as gloves, masks, gowns, swabs, and more, which have to be thrown out after each test; NYC Health Department urges limits on outpatient tests
6:11 PM: NYC Schools Chancellor Richard Carranza: Starting Monday, March 23, all children in New York City can get three meals a day for free; meals will be distributed at 400 sites around the city.
6:03 PM: Commissioner Shea says 52 members of the NYPD (civilian, executive, and sworn officers) have tested positive for COVID-19; one person is hospitalized with pnemonia-like symptoms.
6:01 PM: NYC Police Commissioner Dermot Shea says the NYPD has seen a downturn in crime in the last week or so; calls to 911 have dropped (except for medical-related calls).
5:59 PM: Mayor de Blasio: Ferry service will be reduced because ridership has plummeted so much that we can't justify maintaining regular service.
5:57 PM: Mayor de Blasio: Bike ridership is up, which is great, so we will be installing temporary bike lanes to protect them.
5:55 PM: Mayor de Blasio: We are canceling all field permits for sports and group events in parks; they simply cannot be done safely.
5:43 PM: New York City Mayor Bill de Blasio: 5,151 confirmed cases of COVID-19; about one-third of the cases in the U.S.; "We are now the epicenter of this crisis."
4:32 PM: Southwest Airlines is canceling about 1,000 daily flights from Sunday, March 22, until Tuesday, April 14. 
4:31 PM: The XFL has officially canceled its 2020 season due to the coronavirus pandemic.
4:27 PM: The Trump administration says that states can cancel federally required school testing this year to protect students and teachers.
4:17 PM: U.S. Rep. Yvette Clarke, D-N.Y., says an aide in her Brooklyn office has tested positive for COVID-19. 
4:00 PM: The U.S. stock markets took a beating this week; Dow Jones Industrial Average slid more than 913.21 (down 4.55%) and closed at 19,173.98.
3:55 PM: Gov. Lamont says almost everyone should stay home; only employees of essential businesses and services should be going to work.
3:53 PM: Connecticut Gov. Ned Lamont says 35 more state residents have tested positive for COVID-19 since yesterday.
3:50 PM: Gov. Murphy says mobile testing site at Bergen Community College (partnership with FEMA) will reopen Saturday morning at 8 AM; another site will open at the PNC Bank Arts Center in Holmdel on Monday; the governor says he hopes more sites can be established.
3:47 PM: Gov. Murphy says the New Jersey, which has the fourth-highest number of confirmed infections, needs more PPE (personal protective equipment) for medical workers.
3:42 PM: Police Commissioner Dermot Shea says 35 police officers have tested positive for COVID-19 so far; none is hospitalized at this time.
3:37 PM: Gov. Murphy says he hopes the federal government will delay U.S. Census activities and also postpone REAL ID deadline.
3:30 PM: Gov. Murphy says his forthcoming order will be "our way or the highway." 
3:19 PM: Gov. Murphy: The only way we're going to beat this virus is to stay home and stay away from each other.
3:17 PM: Gov. Murphy says a new executive order is coming soon; certain public activities will not be allowed and certain businesses will be ordered to close; his administration will issue details by Saturday.
3:06 PM: BioReference Chairman Jon Cohen says his company, which is headquartered in Bergen County, has partnered with several New Jersey counties to test thousands of samples collected there; also seeking to increase testing for first responders. 
3:01 PM: Executive at LabCorp, which has a lab in New Jersey, says it is ramping up testing for samples collected in the state; notes that the public should not come to LabCorp locations for COVID-19 testing.
2:59 PM: The price of oil is plunging as the coronavirus pandemic grips the world. The price of U.S. crude oil drops about 21%.
2:50 PM: Bergen County Executive Jim Tedesco: "The people of New Jersey must stay home. I keep saying it, I keep saying it, and I'll keep saying it. They must stay home."
2:44 PM: Commissioner Persichilli: Several health conditions appear to make fighting COVID-19 much harder, especially diabetes, hypertension, obesity, and heart disease. (CDC also lists lung disease and "serious underlying medical conditions.") 
2:40 PM: Commissioner Persichilli says her department and the Army Corps of Engineers are identifying locations that can be quickly converted into temporary hospitals for "when the surge happens"; 500 beds should be ready soon.
2:38 PM: Commissioner Persichilli says among the most recent deaths are a man in his 30s and a man in his 50s; warns the public that although COVID-19 is more serious among older people and those with underlying illnesses, it can affect anyone. 
2:35 PM: New Jersey Health Commissioner Judith Persichilli announces the suspension of adult day care services; in the U.S., 85% of COVID-19-related deaths are among older adults.
2:34 PM: Gov. Murphy says people should be staying home and following the safe hygiene practices.
2:32 PM: Gov. Murphy: "We will get through this together but it will require each and every one of us," and it won't be without bumps in the road. 
2:30 PM: Gov. Murphy: Home Depot will be donating a "significant number" of N95 masks to medical staff; the state is also working with the feds and the private sector to get more personal protective edquipment for health-care workers.
2:23 PM: Gov. Murphy: New state total of confirmed COVID-19 cases is 890; 155 new positive tests; 11 total fatalities.
2:21 PM: Gov. Murphy says the overriding concern from New Jersey residents has been resting. He says if you're healthy and are among the so-called worried well, you do not need testing. In order to get tested, you must have some symptoms and/or an order from a doctor and have proof of NJ residency.
2:15 PM: New Jersy Gov. Phil Murphy says he spoke to Vice President Pence and thanked him and the president for sending FEMA, Army Corps of Engineers, and other "boots on the ground" but also asked for much more assistance, including cash.
2:08 PM: Anxiety rose in Africa as two major airlines announced sweeping cancellations of international flights on Friday over the coronavirus and the continent's busiest airport said foreigners cannot disembark.
South African Airways suspended all international flights until June. Ethiopian Airlines, Africa's largest carrier, cancelled flights to 30 countries. That airline, which operates a key continental hub, had long been under pressure from some in Africa's second-most populous country to halt flights to high-risk countries.
1:58 PM: Mississippi governor is postponing March 31 Republican primary congressional runoff to June 23 because of coronavirus.
1:56 PM: Rep. Max Rose discusses coronavirus cases in NY:
1:46 PM: Gov. Cuomo urges New Yorkers to call ahead before going to a doctor's office or hospital. 
1:40 PM: Authorities in Italy annouce 627 new deaths in a single day, the country's highest day-to-day rise in the number of deaths of persons infected with COVID-19.
1:37 PM: An air traffic controller tech at JFK Airport tests positive for COVID-19.
1:22 PM: Vice President Pence says healthy Americans should not be tested; if you have symptoms, call your doctor first. 
1:17 PM: Dr. Tony Fauci of NIAID says testing everyone in the country isn't helpful but ratcheting up testing is important; most crucial is following the CDC guidelines to limit transmission risk.
1:13 PM: President Trump says CEO of Carnival has offered cruise ships to be used as makeshift hospitals.
1:06 PM: HHS Secretary Alex Azar: COVID-19 testing has ramped up dramatically; in some cases, HHS has had to educate labs that had incorrect information about materials and procedures.
1:05 PM: President Trump: Supply chains all over the world are broken down but U.S. companies are stepping up to make needed supplies.
1:03 PM: President Trump says the U.S. economy will rebound after "we defeat the invisible the enemy." He predicts the stock market will be "like a rocket ship."
1:00 PM: When asked to respond to yesterday's comments by NYC Mayor Bill de Blasio, President Trump says he is "not dealing with the mayor, I'm dealing with the governor."
12:55 PM: A planned drive-thru testing site in Darien, Connecticut, has been canceled because residents complained it would be too close to their homes, The Darien Times reported.
12:48 PM: Secretary Pompeo says U.S. is fighting misinformation campaigns coming from overseas, including China and Russia, telling them to "knock it off" and taking other actions.
12:34 PM: President Trump says he "feels good about" the prospect of using a malaria drug that is unproven to be effective at treating COVID-19; "It may work, it may not."
12:25 PM: President Trump says the federal government has ordered "millions of masks" for states that need them."
12:22 PM: Vice President Pence says federal government is working to procude more N95 masks, personal protective gear, and ventilators.
12:10 PM: Acting Homeland Security Secretary Chad Wolf announces that migrants attempting to enter the U.S. illegally at the southern and nothern borders will not be processed; instead, CBP will "immediately return individuals arriving without documentation to Canada, Mexico, as well as a number of other countries, without delay."
12:05 PM: Secretary of State Mike Pompeo: U.S. citizens should avoid all international travel; Americans abroad right now should return home now; if they cannot, they should be prepared to remain overseas for a long time.
12:02 PM: President Trump: "We will win this war." He says we have learned a lot; some good things and some bad things.
12:00 PM: President Trump says Mexico is suspending air travel from Europe to secure North America.
11:59 AM: Gov. Cuomo says a staff member of his press office is experiencing COVID-19 symptoms and will be tested; press office staff will be isolated as a precaution.
11:58 AM: Gov. Cuomo says he believes these policies will save lives. 
11:57 AM: Gov. Cuomo says he asked internet service providers to increase bandwidth and speeds to customers at no charge to handle the spike in work from home.
11:56 AM: Gov. Cuomo: "We are doing more testing than anyone, knock formica."
11:55 AM: President Trump applauds New York and California governors for "taking bold new steps."
11:53 AM: Trump administration suspends payments on federally held student loans for 60 days.
11:50 AM: Gov. Cuomo: Our No. 1 challenge: We need 30,000 ventilators.
11:44 AM: Reminder: "Grab & Go" breakfasts/lunches are available for any student at the entrance of every New York City DOE school building from 7:30 AM-1:30 PM. 
11:42 AM: Gov. Cuomo: Public transit will keep running because we need to get essential workers, such as health-care workers and food-service workers, to their jobs and people need to be able to get to doctors/hospitals.
11:40 AM: Gov. Cuomo: This is not a shelter-in-place order; "Words matter. ... Close the valve." 
11:38 AM: Gov. Cuomo mandates a moratorium on all residential and commercial evictions for 90 days.
11:36 AM: Gov. Cuomo implements strict new rules as confirmed cases top 7,000.
11:20 AM: Gov. Cuomo: Seniors over the age of 70 should remain indoors.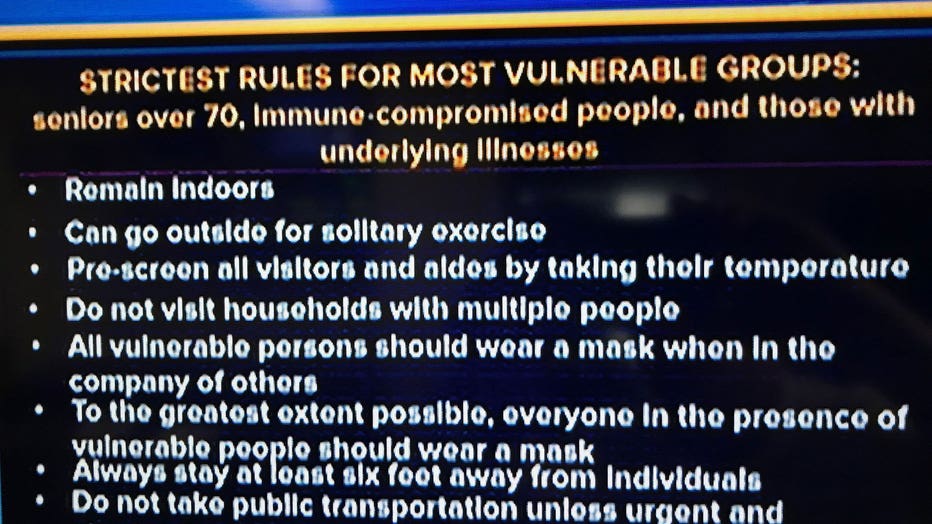 11:13 AM: Gov. Cuomo says New York state is offering incentives to companies to supply medical supplies.
11:10 AM: Gov. Cuomo says NY hospitals need to optimize space to get more beds for victims.
11:06 AM: U.S. officials are expected to announce new restrictions on the southern border Friday as they try to halt the spread of the coronavirus pandemic.
The U.S. and Mexico have been working on plans to limit cross-border traffic, according to officials on both sides of the border. The plan is expected to look much like restrictions already announced on all-but-essential travel and trade between the U.S. and Canada.
11:05 AM: Federal Reserve to help banks purchase municipal bonds to keep credit flowing to cities, states.
10:15 AM: Deputies with a North Carolina sheriff's department discovered a stolen 18-wheeler with 18,000 pounds of commercial bathroom paper products including toilet paper. MORE DETAILS HERE
9:30 AM: Walmart to hire 150,000 workers, give $550 million in cash bonuses amid coronavirus outbreak. MORE DETAILS: https://www.fox5ny.com/news/walmart-to-hire-150000-workers-give-550-million-in-cash-bonuses-amid-coronavirus-outbreak
8:55 AM: All barber shops, nail, hair salons and related personal care services throughout the state of New York must close by 8 p.m. Saturday, announced NY Gov. Andrew Cuomo. MORE DETAILS: https://www.fox5ny.com/news/cuomo-orders-barber-shops-nail-hair-salons-and-personal-care-services-to-close
8:50 AM: The death toll rises to 26 in New York City with 4,000 confirmed cases, said Mayor Bill de Blasio during a televised interview.
8:30 AM: Some city folk have been fleeing to their second homes in resort areas to ride out the coronavirus outbreak near the beach or the ski slopes. But neighbors in many of those places are yanking the welcome mat -- fearing infection and the overwhelming of already stretched resources in sleepy shore and mountain communities. 
7:10 AM: The latest numbers in the coronavirus outbreak in the NY, NJ and CT area: 6,543 confirmed cases and 50 deaths. In New York, there are 5,642 cases including 3,954 in New York City. In New Jersey, there are 742 cases and in Connecticut,there are 159.
7 AM: Watch 'Good Day New York' for the latest on the coronavirus pandemic and more from FOX 5 News. Click: https://www.fox5ny.com/live
6:55 AM: Iran's leaders on Friday announced 149 more fatalities from the new coronavirus, bringing its death toll to 1,433 amid nearly 20,000 confirmed cases. Iran is battling the worst outbreak in the Middle East, and has been widely criticized for its slow response. 
6:21 AM: The U.S. warned Americans to avoid all international travel and told citizens abroad to return now or face an "indefinite" absence, and California's governor asked all 40 million residents to stay home, to try to slow a pandemic toll that on Friday surpassed 10,000 people worldwide.