Cuomo urges NY Gov. Hochul to deploy National Guard amid ongoing Israel-Hamas war protests
NEW YORK - In an appearance on Good Day New York, former New York Gov. Andrew Cuomo is blasting his former lieutenant governor and fellow Democrat Gov. Kathy Hochul for her response to growing antisemitism stemming from Israel-Hamas war tensions, urging her to deploy the National Guard to protect the state's Jews.
"I don't think we're doing enough. Let's talk governmentally. First of all … you're looking at a 300% increase in antisemitic attacks, assaults, etc.," he said, 
In his conversation Tuesday with GDNY hosts Rosanna Scotto and Bianca Peters, Cuomo, who resigned after multiple women accused him of sexual harassment despite denying the allegations, discussed the alarming rise in hate crimes along with city's migrant crisis and the current FBI investigation involving New York City Mayor Eric Adams.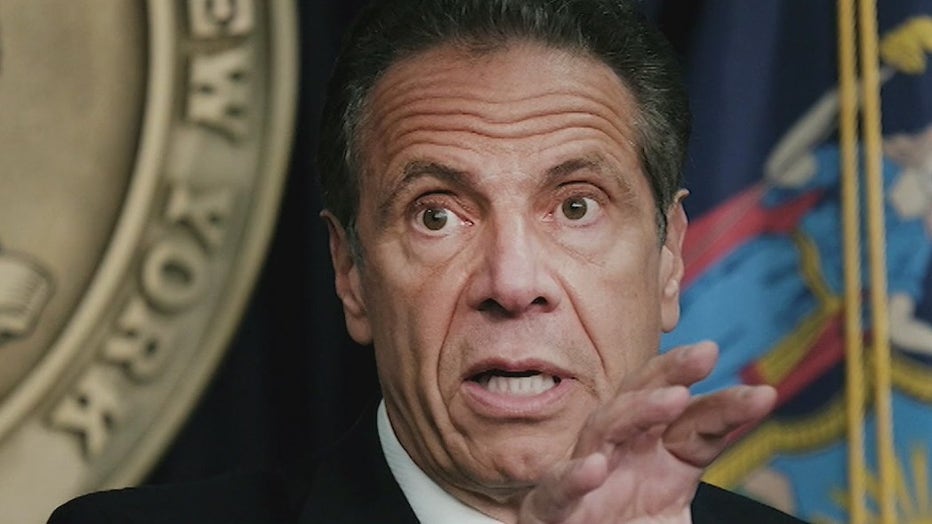 FILE - NY Gov. Andrew Cuomo.
Is Gov. Hochul doing enough to protect Jews?
Cuomo said he believes New York's Jewish community does not feel safe, even noting that some residents he spoke with have discussed buying guns to protect themselves.
"Anyone who says that we don't have a problem with antisemitism is not living in the real world," he said.
Since the Oct. 7 Hamas attack that started the war, Muslim and Jewish civil rights groups say they've seen large increases in reports of harassment against members of their communities. The NYPD reported that the city had seen a nearly 215% increase in anti-Jewish hate crimes last month.
While acknowledging that pro-Palestinian activists should be free to demonstrate and call for a cease-fire, Cuomo criticized the large-scale protest Friday night that forced Grand Central to shut down for several hours.
"I would also deploy the National Guard, as we did many times, as a complimentary force, as a show of force," Cuomo said.
Cuomo added that the National Guard is also responsible for protecting public safety.
Pro-Palestinian protesters holding banners and Palestinian flags gather to stage a demonstration in streets and march through the streets in New York. (Photo by Fatih Aktas/Anadolu via Getty Images)
He said he believes that New York City is reaching a very fragile point, calling public safety the government's "number one job."
"You want to protest, you can protest, but don't rip down the American flag," he said. "You can't close down Grand Central Station, you can't stop trains from running."
Cuomo on NYC's migrant crisis
When asked about New York City's growing migrant crisis, Cuomo said he agreed with the mayor's response, classifying the crisis as a federal problem.
"There is no legal, moral, political argument why New York City should be responsible for 130,000 migrants," he said.
How would Cuomo advise Adams amid FBI investigation?
Cuomo also defended Adams amid an FBI investigation that prompted agents to seize his phones and raid the home of his chief campaign fundraiser.
"I think they have been very heavy-handed here with the mayor, publicly humiliating the mayor," he said.
Cuomo said Adams has a job to do, and said the investigation could hurt his ability to do his job as mayor.
The Associated Press contributed to this report.