NYC hate crimes on the rise as tensions run high over Israel-Hamas war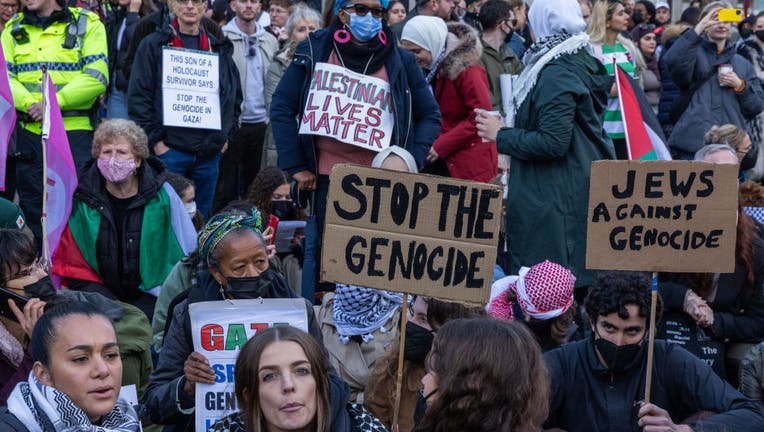 article
NEW YORK - New York City has seen a jump in hate crimes, driven by a notable spike in anti-Jewish attacks and growing anti-Muslim attacks as tensions remain high in the U.S. amid protests around the Israel-Hamas war.
The total number of bias incidents investigated by the NYPD Hate Crime Task Force in October increased by 124%, the NYPD announced in its citywide crime statistics for October. The latest war began with an attack by Hamas militants on Oct. 7. Since then, Israel has responded with weeks of attacks in Gaza, killing more than 11,000, according to the Hamas-run Health Ministry.
Notably, New York City has seen a 214% spike in anti-Jewish incidents compared to October 2022. The city recorded eight investigations into anti-Muslim crimes – with none reported in the same month last year.
NYC Hate Crime Statistics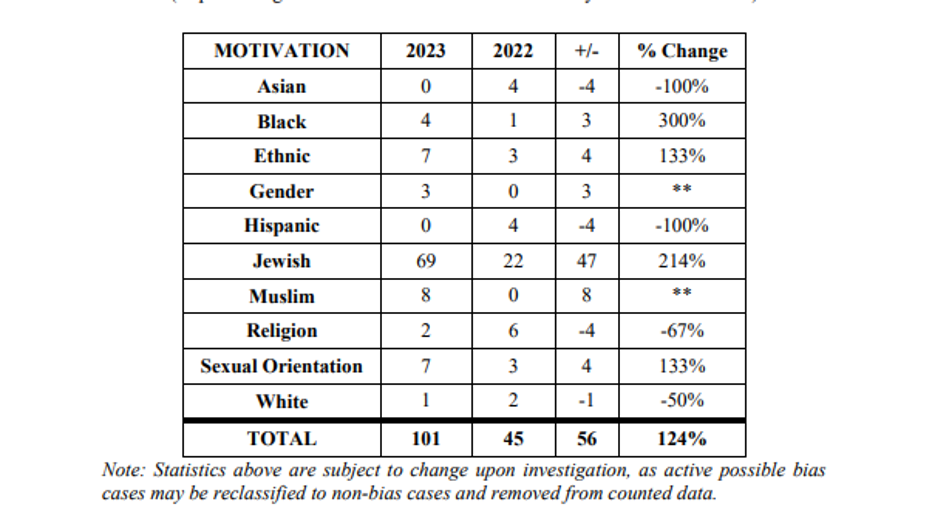 The total number of bias incidents investigated by the NYPD Hate Crime Task Force increased by 124%, in October, led by a 214% spike in anti-Jewish incidents. Overall hate crime investigations year to date, however, continued their downward trend wit
Based on the crime statistics chart, Jewish and Muslim hate are the leading motivations for bias crimes in the city. 
Since Israel officially declared war on Oct. 8, demonstrations both in support of Israel and Palestinians have raged throughout the city.
These demonstrations have especially roiled across college campuses as tensions rise over Hamas' attacks in Israel and the ongoing war in Gaza. 
RELATED: Another large-scale pro-Palestinian rally, march expected Friday in NYC
FOX5 NY has reported on multiple incidents of antisemitism and Islamophobia in the last few days.
Just this week, the NYPD's Hate Crimes Task Force reported that a woman threw her cellphone and a hot coffee at a man while saying anti-Islamic slurs in Brooklyn.
On Thursday, the task force reported an assault on a woman who tried to record two other women taking down Israeli "kidnapped" posters. The victim took out her phone to record the other two when they allegedly smashed her phone on the ground and ripped off a Star of David necklace that was around her neck. 
NEW YORK, UNITED STATES - NOVEMBER 09: Pro-Palestinian protesters holding banners and Palestinian flags gather to stage a demonstration in streets and march through the streets in New York, United States on November 09, 2023. (Photo by Fatih Aktas/Anadolu via Getty Images)
Both Jewish and Muslim students have complained of feeling isolated and unsupported by their universities.
Jewish students at Columbia University have been condemning administrators for failing to provide protection or address what they say is a dangerous rise in antisemitism on campus.
This comes just shortly after Cornell University's campus police were dispatched to a Jewish center after threatening statements against Jewish students appeared on an online discussion board.
New York Gov. Kathy Hochul pledged that state police would work to identify anyone making online threats and hold them accountable.
RELATED: Protesters flood Midtown Manhattan streets to call for cease-fire in Israel-Hamas war
Night after night, thousands of demonstrators have gathered in New York City streets to call for a ceasefire in the Israel-Hamas war. In one instance, 
Thousands of Pro-Palestine protestors forced city officials to close the Brooklyn Bridge. They were seen holding signs that read, "By any means necessary" and "NYC stands with Gaza" while waving Palestinian flags. 
It's worth noting that overall, hate crime investigations year-to-date have had a continued downward trend, with a decrease of 9%.
NYC crime rate
Overall, the NYPD says crime declined with an 8.1% drop in shooting incidents compared to October 2022. 
Officials said 384 fewer people have been shot year-to-date in 2023 compared to 2022, and 45 fewer people have been murdered in 2023 compared to last year. 
Transit crime is up by 5.7% though, as the MTA sees near pre-pandemic traveler numbers.