NYC Pro-Palestinian rally: Thousands flood Midtown streets; sit-in staged at New York Times HQ
NEW YORK - Thousands of Pro-Palestinian demonstrators flooded the streets across Manhattan on Thursday to protest Israel's war in Gaza, with some occupying the lobby of The New York Times to demand an immediate cease-fire.
On Friday, another large-scale pro-Palestinian rally and march is expected.
Here's what we know about the recent demonstrations: 
Thursday afternoon Bryant Park rally
The day began with the Palestinian Youth Movement and other groups calling for people to walk out of their workplaces, schools and other activities to join the 3 p.m. rally.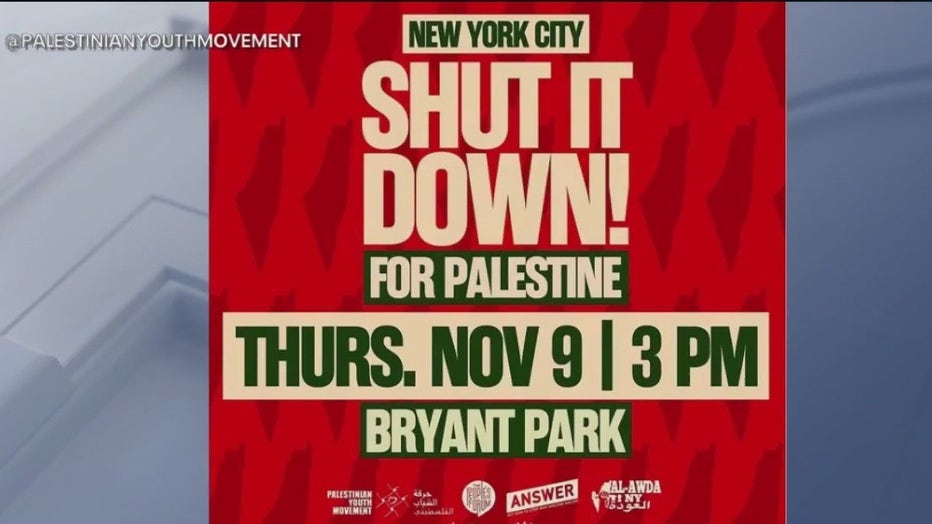 Schools Chancellor David Banks had warned teachers about violating Education Department rules on political speech, according to Chalkbeat New York.
After the initial rally, a large group of protesters flooded Eighth Avenue, and some headed to the nearby New York Times building.
New York Times sit-in
At around 5 p.m., a small group of demonstrators led by media workers calling themselves "Writers Bloc" entered the atrium of the Times building, carrying a banner calling for a cease-fire.
Demonstrators said they wanted Israel to stop bombing Gaza, and that innocent children were being killed in Israel's response to the Oct. 7 terror attacks.
Pro-Palestinian protesters holding banners and Palestinian flags gather to stage a demonstration in streets and march through the streets in New York. (Photo by Fatih Aktas/Anadolu via Getty Images)
"Their lives also matter," one protester said.
They remained for over an hour, reading off the names of thousands of Palestinians killed in Gaza, including at least 36 journalists whose deaths have been confirmed since the war began. They scattered editions of a mock newspaper — "The New York War Crimes" — that charged the media with "complicity in laundering genocide" and called on The Times' editorial board to publicly back a cease-fire.
The large demonstration was peaceful, but a few protesters did damage a police vehicle near the building.
Demonstrators accused the media of showing a bias toward Israel in its coverage of the Israel-Hamas war.
An email sent to New York Times staffers by the publication's head of corporate security described the protest as "peaceful," noting that "no entrances are blocked."
Friday Columbus Circle rally
Another large-scale pro-Palestinian rally and march is expected Friday afternoon in Columbus Circle.
According to the Instagram post, a teach-in is scheduled for 4 p.m., followed by a 5 p.m. rally.
"Flood Manhattan For Gaza", the post said.
It is unclear how many demonstrators are expected at the Friday rally. Continue to follow FOX 5 NY as this story develops.