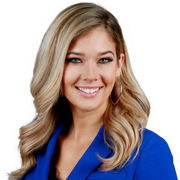 Jennifer Williams
Sports Reporter
Jennifer Williams is a sports reporter for FOX 5 News. Her experience includes ESPN, Sports Illustrated and NBC Sports Washington. Her career has taken her everywhere from Havana, Cuba to Wimbledon, England and she's had the opportunity to interview icons such as Pele and Billie Jean King. She also had the opportunity to cover Super Bowl XLVIII in New York and the All-Star Game at Citi Field during her time as the Sports Director for Verizon FiOS 1. A former college athlete, Jennifer received her B.S. in Political Science from Trinity College and her Masters in Interactive Communications from Quinnipiac University. When Jennifer is not mourning the loss of her beloved Hartford Whalers, you can find her running or checking out a new restaurant. She also volunteers at BestFriends.org and works to promote the game of tennis in underserved communities. She currently resides in Port Chester, New York.
The latest from Jennifer Williams
On Thursday, New York City and the State of New York announced that the speed limit along the West Side Highway would be lowered from 35 to 30 miles per hour in order to create a safer roadway.