The latest developments on the coronavirus pandemic for April 7, 2020
NEW YORK - LIVE BLOG - FOX 5 NY is updating this blog with the latest developments on the coronavirus outbreak so you can get the information in one spot.
9:15 PM: Folk singer John Prine dies of complications from COVID-19, family tells The New York Times.
8:35 PM: Johns Hopkins University's Coronavirus Resource Center says that more than 300,000 people worldwide have recovered after becoming infected with the coronavirus.
8:01 PM: Saturday Night Live music supervisor Hal Willner dies; had symptoms consistent with COVID-19 but hadn't been officially diagnosed; he was 64.
7:28 PM: The California National Guard flies ventilators to New York, New Jersey, and Illinois.
6:15 PM: Denver will open a large, temporary homeless shelter and will use about 300 hotel rooms for homeless people who need to be isolated because of the coronavirus.
6:10 PM: Quebec public health officials project between 1,263 and 8,860 COVID-related deaths in the Canadian province by the end of April.
5:56 PM: Martin "Pharma Bro" Shkreli wants to be released from prison so he can help research a treatment for the coronavirus; the former drug company CEO is in prison for lying to investors, defrauding investors, and other convictions.
4:54 PM: Acting Navy Secretary Thomas Modly will resign, officials tell the AP; Modly fired the captain of the coronavirus-stricken USS Theodore Roosevelt and then lambasted him in a profanity-laced address to the aircraft carrier's crew.
4:33 PM: Toronto Zoo is taking precautions with its tigers, lions, cheetahs, leopards, and jaguars after the news that tigers and lions at the Bronx Zoo have fallen ill.
3:56 PM: Federal judge in New York denies R. Kelly's request to be released from jail over coronavirus fears.
3:54 PM: The Mayo Clinic asks people who have recovered from a coronavirus infection to consider donating blood plasma; Clinic says, "People who recover from COVID-19 do so, at least in part, because their blood contains substances called antibodies, which are capable of fighting the virus that causes the illness."
3:50 PM: Olympic snowboard champion Anna Gasser cleans out her closet and donates nine pairs of snow goggles to Goggles for Docs, a grassroots effort to get used and new ski eyewear to healthcare workers fighting COVID-19; athletes and businesses have donated more than 18,000 goggles since late March.
3:33 PM: Mark Hamilton, a former St. Louis Cardinals back-up first baseman who played just 47 games in the majors, is about to graduate from medical school on Long Island and join the fight against COVID-19 as a resident in the Northwell Health system on Long Island.
3:03 PM: Lowe's is closing all locations in the U.S. and Canada on Easter Sunday (April 12); CEO Marvin Ellison says: "We want to provide our teams with a much-deserved day off to spend Easter Sunday with their families and loved ones and recharge. ... I want to personally thank our 300,000 associates who have helped families stay safely at home. Their actions are nothing short of heroic."
2:43 PM: Treasury Secretary Steven Mnuchin says the administsration wants another $250 billion to help small businesses keep workers employed through the coronavirus crisis.
2:35 PM: Hall of Famer Cal Ripken Jr. launches campaign to help feed children and families across the country during pandemic; coordinates a contribution of $250,000; opens a Twitter account for the first time to promote the cause.
2:30 PM: Prime Minister Erna Solberg of Norway plans to open kindergartens on April 20 as the first stage of lifting the country's lockdown; Norway has recorded 89 deaths and 5,903 confirmed COVID-19 infections so far.
2:20 PM: NYC Healh and Hospitals CEO Mitch Katz says the city's public hospitals are working to boost capacity; Roosevelt Island Medical Center will have 350 new beds.
2:10 PM: Police Commissioner Dermot Shea says Police Communications Technician Ava Walker died from COVID-related causes; she was part of the NYPD's Communications Section for 20 years.
1:14 PM:  NJ Gov. Murphy is signing an executive order to close all state and county parks.
1:12 PM:  Murphy extends the declaration of a health care emergency for 30 days.
1:08 PM: New Jersey sees 3,361 new coronavirus cases, 232 more deaths.  The state has 44,416 cases and 1,232 deaths.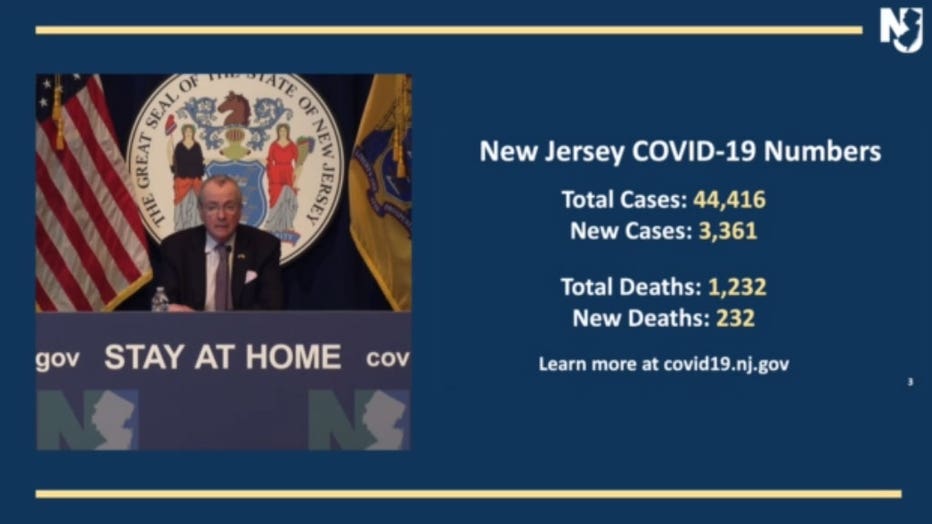 12:48 PM:  Senate Democratic Leader Chuck Schumer is calling for up to $25,000 "heroes" pay for frontline health care and service industry workers.
12:28 PM:  On Monday, April 6, 2020, 6,974 uniformed members of the NYPD were on the department's sick report which accounts for 19.3% of the uniformed workforce.
11:55 AM: From the FDNY: 1,310 FDNY EMTs, paramedics, and firefighters who reported testing positive for COVID-19, were exposed to COVID-19, or suspected of having COVID-19 have returned to full duty.
11:37 AM: Reporter asks if previously infected could get the virus again. Dr. Zuker: There was a report out of China about that but we have not seen that.
11:33 AM: DeRosa when asked about the 400 inmates at Rikers that were supposed to be released: 240 inmates have been released from Rikers of the 760 statewide.
11:31 AM: Cuomo asked about current need for ventilators: We are not in the position we were in.   
11:29 AM: Cuomo: I will sign an executive order today covering everything (fines, etc) we've discussed to date.
11:28 AM: Melissa DeRosa, Cuomo aide responds to question asking for number impacted within communities of color: We call the coroner's offices across the state. We want that information, too, and we will have it this week.
11:27 AM: Cuomo: Now is not the time for large, religious gatherings. You do no one a service by making this worse and infecting more people.
11:24 AM: Dr. Howard Zucker, NYS Health Commissioner: There are two types of antibody tests. It's important that the test we are using is the correct test.
11:22 AM: Cuomo takes questions from reporters.
11:20 AM: Cuomo: It's been 37 days. The 1918 pandemic peaked in New York for six months. Approximately 30,000 people died. But we are changing the curve in that virus growth. That's because of what we're doing. Social distancing is working. We have to keep doing it. I know it's hard. We have to stay disciplined.
11:18 AM: Cuomo: The federal government needs to help restart the local economies. I am sending our congressional delegation a letter saying that the federal aide needs to be improved from previous legislation.
11:12 AM: Cuomo: We have to start planning restarting life. I have spoken to Gov. Murphy and Gov. Lamont about the regional strategy. In my personal opinion, we start with testing. Who is healthy? Who can go back to work? The NYS Dept of Health approved an anti-body test. If the FDA approves, we can begin bringing to scale. Also, rapid testing now exists. But again, they have to be brought to scale. No private company has the capacity to bring that to scale. We have only about a 50,000 testing capacity in NYS. Private companies that are interested in getting into this space should contact us at the Empire State Development Corporation.
11:10 AM: Cuomo: When the Comfort makes the transition to COVID the capacity drops down to 500 beds from 1,000. With Javits and Comfort that's 3,000 beds.
11:09 AM: Cuomo: We have more than 90,000 beds available. Hospitals have hired about 7,000 medical personnel to date.
11:07 AM: Cuomo: There are 374,371 coronavirus cases in the country and 11,690 deaths across the country.
11:06 AM: Cuomo: There are 5,489 deaths in New York State up from 4,758. That is the ​​largest single day increase to date.
MORE: https://www.fox5ny.com/news/new-york-sees-largest-number-of-coronavirus-deaths-in-single-day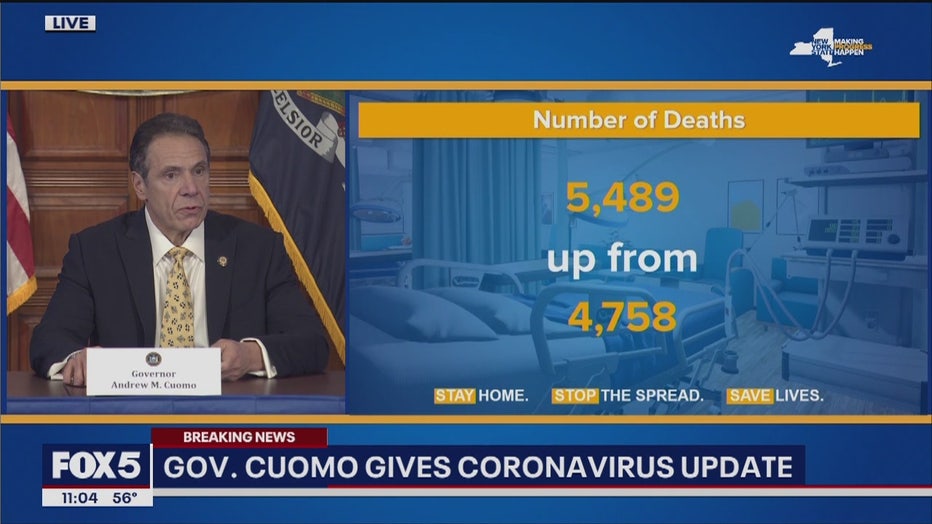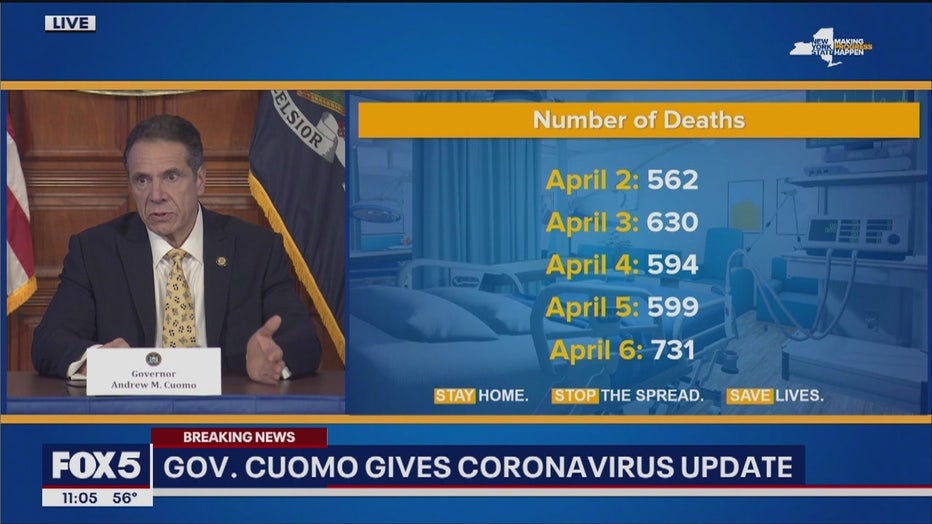 11:03 AM NY Gov Andrew Cuomo says newly hospitalized is up from yesterday to 656. The three day average is moving down. We are projecting that we are reaching a plateau based on hospitalizations.
11:02 AM: NY Gov. Andrew Cuomo updates the public on the coronavirus response in New York State at this link: https://fox5ny.com/live
10:38 AM: Dr. Oxiris Barbot, NYC Health Commissioner: I think the main point here is that Health and Hospitals and other hospital systems have been looking at any and all potential therapies to save as many as possible. Hydroxychoroquine is one of them. Very few patients have been able to take hydroxychloroquine. Is still too early to know the efficacy of hydroxychloroquine will be.
10:37 AM: De Blasio: Police and fire report a lot of their personnel coming back to work rapidly, after a week or two. Some are not.
10:30 AM De Blasio: This disease is affecting people disproportionately in lower income communities and communities of color. It is real. It is meaningful. There have been beds for everyone. All of this effort has been expended for everyone. The amount of help that has gone to Health and Hospitals, to Elmhurst, there is no disparity in that. We've gotten about 300 military medical personnel. The testing issue has been the worst part of the equation. In January, if we had testing it would have made a difference. At some point there might be a role for testing again. 
10:25 AM: De Blasio: Elmhurst Hospital, Lincoln Hospital, Bellevue Hospital, for the first time yesterday, we did not see a need in an increase in ventilators at those hospitals. For the first time, they were breaking even. No one should take down their guard. Some improvement was evident yesterday. That was buying us more time. We have to see it happening consistently to consider it a trend. 830 people intubated from Sunday into Monday. It's too early to call it a pattern or a trend. This is testament to the fact that social distancing and shelter in place is having an impact.  If people start loosening we are going to see that shooting right back up.
10:23 AM: De Blasio: Testing has been prioritized for first reponsders. Every day we get a little bit of relief in the progresson of the disease. There is no question they are a priority.
10:22 AM: After statement in Spanish, de Blasio takes questions from reporters.
10:21 AM: De Blasio: Gov. Gavin Newsom of California has taken 500 ventilators and returned them to the national stockpile for other states to use. I want to thank Governor Newsom.
10:19 AM: De Blasio: Thank you to Debra and Leon Black for their $10 million donation. They are willing to match up to another $10 million. They teamed up with the Mayor's Fund and everyone has teamed up with Aramark to put together food and supplies for health care workers and their families.
10:16 AM: De Blasio: If someone needs food delivered, call 311 or visit NYC.gov/getfood or text FOOD or COMIDA in Spanish at 877-877. 
10:15 AM: De Blasio: 2.6 million meals have been distributed in the last three weeks. There are 434 other sites including P.S. 1 where anyone can get a meal for breakfast, lunch or dinner.
10:12 AM: De Blasio: NYC Sanitation Commissioner Catherine Garcia was named our food czar and has been working on putting a plan into place to feed people. 3,100 meals have been distributed in the Lower East Side.
10:10: AM: De Blasio: The number of people needing food has gotten worse. The initial projections are that half a million New Yorkers are out of work or soon will be. That's the kind of unemployment you can only make the comparison to the Great Depression. It scares me.
10:09 AM: De Blasio: We projected to you that we had seen a little bit of progress on when we would need ventilators. The number of people needing ventilators has improved in recent days. I'm hopeful. 
10:08 AM: De Blasio: We have to be there for people who need food. We cannot let any New Yorker go hungry.
10:07 AM: De Blasio says he wants to discuss the need for food during the pandemic.
10:05 AM: Mayor Bill de Blasio updates the public on the coronavirus response in NYC. He is outside P.S. 1 in Chinatown. Watch LIVE: https://www.fox5ny.com/live
9:35 AM: US stocks opened 3% higher as hope builds that global shutdown measures are showing early promise for reopening economies.
8:08 AM:  Equity futures are pointing to a higher open on Tuesday amid a few glimmers of hope that the coronavirus pandemic could be slowing. The major futures tables are indicating a rise of 4 percent when trading begins.
MORE: https://www.fox5ny.com/news/stock-futures-point-to-more-gains-on-optimism-coronavirus-cases-could-be-slowing
7:00 AM: Watch 'Good Day New York' at this link: https://fox5ny.com/live
6:39 AM: Crew member aboard USNS Comfort diagnosed with coronavirus.
MORE: https://www.fox5ny.com/news/crew-member-aboard-usns-comfort-tests-positive-for-coronavirus
6:15 AM: Coronavirus headlines for New York and New York City: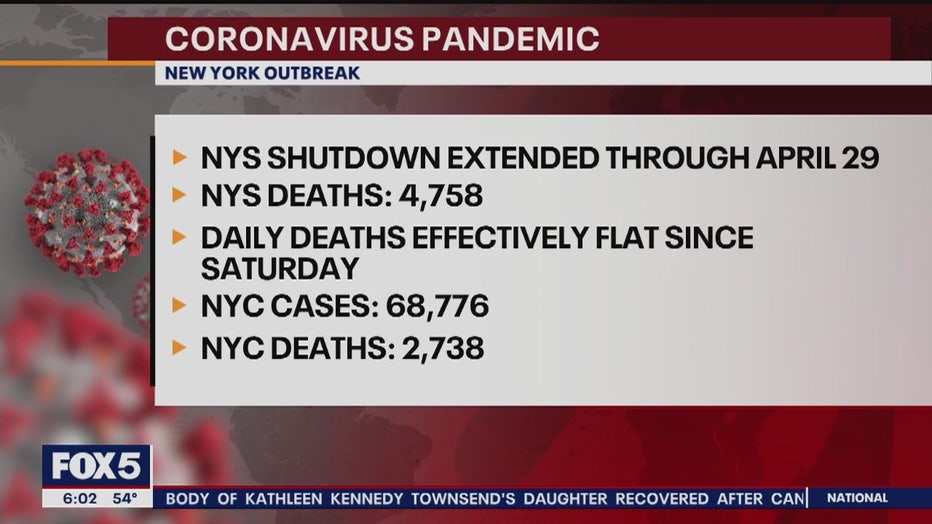 6:00 AM: A mother of five was cheered on by hospital staff as she left Staten Island University Hospital following a battle with COVID-19.
MORE: https://www.fox5ny.com/news/hospital-staff-cheers-as-mom-leaves-hospital-after-beating-covid-19