Heavy rain triggers flash floods in subways, on highways
NEW YORK - As Tropical Storm Elsa approached the New York area, heavy rainfall triggered flash floods in and around the city on Thursday. 
Excessive runoff from rainfall flooded urban areas, highways, streets, underpasses, subway stations, as well as other poor drainage or low-lying spots, authorities said. 
Videos posted to social media showed sheets of water falling into subway platforms and flooding stations entrances. 
In one video, an intrepid woman climbed down the stairs of a station at West 157th Street and waded through the dark, murky water with a bag on her shoulder and another held above her head.
In another video, a group attempted to cross the water by hopping through it in garbage bags.
"Due to flooding conditions, MTA train service may experience suspensions or disruptions throughout the city," officials said. 
Several cars got stuck in rising water on the Major Deegan Expressway in the Bronx. The NYPD and FDNY had to rescue several stranded motorists. On the other side of the Deegan, drivers had to pass the area only using one lane, with the others covered by brownish water.
Authorities also shut down parts of the FDR Drive because of severe flooding.
A Flash Flood Watch continued for the entire forecast area through Friday morning. 
With The Associated Press.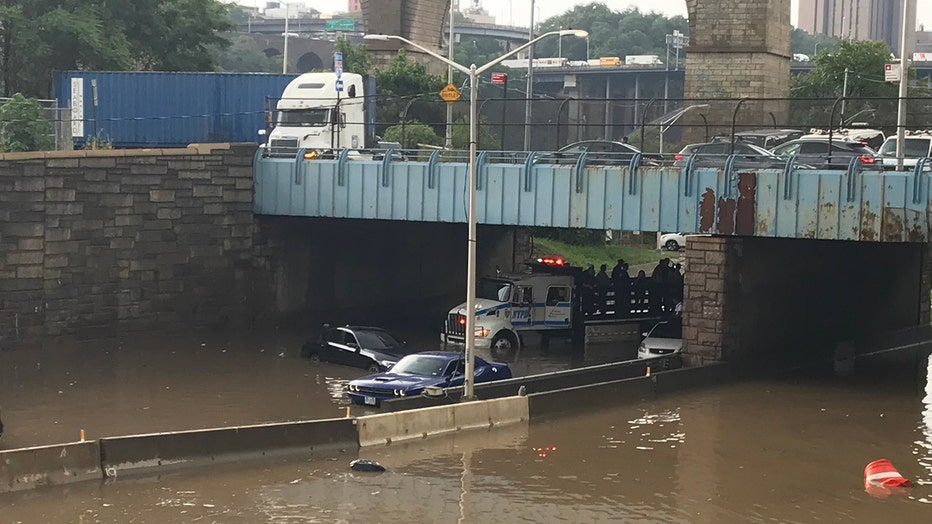 Police rescued stranded motorists on the Major Deegan Expressway (I-87) in the Bronx, N.Y., Thursday, July 8, 2021. (NYPD Photo)