Latest developments in the coronavirus pandemic for Monday, March 23, 2020
New York - LIVE BLOG - FOX 5 NY is updating this blog with the latest developments on the coronavirus outbreak so you can get the information in one spot. 
10:15 PM: NYPD says that officers stopped by thousands of restaurants, bars, supermarkets, salons and public spaces on Sunday to make sure that people and businesses were complying with the state and city's orders on social distancing and business closures; "As expected cooperation was wonderful," the NYPD said; officers issued 69 warnings.
9:40 PM: The number of confirmed cases in New York City has surged to 13,119 as of a count released Monday evening; 125 people have died.
9:25 PM: Anheuser-Busch, the maker of Budweiser and many other brands of beer, says it will begin producing hand sanitizer.
9:10 PM: After surveying more than 1,700 Team USA athletes, the U.S. Olympic and Paralympic Committee calls for the postponement of the 2020 Tokyo Olympics because of disruptions to training, doping enforcement, and qualification events: "To that end, it's more clear than ever that the path toward postponement is the most promising, and we encourage the IOC to take all needed steps to ensure the Games can be conducted under safe and fair conditions for all competitors."
9:02 PM: Washington Gov. Jay Inslee issues a 2-week stay-at-home order: "You can still go outside. Take a walk. Ride a bike. Garden. But you must remain six feet away from everyone at all times."
8:03 PM: In an email update, New York Gov. Andrew Cuomo says 30,000 people have responded to the state's call for retired and non-practicing nurses, doctors, med school students, and other pros to help with the COVID-19 response; "We still need more citizens to join this reserve staff," Cuomo says. "If you are a recently retired medical professional, a therapist, a psychologist or a qualified medical or nursing school student or staff member, we want your help. Enlist here: health.ny.gov/assistance."
7:30 PM: President Trump says he wants to "reopen the country" soon because of the ongoing economic fallout; says he is "not looking at months."
7:25 PM: The CDC issues new travel notices for Australia, Brazil, Canada, Chile, Japan, Israel, Pakistan, Thailand, and Turkey; "Avoid all nonessential travel to these areas."
7:10 PM: President Trump says he doesn't approve of "nasty" things being said against Asian Americans during the COVID-19 pandemic.
6:50 PM: Denver Mayor Michael Hancock issues a stay-at-home order; most people should not leave the house except for essentials such as groceries, medication, and exercise; non-essential businesses must close until at least April 10.
6:45 PM: White House says FEMA is distibuting 8 million N95 respirator masks and 13.3 million surgical masks, focusing on areas with the greatest need.
6:41 PM: Vice President says FDA will be approving the self-collection nasal swabs that can be submitted for COVID-19 testing; this would help protect health-care workers and greatly reduce the strain on PPE.
6:24 PM: Commissioner Shea says the NYPD will continue to step up during the crisis despite officers who have been diagnosed and others who are sick and staying home; says other police departments have offered support if needed; says he is not symptomatic, "just overworked," and has not been tested.
6:15 PM: NYPD Commissioner Dermot Shea says the department expects continuing compliance with orders for social distancing and staying at home; says officers will default to issuing directives and asking people to comply but all options, including summonses/arrests, are on the table.
6:14 PM: New York Philharmonic cancels the rest of the season and a 10-concert European tour; estimates $10 million in operating losses.
6:10 PM: Florida Gov. Ron DeSantis issues an executive order mandating anyone arriving on a flight from New York City area to self-quarantine for two weeks.
5:58 PM: Mayor de Blasio says he appreciates the committments the federal government has made to him since Sunday but he says NYC will need much more in the coming weeks.
5:53 PM: Health Commissioner Oxiris Barbot: The virus is spread through droplets; yes, it can survive on surfaces for a period of time (and that is much longer under lab conditions), our guidance has not changed: Wash your hands with soap and water often; other guidance: cover your nose and mouth with a tissue or sleeve when sneezing or coughing, do not touch your face with unwashed hands, monitor your health more closely than usual for cold or flu symptoms, and keep at least 6 feet between yourself and others. [Download the Stop the Spread poster here]
5:49 PM: Carranza: 78,000 free meals (breakfast, lunch, dinner) were served to kids across the city; free meals will continue to be served to all children in NYC who need them; click here to find a meal-distribution location.
5:45 PM: NYC Schools Chancellor Richard Carranza: On Day 1 of distance learning, teachers, educators, parents and students rose to teh occasion; "a myriad of learning experiences" were had today; promises to continue working with parents.
5:40 PM: Mayor de Blasio says that after review by the city's district attorneys, 75 inmates have been released from city jails; Correction Department, NYPD, Mayor's Office of Criminal Justice are reviewing more inmates that could be released in the next few days; some inmates that are under state jurisdiction could also be released.
5:38 PM: Mayor de Blasio directs Office of Management and Budget to direct every city agency to identify where it can make fiscal cuts (except COVID-19 response).
5:34 PM: Mayor de Blasio says New Yorkers must listen to officers when they break up groups or tell you to go home; teams from several departments will be enforcing the rules regarding social distancing and closures of businesses (NYPD, FDNY, NYC Sheriff, Buildings, Sanitation, and more).
5:32 PM: Mayor de Blasio: If people cannot practice social distancing at city parks, playgrounds, and elsewhere, we may need to get tougher; team sports, barbecues, and other larger gatherings are not allowed in the parks. 
5:30 PM: Mayor de Blasio: The city will make clear that everyone must stay away from each other, some people (most vulnerable) should not go outside at all, and non-essential businesses should not be open.
5:27 PM: Mayor de Blasio thanks several private companies for sending much-needed medical supplies to the city.
5:25 PM: Mayor de Blasio says he spoke to Defense Secretary Mark Esper and thanked him for the help from Army Corps of Engineers and for sending the USNS Comfort; mayor says he told Esper that NYC will still need more help from the Pentagon.
5:17 PM: New York City Mayor Bill de Blasio: 400 ventilators are arriving from the federal government; says city has requested 15,000.
5:11 PM: Many museums and art galleries that are temporarily closed are offering virtual tours and online exhibits.
5:03 PM: Texas-based Tito's Handmade Vodka is set to begin producing hand sanitizer.
4:55 PM: Canada has 2,049 confirmed and presumptive cases of COVID-19 as of Monday.
4:53 PM: Indiana Gov. Eric Holcomb orders residents to stay at home for two weeks starting Wednesday; exceptions for workers in essential industries and when residents need to get groceries and medicine.
4:48 PM: British Prime Minster Boris Johnson orders most stores to close and bans gatherings for three weeks.
4:46 PM: FDNY Commissioner Daniel Nigro says 46 members of the FDNY have tested positive for the coronavirus as of Monday.
4:34 PM: Quebec, the French-speaking province of Canada, orders all non-essential businesses to close until April 13.
4:25 PM: Lamont's order to all non-essential businesses and nonprofit entities in Connecticut prohibiting all in-person functions will take effect at 8 p.m.; certain businesses are excempted from this order.
4:16 PM: Lamont: Latest fatalities are a man in his 50s who lived in Norwalk (hospitalized at Norwalk Hospital) and a man in his 70s who lived in Newington (hospitalized at St. Francis Hospital).
4:14 PM: Lamont says the state is going to get 60,000 laptops for high school students at "virtually no cost" to the state.
4:12 PM: Lamont says he hopes the U.S. Congress prioritizes the right people and small businesses with its stimulus and relief package; says cruise companies don't need to be prioritized for bailouts over hospitals, small businesses.
4:10 PM: Lamont calls on residents to "use common sense" to stay out of groups and not form crowds; anyone over 70 should stay home; state parks may limit the number of cars/people to enter.
4:08 PM: Lamont says he is asking hospitals to increase their capacity by at least 50%; says he is glad many hospitals have cancelled elective surgeries and procedures.
4:07 PM: Lamont: We're looking at ways to get more PPE (personal protective equipment) for health-care workers, ventilators, and other medical equipment. 
4:03 PM: Lamont says number of confirmed cases appears to double every 3 to 4 days; mobile field hospitals are about to be deployed and college dorm rooms can be converted to house patients.
4:02 PM: Connecticut Gov. Ned Lamont says 88 Connecticut residents tested positive for COVID-19 since Sunday, bringing the total to 415; 54 people are hospitalized and 10 people have died.
4:00 PM: The Dow tumbled almost 600 points on yet another market-shaking day.
3:56 PM: Dr. Tedros Adhanom Ghebreyesus, the director-general of the World Health Organization, calls the growing number of coronavirus cases across the world "heartbreaking" and says a more aggressive approach is needed to fight the pandemic.
3:45 PM: Italy records a smaller day-to-day increase in new coronavirus cases for the second straight day; but officials caution it is too soon to know if the worst is over.
3:27 PM: U.S. Sen. Rand Paul, R-Ky., continued working at the U.S. Capitol for 6 days after being tested for the coronavirus and before learning that he was in fact infected.
3:24 PM: UJA-Federation of New York, a nonprofit that funds other nonprofits, announces more than $23 million in immediate grants and loans to help vulnerable New Yorkers affected by COVID-19.
3:16 PM: Virginia Gov. Ralph Northam says his state's public schools will stay closed for the rest of the current school year and certain types of businesses, like bowling alleys, gyms and theaters, must shut down.
3:13 PM: Ontario, Canada's most populous province, says all non-essential businesses must close for at least 14 days starting at 11:59 p.m. Tuesday.
2:41 PM: Rhode Island Gov. Gina Raimondo says she will sign an executive order postponing her state's presidential primary from April 28 to June 2, matching what Connecticut, Maryland, and other states have done. 
2:36 PM: South Africa's leadership says the country will go into nationwide lockdown from Thursday to fight coronavirus spread. It will be the third African country to do so.
2:35 PM: U.S. Sen. Amy Klobuchar, D-Minn., says her husband has COVID-19. 
2:30 PM: Disgraced movie mogul and convicted rapist Harvey Weinstein tests positive for the coronavirus at a state prison in New York.
2:29 PM: Volunteers are working to provide meals for Holocaust survivors amid the coronavirus crisis.
2:27 PM: Royal Caribbean Cruises is borrowing $2.2 billion in secured loans to bolster its liquidity.
2:11 PM: U.S. attorney says Michael Cohen's request to be released from prison due to coronavirus risk should be denied, according to reports. Cohen was Donald Trump's personal lawyer and fixer for many years.
1:58 PM: Cuomo: masks that we used to pay 80 cents for we are now paying $7 for because other states are bidding, too.
1:55 PM: Cuomo: Javits Center hospitals will be used as a back-fill facility. When hospitals have reached their capacity, patients can be brought here.
1:54 PM: Cuomo reiterates mandate to hospitals to increase capacity to at least 50 percent.
1:50 PM: NY Gov. Andrew Cuomo is touring the Jacob K. Javits Center on the West Side of Manhattan where 4 temporary hospitals will be built. Watch LIVE: Fox5NY.com/live
1:31 PM: Murphy: We can't have people gathering for festivities for Easter or Passover. We are going to have to enforce social distancing.
1:30 PM: Grewal: We've told law enforcement that if there are cases we can wait to try later, wait.
1:28 PM: Murphy: I told the President, I know that the Lord helps those who help themselves.
1:22 PM: There are no known cases of coronavirus patients among the state's inmates.
1:20 PM: Med-surge beds in NJ may need to open in hotels with the proper level of care.
1:15 PM: There are 1,700 ventilators in state's inventory. There is a deficit betwen ventilators and beds at about 300. With a surge, requirement for ventilators will increase.
1:06 PM: Murphy: Schools will be closed longer than not. It has yet to be determined if schools will open this year. Same holds for school testing.
1:02 PM: There over 60 private laboratories providing data (coronavirus test results) to the NJ State Department of Health.
12:55 PM: Murphy: We exend our law enforcement into every corner of the state there will still be places we cannot enter. We expect a level of behavior. Look at Italy. It's not a time for business as usual.
12:47 PM: Grewal: Those low-level offenders who will be released are people serving a sentence of 364 days or less and typically serving time at a county jail. Under this landmark process, offenders will be released unless there is an individual objection from a county prosecutor or from my office. Then, there will be a hearing involving the public defender. I take no pleasure in releasing low-level inmates. 
https://www.fox5ny.com/news/new-jersey-orders-county-inmates-released-due-to-coronavirus
12:43: Grewal: NJSAG office is investigating 900 complaints of price gouging. Most are from wholesalers and not your local store.
12:36 PM: NJ Attorney General Gurbir Grewal: My office is aggressively going after anynone who is repsonible for 1. violations of stay-at-home orders; 2. going after companies that are price gouging; 3. stopping those using pandemic to justify acts of hate.
12:33 PM: Of the 7 newly reported deaths, 5 are males and 2 are females bringing the state death total to date to 27.  
12:30 PM Murphy: Unless you are needed, stay home. The numbers will continue to go up. Each number is a fellow New Jerseyan that needs us to support them.
12:27 PM: Murphy: There are more than 8,000 available jobs including grocery workers, warehouse and many others. Visit: COVID19.nj.gov
12:25 PM Murphy: Anyone who needs a diabetes testing kit can request one from diabetesfoundationinc.org or 973-849-5234
12:23 PM: Murphy: No elective surgeries starting at 5 p.m. this Friday, March 27.
12:22 PM: Murphy: Certain low-level offenders will be released from county jails to prevent the spread of the virus in the jail system. "I don't know any other state that has done this."
MORE: https://www.fox5ny.com/news/new-jersey-orders-county-inmates-released-due-to-coronavirus
12:20 PM: Murphy: Hudson Regional Hospital in Secaucus testing site now open. You must be exhibiting symptoms and you must call ahead to make an appointment. Call: 201-388-1097.
12:18 PM: Murphy: The Bergen County testing site hit capacity only a few hours after opening.
12:18 PM: Murphy: There are 7 deaths as of this date.
12:17 PM: Murphy: All private testers should report findings to State Department of Health
12:16 PM: Murphy: Today's numbers may include early numbers from Bergen County Community College.
12:13 PM: Murphy: 935 new cases since yesterday briging total to 2,844 cases. These numbers will go up.
12:10 PM: Murphy: to all schools, we have received your questions and are reviewing them. Please continue to distribute meals.
12:09 PM: NJ Gov. Phil Murphy updating public on coronavirus response in New Jersey. Watch LIVE: https://www.fox5ny.com/live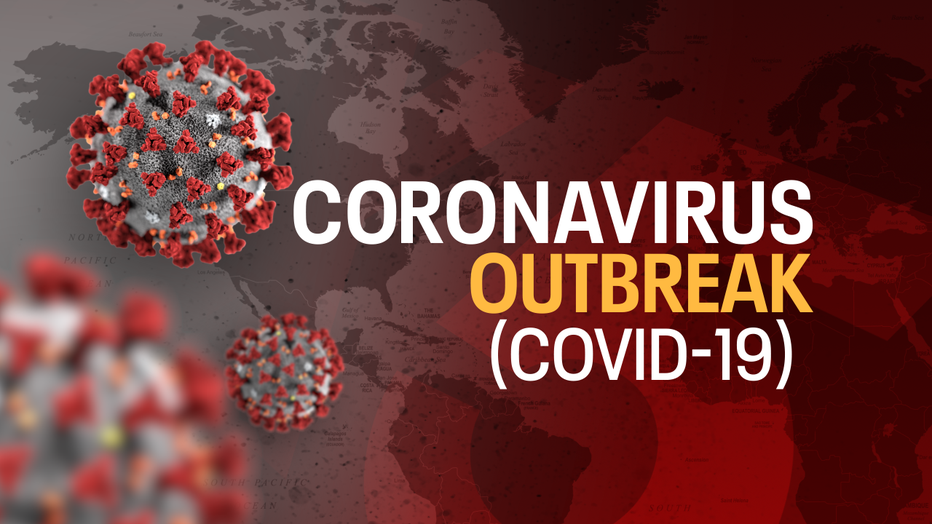 11:38 AM: Cuomo: We are running videos to get the word out. The videos include messages from actor Robert De Niro and Danny DeVito.
11:29 AM: Cuomo: The state is providing hospitals with more protective masks and gowns. Any hospital that needs masks and gowns today can get them but that might not be the case next week.
11:26 AM: Cuomo: My desnity control measures were not enough. You can look at a park in Brooklyn and Manhattan and it looked like any sunny day.
11:24 AM: Cuomo: Many will get it but a few will become very sick.
11:23 AM: Cuomo: My daughter, Cara, will be with me for months. As crazy as this crazy situation is it gave me this beautiful gift.
11:18 AM: Cuomo: Don't underestimate the pain of isolation. This is not the human condition. This is all unnatural and disorienting. The question is how do we use this time positively? We have to learn from this experience. We were not ready to deal with this. Let us prepare to be ready for the next situation.
11:17 AM: Cuomo: We have to start to work on 'NY Forward.' How do you restart or transition to a restart of the economy.
11:14 AM: Cuomo: We have to start the plan on the economic pivot back to functionality. Should everyone stay out of work? Should younger people start to go back to work?
11:12 AM: Cuomo: There are 20,000 cases statewide including 5,000 new cases. There are 12,305 cases in New York City. DETAILS: https://www.fox5ny.com/news/ny-coronavirus-cases-jump-to-20000
11:09 AM: Cuomo: FDA gave NYSHD approval for a drug that has real possibility.  It's  called Hydroxychloroquine and Zithromax -combo. It's only a trial for people in the most severe cases. We are going to start that this week.
11:06 AM: Cuomo: headed to Javits Center today to make sure hospitals being constructed there. 4 temporary hospitals will be errected starting today. 1,000 beds with ventilators.
11:01 AM: Cuomo: We have 53,000 beds and we may need 110,000 beds. An emergency order to all hospitals: you must increase your capacity by 50 percent. Find more beds. Use more rooms. Try to increase your capacity 100 percent.
11:00 AM: Cuomo: 16,000 people tested per day that's more than any other state and more per-capita than South Korea.
10:56 AM: Cuomo says he's awaiting NYC's plan on how to reduce density especially in young people.
10:54 AM: Watch NY Gov. Andrew Cuomo update on the coronavirus response in New York State. CLICK: https://www.fox5ny.com/live 
10:25 AM: More than 1.5 billion people — one-fifth of the world's population — were asked or ordered to stay home on Monday to try to blunt the spread of the coronavirus.
9:43 AM:  Japanese Prime Minister Shinzo Abe said Monday this summer's Tokyo Olympics cannot be held under current circumstances due to the new coronavirus pandemic, suggesting for the first time that the games may have to be postponed.
"If I'm asked whether we can hold the Olympics at this point in time, I would have to say that the world is not in such a condition," Abe told a parliamentary session, adding he hopes to hold talks with International Olympic Committee President Thomas Bach over the issue. https://www.fox5ny.com/news/tokyo-olympics-likely-in-2021
8:50 AM:  The Javits Center will house four temporary hospitals to help in the fight against the coronavirus pandemic.
8:36 AM: Dr. Mehmet Oz says he is optimistic about clinical trials now underway in the U.S. for a drug to treat coronavirus.
7:42 AM: Anyone not following the stay-at-home order will face a fine, CT Gov. Ned Lamont tells Good Day NY. Here is Connecticut's stay-at-home policy in a nutshell: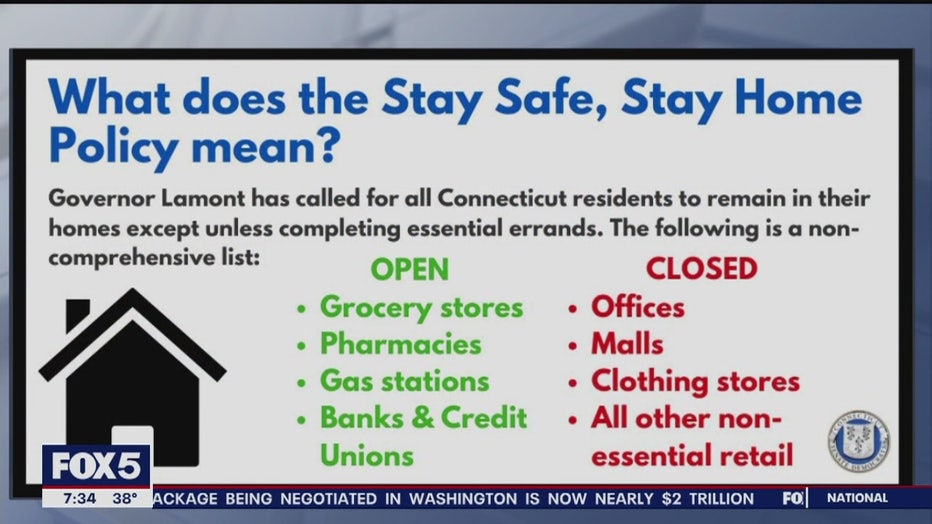 7:30 AM: The latest numbers on the coronavirus pandemic in the NYC region.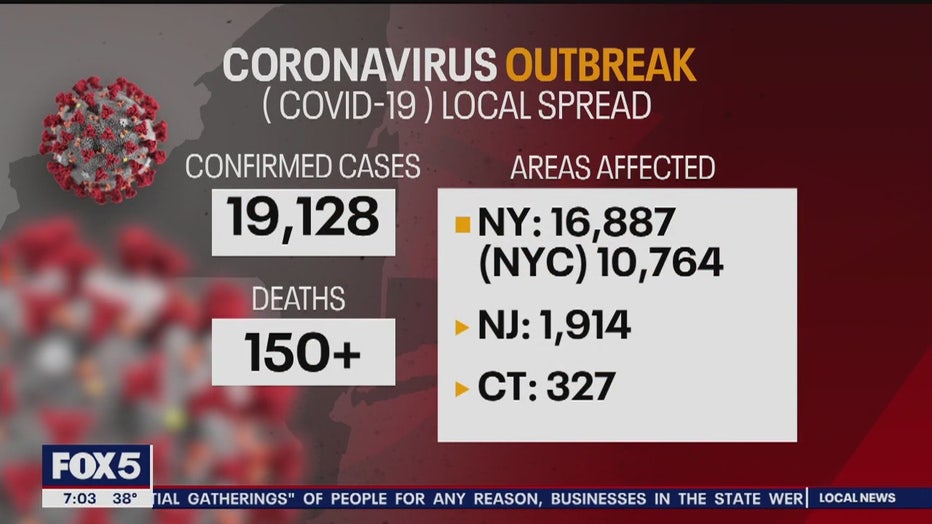 7:00 AM: Watch Good Day New York at this link: https://www.fox5ny.com/live
6:47 AM: NJ Transit trains are running on a President's Day schedule. https://www.njtransit.com/sf/sf_servlet.srv?hdnPageAction=TrainTo
6:42 AM: Drive-thru testing at Bergen Community College opens at 8 a.m. Only people with coronavirus symptoms will be tested. The site reached capacity only hours after opening for a third day on Sunday. MORE: https://www.fox5ny.com/news/new-jersey-drive-thru-testing-center-reaches-capacity-shortly-after-opening
6:37 AM: Nassau County officials say that if you call 911 for a health emergency, communications bureau operators will screen each caller to obtain specific information to protect against the Coronavirus. Personal Protective Equipment including, but not limited to, N95 respiratory protection masks, gloves, eye protection and gowns continue to be provided to all first responders within the Department. However, if you have flu like symptoms please contact your health care provider. 
5:34: AM All Metro-North ticket offices temporarily closed. https://t.co/B5PdvpqPP5