Latest developments in the coronavirus pandemic for March 22, 2020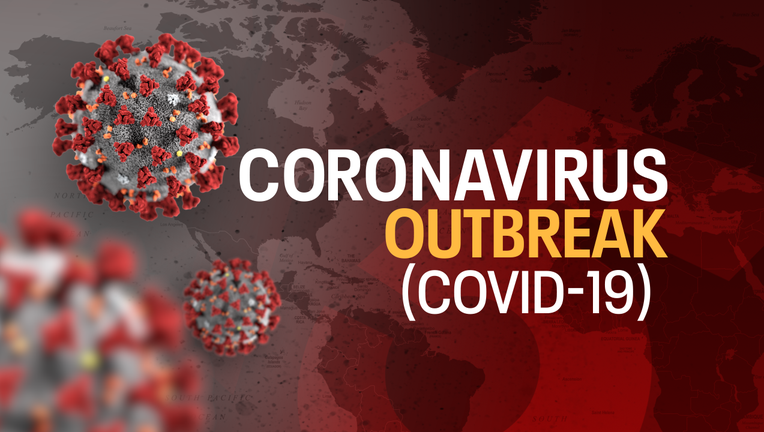 article
NEW YORK - LIVE BLOG - FOX 5 NY is updating this blog with the latest developments on the coronavirus outbreak so you can get the information in one spot.
10:13 PM:  
A man who says he got coronavirus in New York says a drug used to treat malaria saved his life:  https://www.fox5ny.com/news/a-man-with-coronavirus-who-works-in-la-says-the-drug-used-to-treat-malaria-saved-his-life
9:38 PM:  Mayor de Blasio tweets:  "We're on the verge of 10,000 cases of COVID-19 in New York City. We've had 63 deaths. We represent 1/3 of the cases in the US and 2/3 of the cases in New York State. This crisis is affecting our entire nation and New York City is its epicenter."
8:22 PM:  Reminder: all non-essential workers are mandated to stay home. Full list of essential/non-essential businesses: https://on.ny.gov/2xaC0Vb
8:00 PM: As of 8 p.m. Sunday evening, Governor Cuomo's Executive Order mandating that non-essential businesses reduce their in-person workforce by 100% goes into effect. 
Also at 8 p.m., the New York State Thruway will be enacting emergency toll procedures that will convert the collection of cash tolls to toll billing by the license plate.
7:57 PM: Governor Ned Lamont has announced that 104 more Connecticut residents have tested positive for coronavirus, bringing the total to 327. Fairfield County remains the worst-hit part of the state, with 208 positive tests. 
7:39 PM: The Senate has refused to advance the coronavirus rescue package in a procedural vote with Democrats rejecting a draft from Republicans and pushing for more aid for workers.
Negotiations are expected to continue into the evening Sunday.
Senate Majority Leader Mitch McConnell has urged senators to "signal to the public that we're ready to get this job done." He wants passage by Monday.
But Democrats have resisted, arguing the nearly $1.4 trillion measure needs to bolster aid and put limits on how businesses can use the emergency dollars.
More voting is possible.
7:10 PM: White House officials are directing Americans concerned about their health to visit coronavirus.gov for instructions on what to do if you think you might be showing symptoms of coronavirus. Vice President Pence says again that if you do not have symptoms, you do not need to be tested. 
6:55 PM: Trump says he is of the opinion that we will know how the crisis is going at the end of a 15-day period. 
6:53 PM: Trump says once the crisis is over, "our country is going to bounce back."
6:51 PM: Trump says he wishes China had informed the U.S. sooner about the coronavirus. 
6:48 PM: Trump says his administration will look at freeing elderly nonviolent criminals from prison due to coronavirus concerns. 
6:47 PM: Trump says the USNS Comfort will arrive in New York in roughly three weeks to support the coronavirus outbreak response. 
6:39 PM: Trump says both parties want to work together to help save workers and companies from financial ruin. 
6:35 PM: Pence says America is 7 days into 15 days of stopping the spread, and asks Americans to continue to put into practice federal and local guidance on stopping the spread of coronavirus. 
6:34 PM: Pence says that the White House is working diligently to get Americans who are stranded overseas back home. 
6:32 PM: Pence says that on Monday new guidance will be unveiled for people working in law enforcement and first responders. 
6:31 PM: Pence urges commercial labs across the nation to prioritize inpatient testing.
6:29 PM: Pence says testing is more and more available to Americans each day. As of Sunday, 254,000 Americans have been tested for coronavirus and received results. Just over 30,000 have tested positive. 
6:27 PM: Vice President Mike Pence thanks the American people for the work they are doing to slow the spread of coronavirus. 
6:21 PM: Trump announced the launch of a new public-private consortium to "unlock super-computing resources to fight the Chinese virus."
6:17 PM: Trump: "I'm very proud of our country, I'm very proud to be your President."
6:14 PM: Trump says the U.S. is aggressively looking into a number of antiviral medications to fight coronavirus. 
6:13 PM: Trump says the VA has canceled most elective surgical procedures. 
6:11 PM: Trump says the outpouring of support from the private sector has been overwhelming. Honeywell is expanding production of N95 masks, and will produce "millions" of the masks. 
6:08 PM: Trump says that FEMA will be setting up 1,000 extra hospital beds in New York in the next 48 hours at four separate locations of 250 beds apiece, and FEMA will provide staff and equipment at the Javits Center. 
6:05 PM: Trump says over 400,000 surgical masks, over 60,000 surgical gowns, over 240,000 gloves and many more supplies have been delivered to New York, and there are "tremendous numbers" of companies also making equipment to help protect healthcare workers. 
6:03 PM: Trump says supplies en route to New York and California will arrive in the next 48 hours. 
6:01 PM: Trump says he is announcing action to help New York, California and Washington effectively deploy the National Guard. He says FEMA will be funding 100% of the cost to deploy the National Guard. 
6:00 PM: Trump says his administration is working urgently with congress to provide financial relief to Americans so that families can get by and small businesses can keep workers on the payroll. 
5:58 PM: President Donald Trump reminds Americans that it is imperative that Americans continue following federal guidelines on social distancing, handwashing and avoiding non-essential travel. 
5:53 PM: According to the Mayor's Office, on Saturday, the NYPD, FDNY, Buildings Department and City Sheriff conducted 13,000 inspections of bars, restaurants, gyms and more, and only issued 11 violations. 
5:31 PM: New Jersey Governor Phil Murphy has announced that all NJ residents will have access to telehealth and tele-mental health services.
4:48 PM: Ohio and Louisiana are the latest states telling residents to stay at home, beginning Monday evening. All non-essential businesses will close, but residents will be allowed to leave their homes for activities like exercise, grocery shopping and medical emergencies. 
4:01 PM: Commissioner Shea says that 98 members of the NYPD have tested positive for coronavirus, 95 of whom are recovering at home. He says the NYPD is seeing double its usual sick rate, but that the department is still "in a good place" with staffing. 
3:56 PM: De Blasio acknowledges that some New Yorkers, especially those in the gig economy, are facing an incredibly difficult financial situation. He says he hopes that congress will act quickly on a stimulus package to provide money directly to Americans. 
3:53 PM: De Blasio says the city may consider opening up streets to pedestrians, but that they want to make sure the NYPD can patrol any of those areas to enforce social distancing.
"If we are going to expand, we will expand purposefully," De Blasio said.
3:45 PM: De Blasio: "I think there's a deep understanding that something profound has changed."
3:42 PM: Shea says that by and large, New Yorkers are observing social distancing rules outdoors, but reminded New Yorkers that large gatherings are prohibited. 
"As much as you want to get out, there's a responsible way to do it," Shea said. 
3:40 PM: Police Commissioner Dermot Shea says members of the NYPD have visited thousands of supermarkets, businesses, bars and restaurants, and that New Yorkers have been overwhelmingly cooperating with recent orders. 
3:37 PM: De Blasio says the city's blood supply is currently sufficient but that giving blood is essential and that New Yorkers are needed to step up. If you are ready and willing to donate blood, call 800-933-2566 or go to www.nybc.org
3:35 PM: De Blasio says bike repair shops are essential and will be treated as such and allowed to remain open. 
3:32 PM: De Blasio says 23 inmates are being released from the New York City jail system due to coronavirus concerns, all are over 50 and of low risk to reoffend. Another 200 are being reviewed for release.
3:27 PM: De Blasio says playgrounds will remain open, but will not be cleaned and sanitized.
3:25 PM: De Blasio reminds New Yorkers to observe social distancing rules. He asks New Yorkers not play team sports, hold gatherings or over-crowd playgrounds. 
3:23 PM: De Blasio reminds New Yorkers that while they can leave home to get some exercise or groceries, to do so quickly, get what you need, and get back indoors. He says the rules will be enforced through education and conversation.
3:20 PM: De Blasio says he is organizing production in New York City for vitally needed supplies and equipment to quickly figure out how to produce ventilators, surgical masks, and other desperately-needed supplies. 
3:17 PM: De Blasio says he is appointing a "Food Czar" to help make sure New Yorkers stay fed.  
3:13 PM: De Blasio again criticizes the federal government for inaction during the coronavirus crisis, saying the city needs the nation's armed forces fully mobilized to provide assistance immediately, along with supplies "on a vast scale."
3:12 PM: De Blasio says 35 pecent of the hospitalizations related to coronavirus are for New Yorkers over the age of 70. De Blasio says people over 70 represent just 10 percent of the population of New York City. 
3:10 PM: De Blasio says 63 people have died as a result of coronavirus in New York City. 
However, De Blasio says among New York City coronavirus patients ranging in age from birth to 44 years old, there have been no deaths so far. 
3:09 PM: De Blasio: "We represent about a third of the cases in the United States of America and two-thirds of the cases in New York." 
3:06 PM: De Blasio praises healthcare workers, transit workers, grocery stores workers and all the "unsung heroes" who are helping keep the city functioning. 
3:02 PM: Mayor Bill de Blasio says that while he is frustrated and angered by the lack of federal response to the coronavirus outbreak, he is inspired by New Yorkers working to overcome the crisis. 
3:01 PM: New York City Mayor Bill de Blasio and New York City Police Commissioner Dermot Shea are holding a press conference to address the coronavirus outbreak.
2:54 PM: New Jersey Governor Phil Murphy has announced 590 new positive coronavirus cases in the state, bringing its total to 1,914. The death toll has also risen to 20.
He also announced that Union County is opening a testing facility at Kean University on Monday for county residents, first responders and county workers. 
2:51 PM: Fashion retail chain H&M has announced that it will use its supply chain capacity to produce personal protective equipment for hospitals and health care workers.
"The Coronavirus is dramatically affecting each and every one of us, and H&M Group is, like many other organisations, trying our best to help in this extraordinary situation. We see this is as a first step in our efforts to support in any way we can. We are all in this together, and have to approach this as collectively as possible," said Anna Gedda, Head of Sustainability H&M Group.
2:05 PM: Spanish opera singer Plácido Domingo said Sunday that he's infected with the coronavirus.
The 79-year-old Domingo said in a post on his personal Facebook account Sunday that "I feel it is my moral duty to announce to you that I have tested positive."
The tenor says he and his family are in self-isolation and that he is feeling well despite having fever and a cough.
1:57 PM: German Chancellor Angela Merkel has gone into quarantine after being informed that a doctor who administered a vaccine to her has tested positive for the new coronavirus.
Merkel's spokesman said the German chancellor, who is 65, was informed about the doctor's test shortly after holding a news conference Sunday announcing new measures to curb the spread of the virus.
Her spokesman, Steffen Seibert, said Merkel had received a precautionary vaccine Friday against pneumococcal infection.
1:51 PM: Brooklyn Borough President Eric Adams said in a statement that hospitals in the borough will soon be unable to accommodate new patients unless action is taken.
"Yesterday, the state identified sites throughout New York that could serve as temporary hospitals as we continue to fight the spread of coronavirus," Adams said. "…I was surprised and disheartened that not a single site identified by the state is located in Brooklyn. We are not only the most populous county in the state, with more than 2.6 millio people – we also currently have the most confirmed cases of any borough in the city."
According to the latest numbers from Mayor Bill de Blasio, there are 2,857 positive coronavirus cases in Brooklyn. 
1:43 PM: Kentucky Senator Rand Paul has tested positive for coronavirus. He is currently in quarantine and is asymptomatic. 
1:36 PM: General Motors says it is partnering with Ventec Life Systems to help build many, many more ventilators to help patients suffering from severe and potentially-fatal respiratory problems as a result of the coronavirus outbreak. 
1:07 PM: New York City Mayor Bill de Blasio says that as of Sunday morning, there are 9,654 positive coronavirus cases in New York City, with 63 deaths.
2,715 cases are in Queens, 2,072 are in Manhattan, 2,857 are in Brooklyn, 1,411 are in the Bronx and 593 are on Staten Island. 
12:51 PM: Port Authority Executive Director Rick Cotton, who tested positive for coronavirus, self-resolved without hospitalization and how now tested negative.
12:19 PM: Beginning tomorrow, March 23, more than 400 feeding sites will open across New Yok City for anyone 18 and under. 
12:09 PM: The death toll from the global coronavirus pandemic has surpassed 13,000 people worldwide and sickened more than 292,000.
11:56 AM: Cuomo calls on New Yorkers to be "smart and responsible" in their actions, and not to gather in public. 
11:55 AM: Cuomo says there are only two ways two stop the spread of coronavirus. Testing and density reduction. 
11:50 AM: Cuomo says that the main issue facing the state is a lack of protective equipment for healthcare workers. He again calls on the federal government to authorize the Defense Production Act to order companies to produce the needed equipment. 
11:46 AM: Cuomo: "America is America because we overcome adversity and challenges."
11:45 AM: Cuomo: "It's going to be hard… but at the same time it's going to be okay."
11:44 AM: Cuomo says again that 40 to 80 percent of the population of New York will get the virus and that it will be several months before the crisis ends. 
11:41 AM: Cuomo asks new Yorkers to anticipate and plan for positive and negative parts of the crisis, and to anticipate the emotional hardships it brings. 
11:39 AM: Cuomo says that there have now been 114 coronavirus deaths in New York and 374 nationwide. 70 percent of deaths were people 70 years old or older and the majority had underlying heath conditions. Approximately 80% of the deaths of those under 70 years old had an underlying health condition. 
11:35 AM: Cuomo says New York now has 15,168 positive coronavirus cases, with 4,812 found on March 21. 1,974 out of the cases have been hospitalized. 
11:31 AM: Cuomo says that there were far too many people gathered in public in New York City during the weekend, calling it "arrogant and destructive." 
11:29 AM: Cuomo says that people between the ages of 18-49 represent 53 percent of the total cases in New York and that older people and those with underlying illnesses can die from the coronavirus. 
11:27 AM: Cuomo says the state is canceling all elective, non-critical surgery at hospitals in New York beginning on Wednesday. 
11:25 AM: Cuomo says the state is working to expand existing hospital capacity, with a goal of each hospital increasing their capacity by 100%. 
11:22 AM: Cuomo says the state is implementing trials of Hydroxychloroquine and Zithromax and Chloroquine beginning on Tuesday. 
11:19 AM: NYC is seeking NY State-certified healthcare workers to support healthcare facilities in need. Visit NYC.gov/helpnow to volunteer. Healthcare providers can also request healthcare workers with specific skills to support their operations. Info: NYC.gov/helpnow.
11:17 AM: Cuomo says he is requesting that the federal government direct the Army Corps of Engineers to erect temporary hospitals at SSUNY Stony Brook, SUNY Old Westbury, in Westchester County, and at the Javits Center. 
11:12 AM: Cuomo is calling on the federal government to prioritize giving money to individuals and families that need it, on giving money to governments and also on corporate subsidies, albeit not at taxpayers' expense. 
11:09 AM: Andrew Cuomo is holding a press conference to give an update on the coronavirus outbreak in New York State. https://www.fox5ny.com/live
10:47 AM:  Authorities say a drive-thru coronavirus testing center in New Jersey once again reached capacity Sunday morning shortly after opening.  MORE DETAILS
10:15 AM:  Gov. Cuomo is planning to give an update on the coronavirus at 11 a.m. on Sunday.
9:51 AM:  Starting March 23, NYC students can pick up 3 free meals daily from 7:30AM-1:30PM M-F at 400 NYC sites. https://schools.nyc.gov/freemeals
9:45 AM:  New Hampshire retail stores are being ordered to temporarily transition to the use of single-use paper or plastic bags because of the risk that reusable bags could pose a risk of transmission of the coronavirus.
In the order issued late Saturday, Gov. Chris Sununu directed all grocers and retail stores in New Hampshire to transition to use only new paper or plastic grocery bags provided by stores "as soon as feasibly possible."
"Our grocery store workers are on the front lines of COVID-19, working around the clock to keep New Hampshire families fed," the governor said in a statement. "With identified community transmission, it is important that shoppers keep their reusable bags at home given the potential risk to baggers, grocers and customers."
9:25 AM:  Sunday is Mother's Day in Britain and the government has a stark message for millions of citizens: Visiting your mom could kill her.
9:00 AM:  New York City was hit by the nation's largest coronavirus jail outbreak to date this week, with at least 38 people testing positive at the notorious Rikers Island complex and nearby facilities — more than half of them incarcerated men, the board that oversees the city's jail system said.   READ MORE
8:45 AM:   New York City was hit by the nation's largest coronavirus jail outbreak to date this week, with at least 38 people testing positive at the notorious Rikers Island complex and nearby facilities — more than half of them incarcerated men, the board that oversees the city's jail system said Saturday.
Another inmate, meanwhile, became the first in the country to test positive in a federal jail.
8:37 AM:   Indian migrant workers attempting to reach their home villages crowded a railway station in the northern state of Uttar Pradesh on Sunday, defying a 14-hour "people's curfew" that Prime Minister Narendra Modi called to stem a surge in coronavirus cases in the world's second-most populous country.
Modi asked India's 1.3 billion people to stay at home on Sunday, but also to collectively cheer front-line health care workers at 5 p.m.
Shortly before 5, the cacophony in New Delhi, the capital, began as people on balconies and rooftops clapped, rang bells, banged pots and pans, played music recordings and exploded fireworks, sending crows and parakeets streaming from treetops, and stray dogs and cows into the deserted streets.
At least 341 people have been infected in India by the new coronavirus, including the first case in the largely impoverished eastern state of Bihar, according to health officials. Five people have died in the country from COVID-19, the illness caused by the virus.
8:21 AM:  Young German adults hold "corona parties" and cough toward older people. A Spanish man leashes a goat to go for a walk to skirt confinement orders. From France to Florida to Australia, kitesurfers, college students and others crowd the beaches.
Their defiance of lockdown mandates and scientific advice to fight the coronavirus pandemic has prompted crackdowns by authorities on people trying to escape cabin fever brought on by virus restrictions. In some cases, the virus rebels resist — threatening police as officials express outrage over public gatherings that could spread the virus.
"Some consider they're little heroes when they break the rules," said French Interior Minister Christophe Castaner. "Well, no. You're an imbecile, and especially a threat to yourself."
After days of noncompliance by people refusing to stay home and venture out only for essential tasks, France on Friday sent security forces into train stations to prevent people from traveling to their vacation homes, potentially carrying the virus to the countryside or beaches where medical facilities are less robust. The popular Paris walkway along the Seine River was closed and a nightly curfew was imposed in the French Mediterranean city of Nice by Mayor Christian Estrosi, who is infected with the virus.
8:02 AM:  Iran's supreme leader refused U.S. assistance Sunday to fight the new coronavirus, citing an unfounded conspiracy theory that the virus could be man-made by America.
Ayatollah Ali Khamenei's comments come as Iran faces crushing U.S. sanctions blocking the country from selling its crude oil and accessing international financial markets.