Latest developments in the coronavirus pandemic for March 17, 2020
NEW YORK - LIVE BLOG- FOX 5 NY is updating this blog with the latest developments on the coronavirus outbreak so you can get the information in one spot.
10:27 PM: Wuhan, China, the original epicenter of the coronavirus pandemic, has reported just one new case for a second day.
9:39 PM: The governor of Nevada orders the closure of casinos and restaurants to fight the spread of the coronavirus.
8:35 PM: The world-famous Christ the Redeemer statue in Rio de Janeiro, Brazil, closes for at least a week; the 125-foot-tall statue draws more than a million visitors a year.
8:32 PM: Wu-Tang Clan urges people to "Protect Ya Neck against the coronavirus."
8:19 PM: New Orleans Jazz & Heritage Festival is canceled until fall due to coronavirus concerns. 
8:10 PM: A cop at the NYPD's 1st Precinct tests positive for the new coronavirus; more than a dozen officers from the precinct sent home as a precaution, Fox News reports.
7:00 PM: A second New York Yankees minor leaguer tests positive for the new coronavirus.
6:38 PM: The MTA is asking for federal aid because the ridership on subways, buses, and commuter railroads has plummetted; 
6:34 PM: Kevin Durant identifies himself as one of the 4 Brooklyn Nets players who tested positive for COVID-19.
6:23 PM: West Virginia becomes the last state to report a positive case of COVID-19; now all 50 states and DC have confirmed cases.
6:04 PM: The Pentagon will provide civilian health authorities with 5 million respirator masks and 2,000 specialized ventilators, Defense Secretary Mark Esper says.
6:00 PM: European Union leaders agree to immediately impose travel restrictions on most foreigners entering Europe for at least 30 days.
5:30 PM: Coliseum Gun Traders on Long Island says gun sales are way up this week; many shoppers are first-time gun buyers. 
5:15 PM: The National Park Service temporarily closes the Pearl Harbor National Memorial in Hawaii; the site includes the USS Arizona Memorial, honoring 1,177 Marines and sailors killed when their battleship sank during the 1941 Japanese bombing of Pearl Harbor.
4:33 PM: Hoboken mayor: Residents allowed to go for walks and runs as long as they keep social distancing.
4:25 PM: Hoboken, NJ orders all residents to self-quarantine.
4:15 PM: The Brooklyn Nets say that 4 members of the NBA team have tested positive for the coronavirus.
3:50 PM: Mayor de Blasio denied social media reports that there is a coronavirus cluster in Brooklyn.
3:42 PM: A California city is restricting alcohol and marijuana sales due to coronavirus.
3:27 PM: "We're in a race against time," Mayor de Blasio says.
3:21 PM: New York City Mayor Bill de Blasio says that a shelter in place order could come down in 48 hours and coronavirus cases could jump to 10,000 in a matter of days.  DETAILS: https://www.fox5ny.com/news/new-york-city-mayor-be-prepared-to-shelter-in-place
3:14 PM: NYC mayor: "We are preparing for an onslaught and it is coming on very, very fast"
3:11 PM: New York City Council Member Ritchie Torres has tested positive for the novel coronavirus, the Bronx politician announced. READ MORE HERE
3:07 PM: NYC mayor: Not long before we hit 10,000 cases.
3:02 PM: Newark Mayor Ras J. Baraka says authorities have located the woman who went missing after she tested positive for coronavirus.
In a statement on Tuesday afternoon, he said, "Thank you everyone for your vigilance."
No other details were immediately released.
2:53 PM: Mayor de Blasio says there have been restaurants that have been breaking the emergency order against allowing diners to eat it.
2:48 PM: New York is considering releasing some prisoners from jails due to coronavirus, Mayor de Blasio says.
2:46 PM: New York City suspends alternate-side parking regulations for one week.
2:42 PM: Rideshares temporarily banned in New York City.  Only one customer will be allowed in an Uber or Lyft with an exception for couples or family members who live together.
2:38 PM: The number of coronavirus cases in New York City rises to 814.
2:34 PM: Mayor de Blasio says "shelter in place" is being considered in New York City. New Yorkers "should be prepared" for a decision in the next 48 hours.
He admits that there would be substantial challenges involved in that scenario.
2:29 PM: Mayor de Blasio says on Thursday the capacity for coronavirus tests in New York City will rise to 5,000 a day.
2:25 PM: "Certainly, don't go out at night," Murphy says.
2:24 PM: Gov. Murphy asks mortgage companies to set up flexible payments with New Jersey residents affected by the coronavirus.
2:20 PM: New Jersey saw a record number of unemployment insurance applications on Monday.  The system temporarily crashed, Gov. Phil Murphy says.
2:18 PM: New Jersey is ordering the closure of all malls in New Jersey as of Tuesday evening.
1:59 PM: Newark authorities are on the hunt for a woman who gave a fake name and address when she went to the hospital and has now disappeared after her test came back positive.  More:  https://www.fox5ny.com/news/woman-gave-fake-name-tested-positive-for-coronavirus-and-then-disappeared
12:58 PM: Trump: You could do a national lockdown but we hope we don't need that. It's a very big step. It's something we talk about but we haven't decided that.
12:50 PM: Trump: I don't want to say that (when asked if his administration is considering closing land borders.)
12:49 PM: Trump: There are going to be some hotspots that will have trouble with hospital capacity. We are working on it.
12:42 PM: Trump: Our economy is going to come roaring back.
12:37 PM: Fauci: It will be several weeks or longer before we know if we're having an effect.
12:35 PM: Fauci: it's possible that the peak of the coronavirus will hit in 45 days as Gov. Cuomo said but you don't want to be wed to a date.
12:34 PM: Fauci: to the young people, you don't want to put your loved ones at risk especially the elderly and those with compromised immune systems.
12:32 PM: Dr. Anthony Fauci, director of the National Institute of Allergy and Infectious Diseases: we don't know if the curve is definitely lowering.
12:30 PM: Trump: the banks are working on extensions; health insurance companies did things with co-pays they would have never done. There is a great spirit in the country.
12:30 PM: Trump: to people who want to travel, enjoy your living room.
12:28 PM: Trump: it's possible the federal government could restrict more travel.
12:27 PM: Birx: don't go to hospitals for elective procedures.
12:23 PM: Birx: mortality rates in Wuhan, China are dropping but still high among the elderly and those with previous health conditions.
12:20 PM: Birx: we're asking the younger generations who are asymptomatic to stop going out to bars and restaurants to prevent spreading the virus.
12:19 PM: Birx: We will begin to see that some tests around the world were not made with the highest quality resulting in false positives.
12:17 PM: Dr. Deborah Birx, White House Coronavirus Task Force: We're creating a roadmap for the response to future pandemics.
12:14 PM: Seema Verma, Administrator for the Centers for Medicare & Medicaid Services: encourages Americans to use teledoc services available through health insurance companies. The elderly who need assistance with teledoc can contact 1-800-MEDICARE.
12:10 PM: Trump:  I'm going to work with Governor Cuomo. I've been working with Governor Newsom. The Army Corps of Engineers could have response sites up very quickly.
12:08 PM: Pence: President Trump has us looking into field hospitals and mash hospitals that could be deployed very quickly.
12:05 PM: Trump: We've ordered massive numbers of ventilators. We have tremendous amounts of equipment. Yesterday, I gave governors the authorization to order ventilators for their states.
12:05 PM: Trump: we have begun to assist New York in effort to secure enough hospital beds.
12:04 PM: Mnuchin: Americans should know we will make sure Americans will have access to their bank accounts, 401Ks. Financial markets will stay open.
11:59 AM: Trump on sending checks to Americans: There are four different ways you can handle this, fifth possibly to getting money out to Americans quickly. More details will be announced later today.
11:59 AM: Mnuchin: we don't need to send people who make $1m a year $1,000 checks.
11:59 AM: Mnuchin: For the airline industry, this is worse than 9/11. The industry has come to a halt.
11:54 AM: Treasury Secretary Steve Mnuchin: if you can file your tax returns by April 15, do so. If you owe payment to the IRS you can defer up to $1 million for individuals and up to $10 million for corporations for 90 days.
11:52 AM: Pence: government is asking that construction companies donate their N95 masks to local hospitals and forgo orders for masks.
11:51 AM: Pence: networks will begin airing PSA with CDC guidelines.
11:51 AM: Pence: Especially be mindful of seniors.
11:50 AM: Pence: President Trump's 15 day coronavirus guidelines will lead to substantial reduction in cases.
11:49 AM: Pence: private sector is helping to expand testing.
11:48 AM: Pence: State Health authorities can now authorize testing in their states.
11:47 AM: French Open postponed until September because of coronavirus.
11:47 AM: Trump: In many cases, workers cannot stay home. 
11:46 AM: Trump: Big retailers like Walmart are stocking up like never before.
11:45 AM: Trump: One day we'll be standing up here and we'll say we won.
11:44 AM: Trump: At my direction, Secretary Mnuchin is meeting with legislators to work on a stimulus package.
11:42 AM: White House Coronavirus Task Force Briefing.
11:15 AM: Cuomo: Things are going to get worse and worse before they get better and better and the American people deserve to hear it straight from the shoulder.
11:13 AM: Cuomo: We have the highest number of cases in the country.
11:09 AM: Poison Center: Don't drink bleach to prevent coronavirus
11:07 AM: Cuomo: These are projections. Coronavirus will peak in NYS in 45 days.
11:06 AM: Cuomo: We're going to retired doctors and nurses; we're going to medical schools.
11:04 AM: Cuomo: We have 53,000 hospital beds in New York; will need 55,000-110,000 for coronavirus patients. The ICU beds will be the problem.
10:59 AM: Cuomo: Nobody is going to be quarantined.
10:54 AM: Cuomo: There are many steps before you go to limiting an individual's mobility. You would reduce business operations. That would be the initial calibration.
10:50 AM: Cuomo: We will get through this time. We will lose people like we lose people every year with the flu... we will be better prepared the next time because this is not the last time.
10:48 AM: Cuomo: Don't hug, don't kiss, stay 6 feet away.
10: 46 AM: Federal Reserve will buy short-term loans from banks and companies to try to smooth flow of credit.
10:46 AM: Senate Majority Leader McConnell says Senate will not adjourn until it acts on major coronavirus package to help economy.
10:36 AM: Cuomo: Nassau County drive-thru testing office opens today.
10:35 AM: Cuomo: 12 people have died from coronavirus in New York State. 10,000 people have been tested for the virus. There are 1,374 positive cases in New York with 264 people hospitalized. There are 644 cases in New York City.
10:33 AM: Cuomo: We're examining the maximum capacity for all hospitals.
10:32 AM: There will be no announcements about closures today.
10:31 AM: Cuomo: There is the possibility that we will need more daunting closures.
10:29 AM: Cuomo: The number of needed ICU beds, ventilators will be daunting.
10:26 AM: Cuomo: I have no plan to quarantine any cities.
10:23 AM: Cuomo: greatest number of complaints over mandatory closures from bars. Don't get mad at business owners, get mad at me.
10:20 AM: NY Gov. Andrew Cuomo has an update on the coronavirus at this LINK: https://www.fox5ny.com/live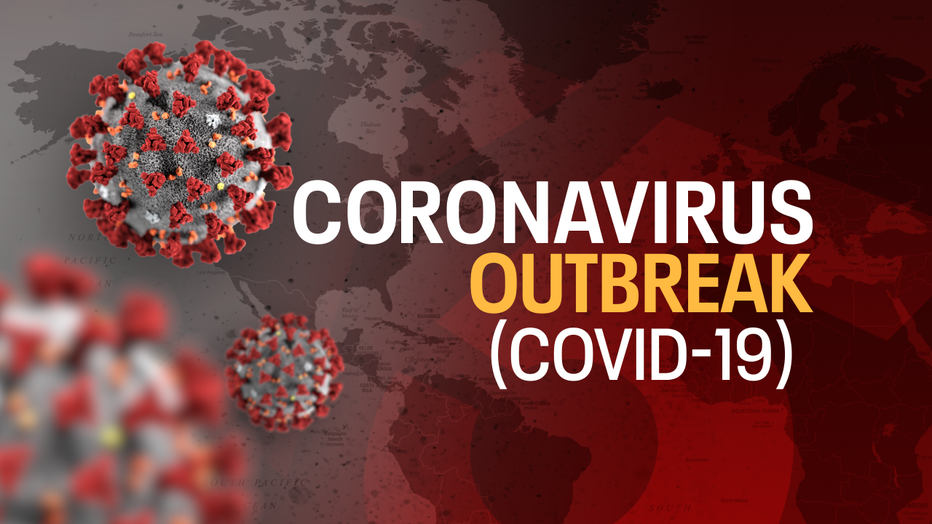 10:09 AM: Soccer's European Championship postponed for 1 year because of coronavirus.
9:36 AM: Kentucky Derby postponed until Sept. 5.
9:32 AM: Stocks are opening broadly higher on Wall Street, a day after plunging to their worst loss in more than three decades.
8:55 AM: White House to propose roughly $850 billion emergency economic stimulus to address virus threat.
8:18 AM:  "We need personal protective equipment; we need boots on the ground; we're going to need a significant amount of stimulus," said Murphy. 
8:15 AM:  "Bergen County is the number one county of cases; it has 2 out of the 3 fatalities," Gov. Phil Murphy tells Good Day New York.
7:42 AM: Iran state TV warns virus could kill 'millions' in Islamic Republic if public keeps traveling, ignoring health guidance.
7:34 AM: "In New York City, we should be staying home," said NYC City Council Speaker Corey Johnson during 'Good Day New York.'
7:00 AM: Watch Good Day New York at this link: https://www.fox5ny.com/live
6:58 AM: Iran says new coronavirus has killed 135 more people, a 13 percent spike raising the death toll to 988 amid 16, 169 infections.
6:30 AM: For the first time in its history, the St. Patrick's Day Parade in New York City will not take place today.
6:07 AM: Health chief halts Ohio primary; 3 other states forge ahead.