Latest developments in the coronavirus pandemic for March 16, 2020
NEW YORK - LIVE BLOG: FOX 5 NY is updating this blog with the latest developments on the coronavirus outbreak so you can get the information in one spot.
10:15 PM: The Ohio health chief will order polls closed just hours before the state was to hold its presidential primary.
9:10 PM: A Delta jetliner (Flight 2503 JFK-SEA) returns to the terminal at JFK Airport after a passenger tells the crew they just learned they may have been exposed to coronavirus.
9:08 PM: France is following other European countries in confining residents mostly to their homes during the COVID-19 pandemic.
8:54 PM: Hawaii lawmakers vote to indefinitely suspend the current legislative session to prevent the spread of the new coronavirus.
8:45 PM: N.J. Gov. Phil Murphy announces a 3rd person has died from COVID-19. 
7:06 PM: Pennsylvania Gov. Tom Wolf extends a shutdown order to all nonessential businesses: community and recreation centers; gyms, including yoga, barre and spin facilities; hair salons, nail salons and spas; casinos; concert venues; theaters; bars; sporting event venues and golf courses; retail facilities, including shopping malls, except for pharmacies or other health care facilities within retail operations; restaurants must shut down for dine-in services but can stay open for carry-out and delivery orders.
6:45 PM: U.S. airlines are asking the federal government for grants, loans and tax relief that could easily top $50 billion to help them recover from the hit caused by COVID-19, the AP reports.
6:30 PM: U.S. officials say a foreign entity is deliberately trying to sow fear of a nationwide quarantine, the AP reports.
5:30 PM: Oregon Gov. Kate Brown orders all bars and restaurants to close.
5:45 PM: Lousiana Gov. John Bel Edwards orders bars, gyms and movie theaters to close and limits restaurants to delivery and takeout.
4:49 PM: Mayor de Blasio says the federal government needs to do more to help communities hit hard by coronavirus; says the military could be used to transport material and equipment; calls for work on the southern border wall to be stopped immediately and anyone working on that to be redeployed to coronavirus response.
4:46 PM: Crude oil futures prices end lower on the New York Mercantile Exchange; the near-month contract for the benchmark grade lost $3.03, closing at $28.70 a barrel.
4:25 PM: Amazon says it needs to hire 100,000 people across the U.S. to keep up with the crush of orders; the company will also temporarily raise pay by $2/hour through the end of April for hourly employees who work at its warehouses, delivery centers, and Whole Foods grocery stores.
4:22 PM: Officials in 6 San Francisco Bay Area counties—San Francisco, Marin, Santa Clara, San Mateo, Alameda, and Contra Costa—and the city of Berkeley order near-lockdown; affects close to 7 million people.
4:20 PM: Mayor de Blasio says you should stay home and work from home if you can. 
4:10 PM: Mayor de Blasio says 5 drive-thru testing facilities will be set up in the coming days for priority cases and will require appointments.
3:59 PM: Mayor de Blasio says 2 more people in NYC have died (7 total): a 56-year-old man who worked as an investigator with the Correction Department and an 89-year-old man who recently returned from Italy.
3:54 PM: New York City Mayor Bill de Blasio signs executive order: all bars, restaurants, and cafes are limited to take-out and delivery effective March 17 at 9 AM; elective surgeries are postponed; City Council hearings are suspended; visits to jails are suspended; Queens borough president special election is canceled.
3:50 PM: The CDC says the first case of COVID-19 in a CDC employee, confirmed by lab testing; "This individual is in good condition and is isolated to prevent spread of infection to others," CDC says. The employee was not involved in COVID-19 response.
3:25 PM: The Trump administration now says the public should avoid gatherings larger than 10 people and cancel discretionary travel.
3:24 PM: Actor Idris Elba says he has tested positive for the coronavirus.
3:17 PM: N.J. Gov. Murphy says the state will see a major economic impact from the pandemic and will need help from the federal government.
3:02 PM: N.J. Gov. Murphy says the majority of testing is now being done by private labs.
2:50 PM: N.J. Education Commissioner Lamont Repollet says the department is working with local districts during the shutdown to facilitate home instruction; updates are posted here.
2:38 PM: Commissioner Persichilli says the 80 new coronavirus patients in N.J. range in age from 5 to 93.
2:35 PM: N.J. Health Commissioner Judith Persichilli: Evidence supports the need and effectiveness of social distancing.
2:27 PM: N.J. Gov. Murphy says this is not time to panic but is the time to take this very seriously.
2:25 PM: "We can't allow the business-as-usual culture to continue. This is not fake news. This is real," Gov. Murphy says. "Stop believing folks who say this is not real."
2:23 PM: N.J. Gov. Murphy says not enough people were heeding the call for social distancing over the weekend. "There will be another St. Patrick's Day next year," he says. "This is not a time for selfishness. This is a time to think about those around you."
2:21 PM: N.J. Gov. Murphy is mobilizing the New Jersey National Guard to assist in any way possible.
2:20 PM: N.J. Gov. Murphy says non-essential retail, recreational, and entertainment businesses must cease daily operations from 8 P.M. until 5 A.M. 
2:19 PM: N.J. Gov. Murphy says casinos, racetracks, nightclubs, gyms, fitness centers/classes, movie theaters, and performing arts centers must close at 8 PM until further notice. 
2:16 PM: N.J. Gov. Murphy says non-essential and non-emergency travel is "strongly discouraged"; this is not a curfew.
2:13 PM: N.J. Gov. Murphy signs executive order to close all New Jersey schools (public, private, religious), colleges and universities must close on Wednesday, March 18, for at least 2 weeks.
2:12 PM: N.J. Gov. Phil Murphy says 80 more positive cases of coronavirus in New Jersey; the statewide total is 178. Most new cases are in Bergen County.
2:08 PM: Major League Baseball pushes back the season's opening day to mid-May at the earliest to comply with CDC guidelines.
1:58 PM: Beleaguered airlines seek US grants, loans, tax relief that could exceed $50 billion.
1:57 PM: Pennsylvania governor orders statewide shutdown of all nonessential businesses to help prevent spread of coronavirus
1:46 PM: Canadian Prime Minister Justin Trudeau says he will close his country's border to non-citizens amid pandemic.
1:45 PM: Beleaguered airlines seek US grants, loans, tax relief that could exceed $50 billion.
1:32 PM: Leaders of the Group of Seven have participated in a video teleconference to coordinate responses to the coronavirus after some European leaders were upset by U.S. President Donald Trump's decision last week to impose a travel ban without consulting them.
12:31 PM: Coronavirus vaccine testing begins in people as U.S. researchers give volunteer first experimental shot in Seattle.
12:04 PM: N.Y. Gov. Cuomo says all schools in the state will temporarily close for at least 2 weeks.
12 PM: Watch The Noon at this link: https://www.fox5ny.com/live
11:55 AM: N.J. Gov. Phil Murphy announces closure of all schools and colleges starting Wednesday as virus response. Most had already closed.
11:53 AM: The Trump administration is alleging that foreign disinformation campaign underway to stoke fear amid pandemic.
11:29 AM: 950 cases in NYS, 7 deaths, 158 hospitalizations; 463 cases in NYC.
11:27 AM: NYS may be canceling elective surgeries on a mandatory basis.
11:21 AM: US officials: Trump administration says foreign disinformation campaign is trying to spread fear amid virus pandemic.
11:16 AM: Drive-thru testing site to open in Staten Island and Rockland County.
11:13 AM: We want people home. "This is not mandatory at this time, but it might be in the future," said Cuomo.
11:10 AM: The Supreme Court is postponing courtroom arguments, including those over subpoenas for President Donald Trump's financial records
11:09 AM: All local police departments and emergency medical services supplied masks.
11:09 AM: All local governments to reduce workforce by 50%.
11:06 AM: Cuomo says NYS Liquor Authority allowing wineries, distilleries and bars to sell liquor through take-out during the shutdown.
11 AM Gov. Cuomo holds update on coronavirus response. Watch LIVE: https://www.fox5ny.com/live
10:59 AM: Nassau COVID-19 cases climb to 101, Suffolk increase to 60.
10:38 AM: Governors of N.Y., N.J., Conn. are "strongly discouraging non-essential travel from 8 p.m. and 5 a.m. until further notice."
10:35 AM: All bars, restaurants, and cafes in New York City are limited to take-out and delivery. All nightclubs, movie theaters, and entertainment venues must close as of March 17 at 9 a.m. #coronavirus
10:31 AM: The French automaker whose brands include Peugeot and Citroen says it is closing its factories in Europe until March 27 "due to the acceleration observed in recent days of serious cases of COVID-19."
10:30 AM: All non-essential businesses will close in New Jersey, New York and Connecticut on Monday at 8 pm. They will remain closed "until further notice," says Gov. Cuomo.
10:15 AM: N.Y. Gov. Andrew Cuomo, N.J. Gov. Phil Murphy and Conn. Gov. Ned Lamont hold a joint news conference via phone on their response to the coronavirus pandemic.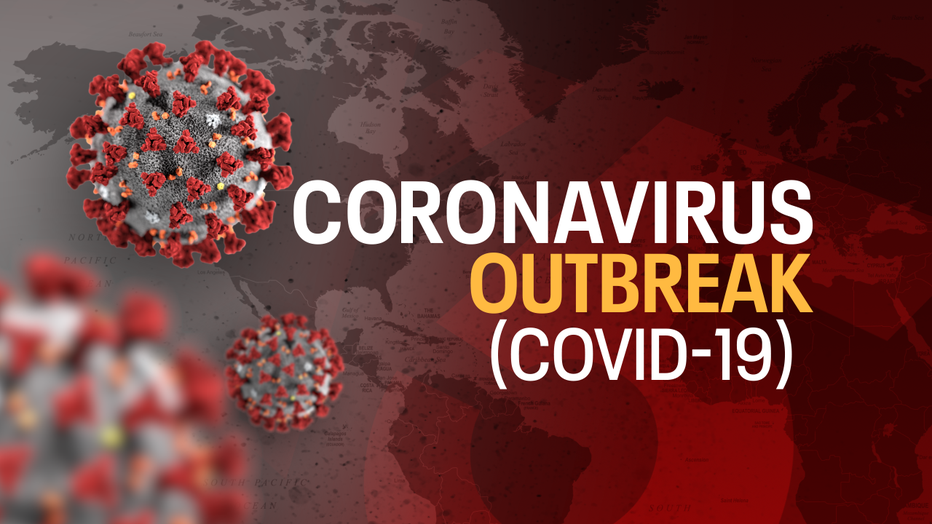 9:43 AM: Stocks sink at open, triggering 15-minute halt in trading, as investors worry virus impact could lead to recession.
9:30 AM: NYSE opens down 2,250 points and -9.71%
9:28 AM: Dutch cafe closures spark panic buying of pot
8:43 AM: Greece is imposing a compulsory 14-day quarantine on anyone entering the country and extending shop closures to fight the spread of the coronavirus.
7:54 AM: Spain becomes 4th most virus-infected nation in the world, surpassing South Korea as arc of contagion rises.
7:47 AM: Dow futures tumble 1,000 points after Fed takes emergency action
7:07 AM: China allows workers to leave virus-hit province of Hubei amid efforts to kick-start the economy.
7:03 AM: Walt Disney World closing hotels, stores to fight the spread of coronavirus
6:53 AM: Iran state TV says new coronavirus has killed another 129 people, pushing death toll to 853 amid 14,991 confirmed cases.
5:39 AM: Shares open sharply lower in Europe following central bank moves in US, Asia with Paris falling 6.7%, London down 5.8%.