Tracking Nicole for NY and NJ impacts
NEW YORK - The New York City metro area could see heavy rain and strong wind gusts from the remnants of Hurricane Nicole as it heads north after hitting Florida.
Nicole, which is now a tropical depression, is moving into the Mid-Atlantic region on Friday. The air mass across the area will be warm and humid and thunderstorms could develop across the region.
A few thunderstorms could contain damaging winds and possibly a tornado.
"The remnants of Tropical Cyclone Nicole will track northward near the spine of the Appalachians through tonight as it merges with another weather system," the National Weather Service said. "It will bring periods of rain to the area, heavy at times, along with gusty winds and the threat of severe weather."
What is the timing for the storm?
Rain is expected Friday afternoon and Friday night across New Jersey and New York.
Strong wind gusts are likely Friday afternoon through Friday night across the region.
Some areas could see heavy rains and flooding is possible.
RELATED: Tropical Depression Nicole dumps heavy rain from Georgia to New York
The amount of rain varies and looks to be highest in inland and northern areas of the region. The Jersey shore can expect up to 1 inch of rain. Morristown and Wantage could see up to 1.5 inches.
"The heaviest rain is expected to be over northwest parts of the forecast area from Berks County [Pennsylvania] northward into the southern Poconos where 1.5 to 2.5 inches can generally be expected along with the threat of flooding," the National Weather Service said. "However the flooding threat extends as far south/east as the I-95 corridor. Flooding should mainly be of the urban, poor drainage, and small stream variety but there is the risk of localized flash flooding."
Mount Pocono in Pennsylvania could see 3 inches of rain from the storm.
Wind gusts are expected to be strongest at the shore with places like Cape May and Atlantic City in southern New Jersey seeing gusts above 40 mph. Trenton could get gusts up to 37 mph.
"Embedded thunderstorms will also be possible, especially this evening and overnight. Some of these storms could be severe with damaging winds and a couple of brief, weak tornadoes possible," the National Weather Service said. "Also, even outside of any thunderstorms southerly wind gusts of 40 to 50 mph can be expected along the NJ coast for tonight, potentially leading to downed trees and power outages."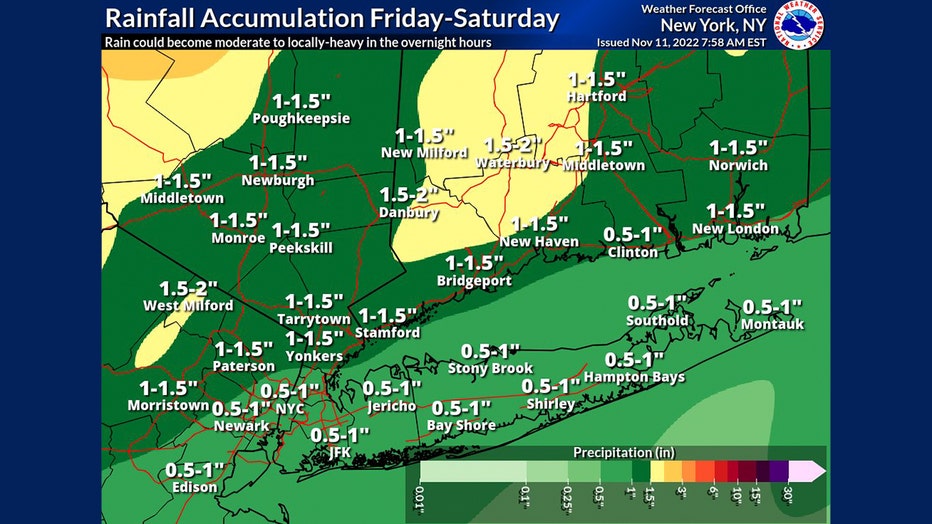 Rainfall accumulation from Friday, Nov. 11, to Saturday, Nov. 12, 2022. (National Weather Service)
Will NY be affected by Nicole?
The main impacts of the storm for New York City and Long Island are late Friday night into early Saturday morning.
New York City could get about 1 inch of rain from the storm with locally higher amounts. The main threat is urban and poor drainage flooding with a possible flash flood threat.
Weather officials warn that flooding could be locally higher due to leaf-clogged drains.
South to southwest wind gusts of 35-45 mph are likely along the coast of NYC and Long Island. Gusts of 45-55 mph are possible across eastern Long Island.
Isolated strong-to-severe thunderstorms are possible Friday night in NYC and Long Island with damaging winds and a brief tornado possible.
A wind advisory is in effect from Friday 10 p.m. to Saturday 10 a.m. for Long Island and parts of southern Connecticut. 
"South winds 20 to 30 mph with gusts up to 50 mph expected," the National Weather Service said. "Gusty winds could blow around unsecured objects. Tree limbs could be blown down and a few power outages may result."
The National Weather Service warns that there will be rough marine conditions from late Friday into Saturday morning in the waters off New York.
"Periods of heavy rain from Friday afternoon until Saturday morning may cause flooding in the city, including highways, streets, basements, and underpasses. Winds are expected to increase through the night with gusts up to 45 mph," NYC Emergency Management Department said in an alert. "During periods of heavy rain, seek higher ground or, if in a basement, move to a higher floor. City agencies have taken action to clean catch basins and remove street litter in the event heavier rain occurs."