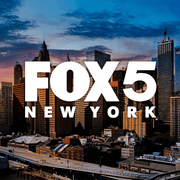 Luke Funk
Digital Content Director
Luke Funk is the Digital Content Director for FOX5NY.com.  He has been in charge of web and social media properties for WNYW since March 2006.
Prior to that, he held a variety of roles in TV news, starting as a photographer and reporter before becoming a producer and then an executive producer.
He has worked in Richmond, Virginia, Phoenix, Salt Lake City, Boston, Philadelphia and New York.
He got his start as an anchor and reporter for an all-business news radio station in Virginia.
Funk has been awarded 5 Emmys in his career.
The latest from Luke Funk
A new study tries to answer the question many parents ask. Should children drink low-fat milk or whole-fat milk?
A man is accused of attacking a driver and carjacking a tractor-trailer on I-95 in Connecticut while he was high on drugs.
Police have arrested a Long Island man for a string of anti-police graffiti incidents.
Police have released a video of a man wanted for attacking and then stabbing a Manhattan Apple store security guard to tried to enforce a mask requirement.
A bizarre standoff that went on for two days in Queens finally ended. A man wanted in connection with an assault case finally came down from a tree outside of his home.
A man was brutally beaten and robbed at a Manhattan 7-Eleven store.
A 3-year-old boy died after falling out of a window of a building in Harlem.
A male on a small pink bike with butterflies on it robbed a young girl on her way to school in Queens.