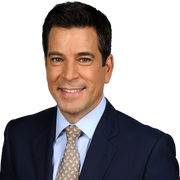 Steve Lacy is the anchor of the "FOX 5 News at 5PM" and "FOX 5 News at 10PM" at WNYW-TV, the Fox Television flagship station in New York City. He has been in this role since January of 2013. Previously, he co-anchored "Good Day Wakeup" and "Good Day Early Call" on FOX 5, weekdays from 4:30 to 7AM. He also reported for "Good Day New York". Lacy joined FOX 5 in August of 2011 from WCVB-TV in Boston, where he was co-anchor of the weekend "EyeOpener" and general assignment reporter. Prior to his time in Boston, Lacy anchored the morning and noon newscasts at WWLP-TV in Springfield, Massachusetts. He started his career as an anchor/reporter/photographer/editor/producer at WVII-TV in Bangor, Maine.
The latest from Steve Lacy
James Dolan, the owner of Madison Square Garden, says a lot more needs to happen to bring New York City back to its glory. And the Garden will help.
Computer software designed to make life easier is now running amok—from politics to the music industry. Call it the battle of the bots. Like most things, bots aren't inherently bad. They've just garnered a lot of attention for all the wrong reasons, particularly over the past year. So what exactly are they?
Privacy is a quaint notion, one that doesn't really exist when we venture online whether it is on our desktop, tablet, or mobile phone. The examples are everywhere: ranging from something as harmle...