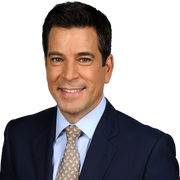 Steve Lacy is the co-anchor of the "FOX 5 News at 5PM" and "FOX 5 News at 10PM" at WNYW-TV, the Fox Television flagship station in New York City.
He has been in this role since January 2013. Previously, he co-anchored "Good Day Wakeup" and "Good Day Early Call" on FOX 5, weekdays from 4:30 to 7AM. He also reported for "Good Day New York".
Lacy joined FOX 5 in August 2011 from WCVB-TV in Boston, where he was co-anchor of the weekend "EyeOpener" and general assignment reporter.
Prior to his time in Boston, Lacy anchored the morning and noon newscasts at WWLP-TV in Springfield, Massachusetts.
He started his career as an anchor/reporter/photographer/editor/producer at WVII-TV in Bangor, Maine.
The latest from Steve Lacy