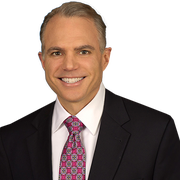 Lew Leone
VP and General Manager
Lew Leone is the senior vice president and general manager of WNYW-FOX 5 and WWOR-My9, FOX Television Stations' New York duopoly.
Leone has extensive experience in the nation's number one television market. Prior to joining FOX 5 and My9, Leone spent three years at WCBS-TV as the president and general manager and three years as the vice president of sales at WNBC-TV.
In 1998 he served as NBC Network's vice president of sports and Olympics sales. In this role he was responsible for sports sales efforts, including new business development and marketing strategies. He was promoted to this position after serving as WNBC's local sales manager for two years.
Leone also served as an account executive for ABC Sports Sales from 1993 to 1996, where he was responsible for sales of the network's sports properties. His professional background includes working as sales manager for Capital Cities/ABC National Television Sales in St. Louis and account executive for both ABC National Sales in Chicago and WABC-TV in New York.
Leone is an active participant in the television industry as well as the local community. He is a member of the Board of Directors of the New York State Broadcasters Association, the John Reisenbach Foundation, the Broadway Association, PENCIL, the New York City Police Museum, and the Westchester Chapter of the National Football Foundation.
He serves as a corporate advisory board member for the Committee for Hispanic Children and Families and is a member of the Business Committee for the Metropolitan Museum as well as a member of the Ad Council New York Leadership Committee.
Leone is also an advisory board member for the New York chapter of the League of Women Voters, and a member of the Steering Committee for the Association for a Better New York (ABNY).
Most recently Leone has begun delivering editorials for FOX 5 focusing on public education. Leone is a graduate of Princeton University with a bachelor's degree in economics.
The latest from Lew Leone
In this commentary, Lew Leone, the senior vice president and general manager of WNYW-FOX 5 and WWOR-My9, questions the wisdom of ranked-choice voting.
It's time for FOX 5 NY's Lew Leone to give his annual report card on New York City Mayor Bill de Blasio.
FOX 5 NY Vice President and General Manager Lew Leone gives his opinion on NYC children taking their message about charter schools to City Hall, and the response by Mayor Bill de Blasio.