The latest developments on the coronavirus pandemic for April 5, 2020
NEW YORK - LIVE BLOG - FOX 5 NY is updating this blog with the latest developments on the coronavirus outbreak so you can get the information in one spot.
8:00 PM: White House coronavirus response coordinator Dr. Deborah Birx says that the experiences of Spain and Italy are models for what the United States needs to do, and that those countries are beginning to move past their apex. 
7:37 PM: Vice President Mike Pence says that "we are beginning to see the glimmers of progress."
7:34 PM: John Polowczyk, who is leading FEMA's supply chain task force, says 2.8 million masks and 11.8 million gloves are en route to be distributed to hospitals and nursing homes. He also said that at Trump's command FEMA is also distributing hydroxycholorquine to pharmacies.
7:18 PM: Trump: "We will endure, we will overcome, we will prevail."
7:15 PM: Trump says that billions in small business loans have already been processed and that his administration will take care of workers and businesses across the nation. 
7:07 PM: Trump says the United States has now tested over 1.67M people nationwide. 
7:05 PM: Trump says that on Monday, New York City will receive another 600,000 N95 masks. 200,000 masks will be delivered to Suffolk County. 
7:03 PM: Trump says that as of Tuesday, over 3,000 medical professionals will have been deployed to New York, New Jersey, and the rest of the nation. 
7:02 PM: Trump says "this is an all-out military operation that we've waged."
7:00 PM: President Trump's coronavirus task force is holding a press conference. https://www.fox5ny.com/live
6:54 PM: As of Sunday evening, New York City was reporting 64,955 positive coronavirus cases. 14,205 people have been hospitalized, ad 2,472 people have died. 
6:12 PM: The NYPD has announced the death of Auxiliary Police Sergeant Angel Leon on April 4 from coronavirus-related complicatoins. Leon, who was assigned to the 43rd Precinct, became a member of the NYPD on September 24, 1981. 
6:05 PM: A tiger at the Bronx Zoo has tested positive for the new coronavirus, in what is believed to be the first known infection in an animal in the U.S. or a tiger anywhere, federal officials and the zoo said Sunday.
5:44 PM: Connecticut Governor Ned Lamont has confirmed an additional 399 positive coronavirus cases in the state, bring the total to 5,675. 1,142 people have been hospitalized, and 189 have died. 
5:00 PM: Dr. Anthony Fauci says there a very good chance the new coronavirus "will assume a seasonal nature" because it is unlikely to be under control globally.
Fauci is director of the National Institute of Allergy and Infectious Diseases. He says the virus is unlikely to be completely eradicated from the planet this year. That means the U.S. could see the "beginning of a resurgence" during the next flu season.
4:49 PM: Louisiana health officials reported 68 coronavirus-related deaths on Sunday, marking the state's biggest jump in reported deaths since the outbreak began.
The Louisiana Department of Health reported the figures on its website Sunday. The number of infections reported to the state also increased by more than 500 cases from 12,496 to 13,010.
4:21 PM: De Blasio says that there is a plan to deal with the increase in bodies to be buried due to the coronavirus pandemic, and that the city does have the capacity to deal with the increase. 
4:05 PM: De Blasio says that the city is not releasing information about the racial breakdown of coronavirus victims because the initial focus was rapid mobilization and a desire to make sure that any information released was accurate and consistent.  
Dr. Oxiris Barbot says that the city's ability to report accurate and consistent data is only as good as the data they receive, and that there have been significant challenges in getting that data. 
3:52 PM: De Blasio thanks Oregon Governor Kate Brown for 140 ventilators sent to New York City. 
3:50 PM: De Blasio says that he is seeking 1,450 personnel for NYC Health and Hospitals, including 1,000 nurses, 300 respiratory therapists and 150 doctors. On Sunday, the city is receiving 291 personnel, including 174 nurses, 104 doctors and 103 respiratory therapists. 
3:45 PM: According to De Blasio, 2,865 ventilators have been delivered to hospitals across NYC, along with 1,780 BiPAP machines. 135 full-service ventilators are remaining in the city's stock. The city still needs 1,000 to 1,500 more ventilators through Sunday, April 12 to ensure adequate front-line supply. 
3:40 PM: De Blasio says the city has a near-sufficient amount of personnel, and a near-sufficient amount of surgical masks, gloves, eyewear and other PPE. 
3:38 PM: De Blasio says the city's current supply of ventilators is only sufficient for the next 48-72 hours. 
3:37 PM: De Blasio: "There is still real help we will need to get through the week."
3:35 PM: Mayor Bill de Blasio is holding a press conference on the coronavirus outbreak in New York City. https://www.fox5ny.com/live
2:55 PM: The Diocese of Brooklyn has announced that a second priest serving the Diocese has died due to the novel coronavirus.
2:06 PM: EMTs and healthcare workers in New York City say they are being pushed to their mental and physical limits on the front lines of the coronavirus outbreak in New York City. 
1:08 PM: New Jersey Governor Phil Murphy has announced 3,482 new positive coronavirus cases, bringing the statewide total to 37,505. The death toll has also risen by 71 to 917. 
12:56 PM: Home testing for the new coronavirus may sound like a good idea, but U.S. regulators say it's still too risky. For now, the only way Americans can get tested is at hospitals, clinics or drive-thru sites, with a doctor's order.
11:53 AM: New Jersey Governor Phil Murphy says that the state has secured an additional 500 ventilators after conversations with the White House. 
11:37 AM: Cuomo: "The number of beds doesn't really matter anymore. We have the beds, it's the ventilators and then it's the staff. That's the problem."
11:27 AM: Cuomo: "We'll get through it because we are New York State tough."
11:26 AM: Cuomo says we will see a return to normalcy when there is a rapid testing program available. 
11:25 AM: Cuomo says that "cabin fever" is a serious issue and reminds New Yorkers to be mindful of their mental health during quarantine.
11:21 AM: The federal government is deploying approximately 1,000 personnel to New York, including Doctors, Nurses and respiratory technicians and therapists. Priority deployment is to NYC public hospitals. 
11:19 AM: Cuomo says there must be a national deployment where New York gets help now and then resources are shifted to the next state most impacted by the virus. 
11:11 AM: Cuomo says it is unknown if New York is reaching the apex, or if it is simply hitting a plateu. He reiterates that the vulnerable population must be isolated and protected. 
11:08 AM: Governor Andrew Cuomo says that there are now 122,031 positive coronavirus cases in New York. 16,479 people have been hospitalized, 4,376 people are in hte ICU, and 4,159 people have died. Over 12,000 people have been discharged from the hospital due to the virus, a number Cuomo says has been on the rise. 
11:06 AM: New York Governor Andrew Cuomo is holding a press confernece on the coronavirus outbreak in the state. 
10:15 AM: Pope Francis celebrates Palm Sunday Mass without public audience.
10:01 AM: Despite the ongoing "stay-at-home" order, one Central Florida church will hold an in-person Sunday service. The Center Arena Church is set to have their usual Sunday service, even though someone last weekend called the police on them. Someone watching the church's Facebook feed at home called and reported the church to law enforcement.
MORE: https://www.fox5ny.com/news/mind-your-own-business-central-florida-church-to-hold-in-person-sunday-service-despite-stay-at-home-order
9:53 AM: United Airlines is temporarily slashing the number of its flights in and out of New York City-area airports to keep employees safe during the coronavirus outbreak, a top executive told employees on Saturday.
MORE: https://www.fox5ny.com/news/united-airlines-cutting-flights-at-newark-laguardia
9:13 AM: From the NYC Office of Emergency Management: If you are an oral surgeon, plastic surgeon, or veterinarian, you can donate ventilators. Visit NYC.gov/helpnow.
8:41 AM: The NYPD wants to find a female who was with a group of teens who assaulted a woman in the head with an umbrella on a Bronx bus while hurling anti- Asian remarks at her. The assault on the BX 13 bus occurred on March 28 at about 3 p.m. in the area of Ogden Avenue and West 166th Street. The victim was treated at a local hospital where she received stitches for a cut to her head. Three 15-year-old girls fled the scene and were arrested a short time later, according to the NYPD. They're charged with menancing and harassment.
Cops are looking for the woman in this photo: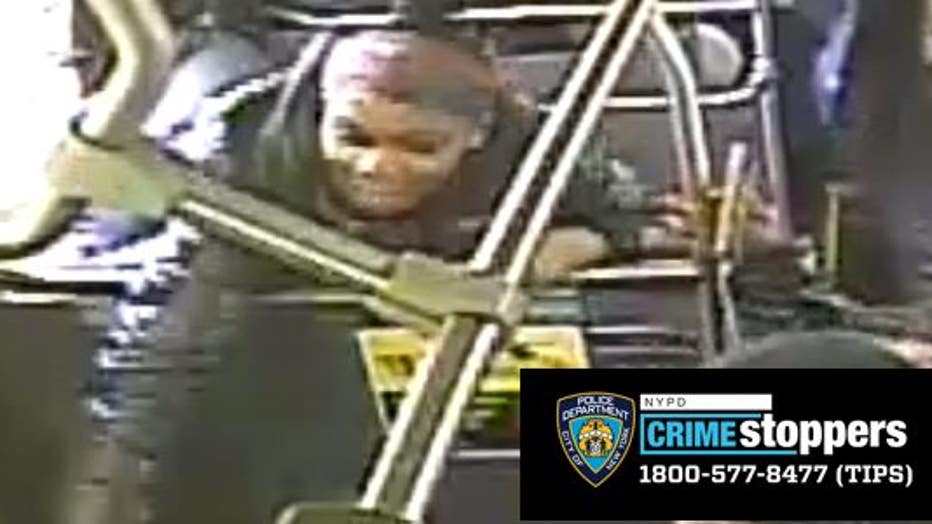 If you recognize her, contact police.
MORE: https://www.fox5ny.com/news/group-of-teens-attack-woman-while-making-anti-asian-remarks-says-nypd