The latest developments on the coronavirus pandemic for April 3, 2020
NEW YORK - LIVE BLOG - FOX 5 NY is updating this blog with the latest developments on the coronavirus outbreak so you can get the information in one spot.
10:59 PM: The singer Pink has revealed that she has recovered from COVID-19 and is donating in the fight against the virus.
10:22 PM: The United Federation of Teachers is decrying a decision to keep New York City public schools "open" on Thursday, April 9 and Friday, April 10, despite those days being major religious holidays. 
According to a new release from Schools Chancellor Richard Carranza, schools will continue with remote learning through the period originally scheduled for Spring Recess, from April 9 through April 17. 
10:02 PM: Jersey Shore's Mike "The Situation" Sorrentino and his wife Lauren are speaking to patients in recovery centers across the country to help those struggling with addition during quarantine. 
9:20 PM: As of Friday evening, there are 56,289 positive coronavirus cases in New York City. An estimated 11,739 people have been hospitalized, and 1,867 people have died. 
The hardest-hit boroughs are:
Queens: 18,823 cases
Brooklyn: 15,327 cases
Bronx: 10,765 cases
Manhattan: 8,222 cases
Staten Island: 3,117 cases
9:10 PM: Retail giant Walmart announced on Friday that it will limit the number of customers who can be inside of a store at one time, to roughly 20 percent of the store's capacity, in order to fight the spread of coronavirus.
8:35 PM: According to the NYPD, 6,695 uniformed members of the department are out sick, accounting for 18.5 percent of the uniformed workforce. 1,619 uniformed members and 220 civilian members have tested positive for coronavirus.
8:12 PM: The pandemic will cost the global economy as much as $4.1 trillion, or nearly 5% of all economic activity, according to new estimates from the Asian Development Bank.
The head of the International Monetary Fund said the recession sparked by the coronavirus pandemic is "way worse" than the 2008 global recession. At a press briefing in Geneva on Friday, IMF managing director Kristalina Georgieva described the situation as "a crisis like no other."
7:43 PM: Sephora announced that due to the COVID-19 pandemic it has laid off "a portion" of its part-time and seasonal store employees. Employees say they were given 10 minutes notice before being asked to join a conference call conducted by a district manager, where they were informed of being let go.
7:12 PM: Delta Air Lines has announced that the company is extending customers' ability to re-book travel impacted by the COVID-19 pandemic for up to two years. 
6:36 PM: Coronavirus relief package scams are on the rise, and the Better Business Bureau is giving tips on how to avoid them.
6:00 PM: The Centers for Disease Control and Prevention will advise Americans to wear non-medical, cloth-based coverings when in public. President Trump stated during a press conference Friday that this was a voluntary measure.
5:45 PM: Struggling for a way to scratch your Broadway itch during the pandemic? "The Shows Must Go On!" is a new YouTube channel from Universal that aims to bring fans backstage access and full performances from acclaimed musicals throughout history.
5:22 PM: Hobby Lobby is temporarily closing all stores in response to the COVID-19 pandemic after reopening despite stay-at-home orders across the country. 
4:41 PM: NYC Health Commissioner Oxiris Barbot says that health department staff is working with funeral directors to make sure that coronavirus victims can be buried in a timely manner. 
4:33 PM: De Blasio: "I think we've all acclimated to the crisis but I don't think we're all really seeing what's happening."
4:22 PM: De Blasio says that a de facto rent freeze in New York City would have to come with support from the state. 
4:19 PM: De Blasio says that the city will be providing face coverings for people working in homeless shelters and corrections facilities.
4:10 PM: De Blasio says the resolve New Yorkers are showing in the face of the crisis is inspiring. 
4:06 PM: De Blasio extends his condolences to City Comptroller Scott Stringer, whose mother, Arlene Stringer-Cuevas died as a result of complications from coronavirus on Friday.. 
4:02 PM: De Blasio: "We cannot ask each state to go it alone."
4:00 PM: De Blasio again urges federal enlistment of private healthcare workers, with exemptions based on age, health and conditions that put them at increased risk from coronavirus. 
3:58 PM: De Blasio says the city has already brought on another 3,635 medical personnel via contracting, nearly 1,000 new personnel who have volunteered, and are seeking 1,000 nurses, 300 respiratory therapists and 150 doctors from FEMA. 
3:52 PM: De Blasio says he is looking into any viable way to produce ventilators in New York City in order to meet the city's needs.
3:50 PM: De Blasio says that he has authorized law enforcement in NYC to enforce confiscation of crucial lifesaving supplies like ventilators. 
3:46 PM: For the next week, De Blasio says the city will need a minimum of 2,500 to 3,000 more ventilators.
3:44 PM: To get through April and May, De Blasio says the city will still need an additional 15,000 ventilators, 45,000 new medical personnel and 85,000 hospital beds.
3:43 PM: De Blasio thanks President Trump and Jared Kushner for getting NYC hospitals 200,000 N95 masks.
3:41 PM: De Blasio reiterates New York City's need for personnel, PPE, beds and many more supplies to get the city through the next few weeks. "It's not just one thing we need at this point."
3:39 PM: Mayor Bill de Blasio updates the public on the coronavirus response in New York City.
3:05 PM: The popular running shoe brand Brooks Sports says it is giving away 10,000 pairs of sneakers to health-care professionals fighting the pandemic; all 10,000 pairs were spoken for within 45 minutes of the giveaway's launch, a spokesperson says; "We are exploring more ways to support this community in the near future," the brand says on social media.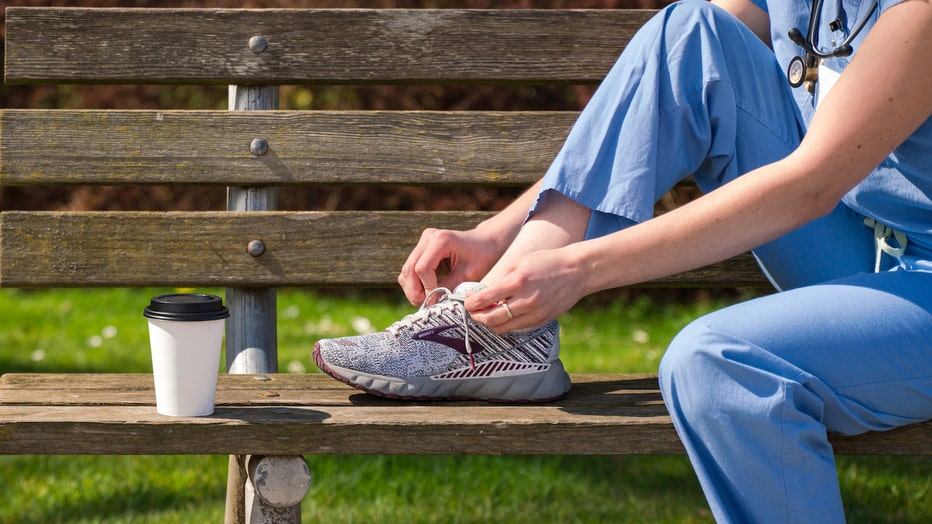 (Courtesy of Brooks Sports)
2:44 PM: Gov. Murphy: "Please, god, stay at home."
2:28 PM: Commissioner Persichilli: We may have to change our original projection of how many beds we will need for non-COVID patients and convert the pop-up hospitals into treating COVID patients as well; that may involve cohorting COVID patients at those sites to protect other patients.
2:26 PM: When asked if he would still use the term "knuckleheads" to describe adults who have continued to gather for weddings, funerals, and other events, Gov. Murphy says, "A knucklehead is a knucklehead; I don't discriminate by age. We need everybody to comply."
2:20 PM: Gov. Murphy: After the Democratic Party moved the national convention to August, we are discussing delaying our Democratic presidential primary; final decision hasn't been made. 
2:18 PM: Gov. Murphy: Most people in NJ who rent their home are doing so from someone who has a mortgage; so we hope that landlords getting mortgage relief will give a break to their tenants.
2:13 PM: Gov. Murphy: We get leads on PPE and equipment every day but sadly most of them don't pan out; we hope to get a shipment of masks from Japan by April 15; the PPE we have received are generally in good shape.
1:48 PM: Col. Patrick Callahan, NJSP superintendent, reports some enforcement action since yesterday: Owner of a pub in Blairstown was cited for a 2nd time for being open and serving patrons in person, owner of a clothing store in Lakewood was cited, a person was cited for selling alcohol from out of a truck in Lakewood, 228 people cited and 9 businesses in Newark were cited; so far, 79 criminally indictable offenses in connection with the governor's executive order.
1:43 PM: Commissioner Persichilli: BERGEN, ESSEX, HUDSON, UNION, PASSAIC, MIDDLESEX are the 6 hardest-hit counties, each with at least 2,000 confirmed positive tests.
Bergen County: 4,866 positive cases, 132 deaths
Essex County: 3,067 positive cases, 118 deaths
Hudson County: 2,835 positive cases, 59 deaths
Union County: 2,487 positive cases, 45 deaths
Passaic County: 2,216 positive cases, 34 deaths
Middlesex County: 2,125 positive cases, 56 deaths
1:42 PM: Commissioner Persichilli: 41% of hospitalized patients are on a ventilator; 132 long-term care facilities have at least one confirmed COVID case.
1:39 PM: Commissioner Persichilli: Religious holidays are coming up; please do not gather in groups; risk of viral transmission is too high; you could be infected and spreading the virus and not even know it; social distancing is our only tool in our toolbox to slow the spread of the disease. 
1:37 PM: New Jersey Health Commissioner Judith Persichilli: New study from CDC shows that smoking appears to be a factor in how severe a person may experience COVID; smoking and vaping damaged the lungs, so we knew this was likely true.
1:20 PM: Gov. Murphy: The PNC Bank Arts Center drive-thru testing site will be open on Saturday for symptomatic health care workers and first responders ONLY; Cumberland County has opened testing site at Rowan College of South Jersey in Vineland for symptomatic Cumberland County residents ONLY; Essex County drive-thru site will be testing next week on Monday, Wednesday, Friday for symptomatic Essex County residents ONLY.
1:17 PM: Gov. Murphy: "I know I sound like a broken record on this, but social distancing is our best offense and defense"; says that wearing a face covering is not a substitute for social distancing or hand-washing; asks residents to not wear N95 masks, which are in short supply for health-care workers.
1:10 PM: Gov. Murphy: Flags are lowered in honor of the New Jerseyans who have died from COVID-related causes.
1:08 PM: Gov. Murphy: Principal James Brown, 48, of Grover Cleveland Middle School in Caldwell has died; "He leaves behind his wife, Sherry, his three children, and an entire school community who loved him dearly."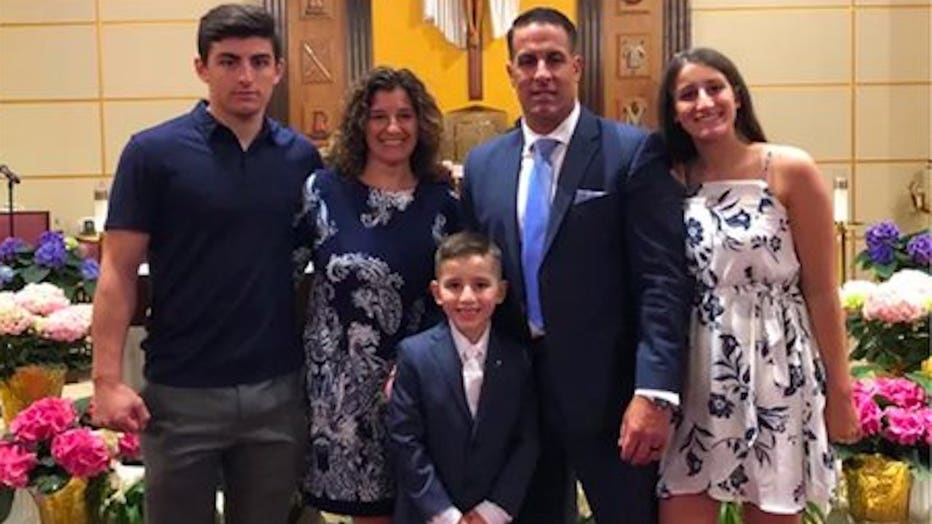 James Brown (wearing blue tie) and his family.
1:04 PM: Gov. Murphy: New Jersey has 4,372 new cases, pushing total to 29,895; 113 new deaths were reported, bringing total to 646; note that the number of new deaths doesn't mean that 113 people died since yesterday; the deaths are reported as determinations are made and death certificates are issued.
1:02 PM: New Jersey Gov. Phil Murphy holds an update on the state's response to the coronavirus crisis | WATCH LIVE: https://fox5ny.com/live
12:02 PM Cuomo gives coronavirus update:
11:45 AM Cuomo when asked about family and his brother- Chris Cuomo's- condition. He's doing fine. He's doing a great public service. He's had malaria before, but this is tough. He's doing fine. He is a living example of living with coronavirus. God bless him. It demystifies it. What did my father teach me about that could help me? He taught me that love triumphs over hate. And I see love now. I went through a lot of hard times with him and eventually you find the light.
11:44 AM: There has been an uptick on the number of domestic abuse cases reported. The state's domestic abuse hotline is 1-800-942-6906. 
11:43 AM: Cuomo: We have no measures to lessen crowing at state prisons. Reducing the prison population right now we don't have any way to do that.
11:41 AM: Cuomo when asked about bringing COVID patients onto the USNS Comfort: My rough interpretation of what they're saying is that it would be too dificult to disinfect the ship.
11:41 AM: Dr. Zuker: Several dozen patients have been transferred upstate.
11:40 AM: Cuomo: You could not do a state take over of the NYPD. YOu have to perform a policing function. The NYPD if they ahve a serious staff shortage I would work with them how to remedy that. The NYPD is somethign like 30,000 employees. There is no replacing 30,000 employees.
11:38 AM: Cuomo when asked how many COVID patients: That's a question about ventilators. How many ventilators will they have. That would be from the federal stockpile.
11:37 AM: Cuomo: I'm not taking your last drill. You have five other drills in your tool box. If something happens and you go on a drilling frenzy, call me and I will bring you drills.
11:36 AM: Cuomo: The burn rate is about 300 ventilators a day. If you find 300 excess ventilators a day you buyed yourself another day.
11:34 AM: Cuomo: We canceled all elective surgeries. Less people are getting hurt. Less crime. Hospitals that are not dealing with COVID are seeing very little activity.
11:32 AM: Cuomo asked about 'seizing' equipment from other hospitals: Do not use that word. We are going to share resources. We are going to shift resources all across the state.
11:31 AM Cuomo: The mask couldn't hurt unless it gives you a false sense of security. To ask a doctor if a bandanna helps, I told the doctor I could use the bandannas I use when I ride my bike, that's not going to help.
11:30 AM Dr. Howard Zucker, NYS Health Commissioner: There is no data to support the effectiveness of face masks whether they are made of cloth or whether the general public use them.
11:30 AM: Cuomo takes questions from reporters.
11:29 PM Cuomo: I remember after 9/11 the people who showed up. Nobody asked. They just showed up. The tradesmen with their tools. People bringing cookies. That's America at its best.
11:28 PM Cuomo: I asked for volunteers and 20,000 health professionals volunteered. Systematize this volunterism. When this is over we will help any community that needs it because that outpouring has been there for us.
11:26 Cuomo: People are going to die because they are going to walk into a hospital and there is no staff, there is no ventilator, there is no ppe.
11:19 AM: Cuomo: About states' rights...every state is saying I need help. No state can get the equipment the need. The market has collapsed. I think the only practical solution is focus on the emergency is that in front of you. And then redeploy to the next situation. New York is first. We have the high numbers. We will be at the top of that curve in 17 days, 21 days and we're coming down and I don't need the ventilators, masks, and PPE. We can deploy to whatever locality is next. Why not?
11:16 AM: Cuomo: The state budget passed last night. How do you balance a budget when you have no money? We came up with a budget that's calibrated to future revenues and losses. When we see what comes back we'll recalibrate. We are heavily reliant on the federal aid legislation that is passed.
11:14 AM: Cuomo: I am going to sign an executive order that the state can ventilators and PPE from hospitals that don't need them to other parts of the state and other hospitals that need them. Those hospitals will either get their ventilators back or will be reimbursed. I'm not going to let people die when there are ventilators that are not being used. The National Guard will be deployed to pick up these ventilators.
11:12 AM: Cuomo: We are working with Alibaba/Jack Ma who is the president. They have been very helpful sourcing material from China for personal protective equipment.
11:11 AM: Cuomo: The number of non-COVID patients has dropped. 
11:10 AM: Cuomo: We want to convert Javits from non-COVID to COVID. FEMA was not eager to do that. I spoke to the President yesterday afternoon. He called me back saying they would grant the request to change to COVID. I thank the President for dong that.
11:07 AM: Cuomo: We see an increase on Long Island. That concerns us. Long Island does not have the elaborate health system that New York City has.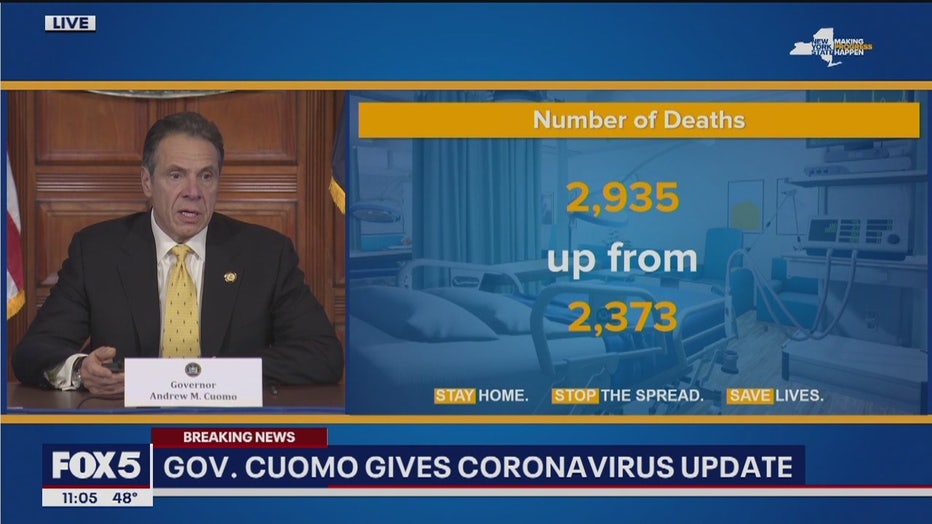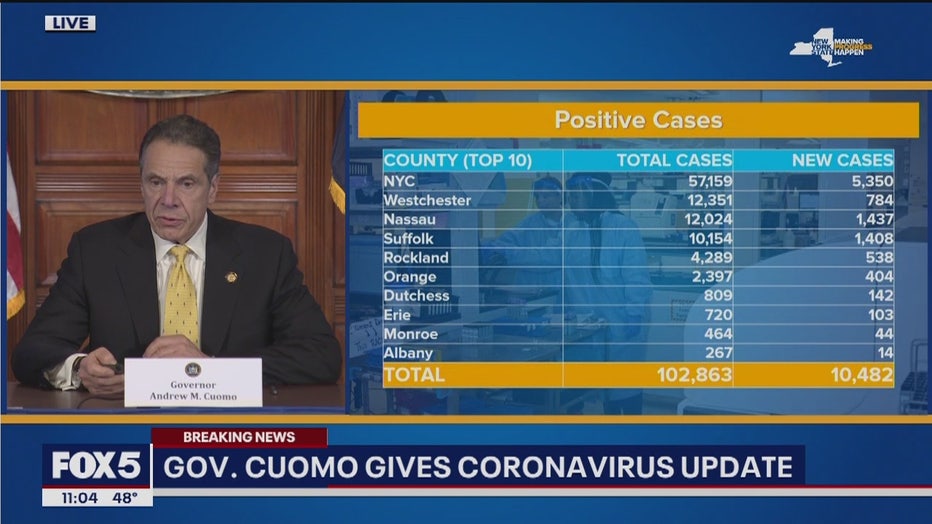 11:06 AM: Cuomo: There are 102,863 positive cases. There are 2,935 deaths reported up from 2,373. The most increase since we started.
https://www.fox5ny.com/news/new-yorks-coronavirus-cases-top-100000
11:04 AM: Cuomo: We have a new State seal: and we added "E pluribus unum"--"Out of many, one." It was used by our founding fathers.
11:03 AM: NY Gov. Andrew Cuomo updates public on coronavirus response in New York.
10:45 AM:  Another member of the NYPD has passed away with coronavirus.  Auxiliary Police Officer Lynford Chambers passed away from complications of COVID-19 on Thursday. Chambers volunteered with the auxiliary in the 113th Precinct in Jamaica, Queens since 2017.
MORE: https://www.fox5ny.com/news/auxiliary-nypd-officer-dies-from-coronavirus
10:30 AM: WATCH LIVE: PBA President Pat Lynch speaks to reporters about the lack of personal protective equipment for police officers. https://fox5ny.com/live
10:05 AM: Starting Friday, all New York City residents can get free meals at any of the locations that are handing out food for students.
MORE: NYC TO GIVE OUT FREE MEALS TO ANYONE, NO QUESTIONS ASKED 
8:14 AM: Dr. Mehmet Oz tells 'Good Day New York' that he's spoken to the captain of the USNS Comfort and he was told the ship could take coronavirus patients if they were ordered to do so. There are reports that only 20 non-coronavirus patients are being treated as of Thursday night on the ship after docking at Pier 90 in Manhattan on Monday.
MORE: WEARING A SCARF, BANDANNA WON'T HELP MUCH, SAYS DR.OZ
7:08 AM: U.S. equity futures are trading lower ahead of the monthly employment report, which is expected to show the end of an historic run of job gains. The major futures indexes are indicating a decline of 1.3 percent when trading begins.
MORE:  STOCK FUTURES FALL 
6:00 AM: Some produce wholesalers say they are having to deal with excess goods after their major customers like restaurants were forced to close their doors due to the pandemic.
MORE:  PRODUCE WHOLESALERS LEFT WITH EXCESS GOODS