The latest developments on the coronavirus pandemic for April 2, 2020
NEW YORK - LIVE BLOG - FOX 5 NY is updating this blog with the latest developments on the coronavirus outbreak so you can get the information in one spot.
10:58 PM: South Korea has reported 86 new cases of the coronavirus, bringing its caseload above 10,000.
South Korea's Centers for Disease Control and Prevention on Friday said about half of the new cases came from the densely populous Seoul metropolitan area, where infections linked to international arrivals have been rising.
10:51 PM: The coronavirus pandemic isn't just a physical health crisis, it's also a growing mental health problem, especially for young adults. Here are some ways young adults can deal with the difficulties of living under quarantine and social distancing.
10:11 PM: Rapper Tekashi 6ix9ine was ordered immediately freed from a Manhattan federal lockup four months early Thursday by a judge who cited his asthma and the greater danger he would face behind bars during the coronavirus outbreak.
9:41 PM: The coronavirus is hitting some neighborhoods in New York City particularly hard, like Jackson Heights, Elmhurst and Corona in Queens.
9:24 PM: According to Johns Hopkins University, the worldwide total of coronavirus cases is now over one million, with over 50,000 dead. Over 244,000 of those cases are in the Uniteed States, which is nearing 6,000 total deaths.
9:04 PM: Funeral homes in New York City say they are being overwhelmed by the sudden surge of coronavirus victims.
7:11 PM: As of Thursday afternoon, New York City has 49,707 confirmed coronavirus cases, and 1,562 people have died.
The hardest-hit boroughs are:
Queens: 16,819 cases
Brooklyn: 13,290 cases
Bronx: 9,343 cases
Manhattan: 7,398 cases
Staten Island: 2,822 cases
Unknown: 35 cases
6:22 PM: The captain of a U.S. Navy aircraft carrier facing a growing outbreak of the coronavirus was fired Thursday by Navy leaders who said he created a panic by sending his memo pleading for help to too many people.
5:46 PM: De Blasio says that the face-covering guidelines are an advisory, and he does not anticipate any enforcement of the guidance. 
5:43 PM: Dr. Barbot recommends that children also use face coverings.
5:37 PM: In response to questions about frontline workers unable to get coronavirus testing: NYC Health + Hospitals CEO Mitchell Katz says that beginning Thursday, any frontline medical workers will be able to get a coronavirus test at their place of work. 
5:29 PM: Dr. Barbot says that the city will continue to adapt its guidance as more information about the virus is made available. 
5:24 PM: Chancellor Richard Carranza says that the city is having discussions with the state on how to handle the upcoming Spring Break for NYC public school students and teachers. 
5:20 PM: New York City Health Commissioner Oxiris Barbot says that face coverings made of paper can be reused as long as they do not get wet or damaged. 
She recommends people use cloth face coverings like old bandanas, scarves, anything that covers the nose and mouth. Barbot says they should only be used for a single day, hand washed with soap and water, and then allowed to dry completely. 
She also reminds New Yorkers that face coverings are not a substitition for hand-washing, social distancing, and other guidelines to help fight the outbreak.
5:15 PM: De Blasio: "I have no question we will see this through together."
5:11 PM: De Blasio says that beginning April 3, the city is expanding iits free grab-and-go meals program to all New Yorkers.
Locations of the 435 sites across all 5 boroughs can be found at NYC.gov.
From 7:30 a.m. to 11:30 a.m. meals will be distributed to children and families
From 11:30 a.m. to 1:30 p.m. meals will be distributed to adults
To find your school: Text "FOOD" or "COMIDA" to 877-877
5:05 PM: De Blasio unveils the NYC Department of Health's new guidance for covering your face in order to fight the coronavirus. People are now being asked to:
Use a scarf, bandana or piece of clothing to cover your mouth and nose in public to reduce risk of transmission
People are being asked to preserve surgical and N95 masks for healthcare workers and first responders
The new guidelines do not replace social distancing, people must continue to maintain a six-foot distance between each other 
5:02 PM: De Blasio says the city still needs 2,500 to 3,000 ventilators for next week, and needs 15,000 ventilators in total, along with training staff on how to use BiPap machines to lessen the need for ventilators. 
4:59 PM: De Blasio: "I think it's time for our nation to enlist our medical personnel on a national basis…. Anyone with medical training anywhere in the country who can be spared to come to the front."
4:56 PM: De Blasio says "anything short of a full mobilization of our military" will not serve the needs of people during the outbreak.
4:54 PM: De Blasio says he spoke to President Trump about the ongoing need for ventilators, PPEs and personnel in the coming days.
4:51 PM: De Blasio expresses his thanks for the EMTs and paramedics who have come from all across the nation to provide assistance in New York City.
4:49 PM: New York City Mayor Bill de Blasio is holding a update on the coronavirus outbreak in New York City.
4:29 PM: More than 1 million people around the world have or have had COVID-10, according to a count by the Johns Hopkins Coronavirus Resource Center; global confirmed case count was 1,002,159 as of the afternoon on April 2.
4:27 PM: The FDA eases rules about who can donate blood because of an "urgent need" during the coronavirus pandemic; new policy will allow tens of thousands more U.S. residents to give blood, including gay and bisexual men and people with recent tattoos and piercings; the new policy is here.
4:08 PM: Austin-based SXSW Film Festival, which was canceled due to the coronavirus pandemic, is moving online; the festival will stream as much of its line-up as possible on Amazon Prime Video for 10 days in the U.S.
4:01 PM: Retired federal judge Kevin Duffy, 87, has died of the coronavirus; he presided over major New York terrorism trials in the 1990s, including two connected to the 1993 bombing of the World Trade Center.
2:45 PM: Murphy thanks state officials alongside him. Says tomorrow's update will be at 1 p.m. Thanks the media for covering news conferences. "To everyone watching at home. This is a war that we can and will win."
2:41 PM: Murphy: We don't have enough specimen collection and there is an undeniable backlog.
2:38 PM: Murphy when asked if any patient in NJ was being co-ventilated: No.
2:34 PM: Persichilli when asked if the state would push a DNR (do not resuscitate) for critically ill patients: Unequivocally no. We would never do a statewide DNR.
2:24 PM: Murphy: The official state sponsored community testing site at Bergen Community College and PNC Bank Arts Center do not require a doctor's referral.
Persichilli: If you have symptoms, you have to be seen. They need to be in some type of organized care situation.
State officials: The field testing site in Secaucus will have 50 beds.
The fiest testing site in Edison will open April 8 with 500 beds.
The field testing site in Atlantic City will be open on April 14.
2:14 PM: Murphy asked about lowering number of ventilators in the federal stockpile: It's a great concern. While we're grateful for what we've got we're still low on ventilators, PPE and people.
Murphy when asked about shopping hours for sick people: I think it's a fair question but I'll come back to you on that. Murphy later retracted his statement. "We need you to stay home, but having said that you can't stay home and starve, but make sure you got a way to get your nutrition. If all else fails, go on that website so we know who you are and where you are." COVID19.nj.gov
Pershichilli: Someone in quarantine or isolation should not be going out. Grocery stores are making deilverie. Go to our website COVID19.nj.gov and put in the question and get back to us. We will look at that. We don't want anyone at home not getting nutrition.
2:09 PM: Reporter asks if people should wear masks in supermarkets. 
Persichilli: If you're not feeling well, don't be with people. If you have a cloth that tighty fits around, do it. But I don't think we'll ever put out that everyone must be masked.
2:01 PM: Murphy when asked about requiring everyone to wear masks outside: We don't have enough masks. What about the essential workers? 
1:54 PM: Christine Norbut Beyer: Every state is reporting increases in reports of child abuse. Last year, 7,501 referrals were made to the State's central registry for child protective services or child welfare services. That number was 5,117 referrals in March. Reach out to anyone caring for young children or children with special needs and offer to help. To report child abuse text 741-741 or call 877-NJ-ABUSE to report domestic violence call 800-572-SAFE.
1:49 PM: Christine Norbut Beyer, NJ Dept. of Children and Family Services: Today we are lauching childcare service to support child care costs for individuals who are working in private and public essential services. Register in county's family services office. Emergency Childcare funding information can be found at ChildcareNJ.gov.
1:48 PM: Murphy: If you want to volunteer to help healthcare workers, visit COVID19.NJ.Gov.
1:40 PM: Murphy: The top five counties are Bergen, Essex, Hudson, Union and Middlesex.
1:37 PM: Persichilli: 110 long-term care facilities have reported at least one case.
1:36 PM: Persichilli: 35 percent of the new deaths reported underlying health conditions. 
1:33 PM: Judith Persichilli: 17 of the new deaths were associated with long-term care facilities. 
1:30 PM: Commissioner of Dept. of Health Judith Persichilli: The field medical station in Secaucus will take people with lower acuity from surrounding hospitals. The field medical sites are being set up to care for non-COVID 19 patients. But medical staff will be prepared to treat anyone who develops COVID-19. It can accommodate up to 250 patients. We have a full team there. 
1:27 PM: Murphy ends prepared statement saluting nurse at Palisades Medical Center in North Bergen for working to take care of coronavirus patients on ventilators. He encourages people to share similar stories with the hashtag #NJThanksYou. 
1:25 PM: Murphy: There have been six people criminally charged with either coughing or spitting on officers. We have a zero tolerance policy for this kind of behavior. You are going to face fines of at least up to $10,000 and 18 months in jail.
1:24 PM: Murphy announces the creation of NJTV Learning Live, a new public television program featuring lessons taught by NJ educators. Find it out NJ TV.
1:22 PM: Murphy: More than 362,000 residents have filed for unemployment in the last two weeks. Visit Jobs.Covid19.nj.gov for job openings. There are tens of thousands of job openings listed.
1:21 PM: Murphy: All testing site information is at COVID19.nj.gov/testing
1:20 PM: Murphy: Testing at Bergen Community College begins again tomorrow at 8 a.m. If you go, you must be a NJ resident and you must be demonstrating symptoms consistent with COVID-19.
1:16 PM: Murphy: I've signed an executive order that will allow Col. Callahan to commandeer personal protective equipment from hospitals not in use.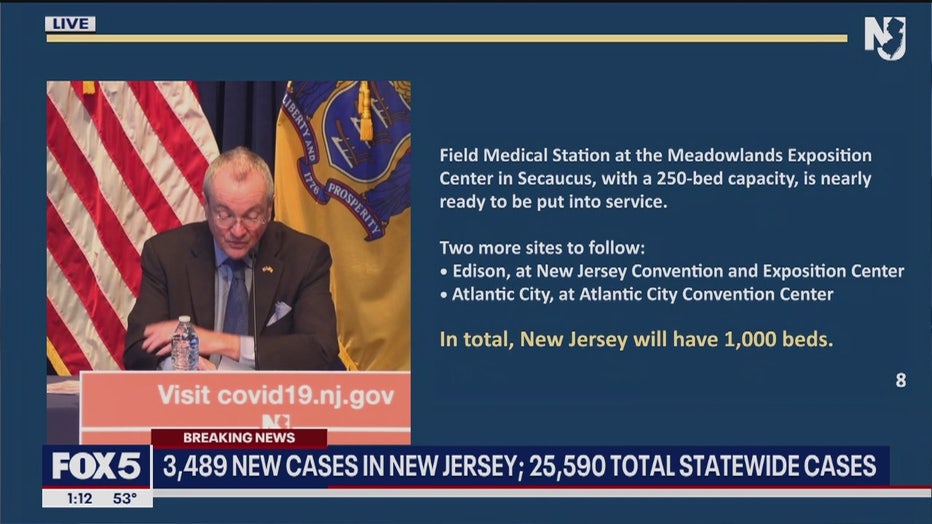 1:12 PM: Murphy: Today, I toured with NJSP Col. Pat Callahan the Field Medical Station up at the Meadowlands Exposition Center. They are going to have a soft open, as they say in the retail business, I think on Monday. This is the first of what will be at least three medical stations - the other two in Edison and Atantic City- which will increase bed capacity by at least 1,000 total.
1:09 PM: Murphy: If you don't need to be out, stay home. And even when you're home stay away from other family members.
1:08 PM: Murphy: I know these numbers are stark. They are shocking and they are indeed sad.
1:06 PM: Murphy: Kim King Smith, an EKG technician at University Hospital, is among the recent deaths. I quote her family: "Her smile was more infectious than the virus that took her life." A Hudson County Sheiff's Office veteran, Bernard Waddell Sr., is also among the dead. We also lost Montclair's own Adam Schlessinger. He was New Jersey through and through.
1:04 PM: Murphy: We are reporting 3,489 positive cases bringing total to 25, 590. There are 182 newly reported deaths bringing total to 537 dead.
1:02 PM: Watch NJ Gov. Phil Murphy update the public on the coronavirus response in New Jersey at this link: https://fox5ny.com/live
12:50 PM: Booker and Menendez say some tens of millions of dollars in emergency funding for New Jersey communities is being released from the $2 trillion federal stimulus package passed by Congress.
12:46 PM: U.S. Sen. Bob Menendez, D-N.J.: We know under these circumstances that there will be a surge in unemployment filings; that is why we negotiated a extension of the benefits and the additional $600/week.
12:39 PM: U.S. Sen. Cory Booker, D-N.J.: It is time for Americans to access affordable health care; President Trump should reopen the healthcare exchanges during this crisis.
12:29 PM: Gov. Cuomo: This is painful; the deaths weight on me; I don't know what it will look like on the other side of this.
12:16 PM: Gov. Cuomo says the USNS Comfort and the Javits Center hospital are accepting non-COVID patients as per their federal mandate; whether they can accept COVID patients will depend on what FEMA and DOD authorize.
12:12 PM: Gov. Cuomo to his brother: I'm proud of you; get some rest; one day we will have a drink, go fishing.
12:10 PM: Chris Cuomo: Like Pop said, some things you can't control; the virus will run its course; we have to stay away from each other.
12:09 PM: Gov. Cuomo to his brother: Thank god your family isn't showing any symtoms; let me tell you, if your wife was showing symptoms you'd be in the basement for a lot longer than the virus will keep you there.
12:06 PM: Gov. Cuomo to his brother: "You normally fish for porgies" which is why I said I would send you a book about striped bass fishing; people thought I was kidding but I was not kidding.
12:04 PM: Chris Cuomo says he has a fever; the first night of symptoms he was hallucinating; "I was seeing Pop; you came to me in a dream."
12:02 PM: CNN anchor Chris Cuomo, the governor's brother, joins the briefing via video; Chris, who is fighting COVID-19, says "We really have to remember our connections to each other." 
11:57 AM: Gov. Cuomo: State bought 3,000 BiPAP machines; Northwell developed an approved protocol to convert them into ventilators.
11:54 AM: Gov. Cuomo: We have about 6 days' worth of ventilators in our stockpile (at the current burn rate).
11:51 AM: Gov. Cuomo calls on companies to manufacture medical safety supplies (PPE); "We will purchase it... it is a business opportunity... we'll finance what you need in terms of transitioning." 
11:49 AM: Gov. Cuomo says he feels good about the number of beds the state will have ready but is concerned about not having enough medical staff and supplies for those beds; says he is so grateful that medical pros from upstate and out of state are coming to help.
11:46 AM: Gov. Cuomo: Temporary hospitals will open next week at Brooklyn Cruise Terminal in Red Hook and South Beach Psych Center on Staten Island.
11:44 AM: Gov. Cuomo: IHME model projects 93,000 deaths nationawide; 16,000 deaths in New York; IHME is funded by the Gates Foundation.
11:41 AM: Gov. Cuomo: Different models place the apex of this crisis anywhere from 7 days to 30 days, depending on social distancing; 70,000 to 110,000 beds will be needed at the apex.
11:36 AM: Gov. Cuomo: New York has 8,669 new confirmed cases; 92,381 cases overall; 2,373 people have died (up from 1,941 reported yesterday).
11:35 AM: New York Gov. Andrew Cuomo holds an update on the state's response to the coronavirus crisis | WATCH LIVE: https://fox5ny.com/live
11:25 PM: The Navy says all medical treatment on board the hospital ships is free of charge to patients.
11:21 AM: Capt. Patrick Amersbach says the USNS Comfort is only accepting non-COVID-19 patients as per its mission but will make adjustments if that mission changes; staff has seen 3 patients so far.
11:13 AM: USNS Mercy has treated trauma and post-surgical patients; local hospitals have prescreened and tested patients for COVID-19 before transferring them to the ships.
11:05 AM: The Pentagon holds a briefing about the Navy's hospital ships; commanding officers of the ships resepective medical staffs say they have treated a few dozen non-COVID-19 patients so far.
9:30 AM: Ellis Marsalis Jr., the jazz pianist, teacher and patriarch of a New Orleans musical clan, died late Wednesday after battling pneumonia brought on by the new coronavirus, leaving six sons and a deep legacy. He was 85.
MORE DETAILS: https://www.fox5ny.com/news/jazz-great-ellis-marsalis-jr-dead-after-coronavirus-induced-pneumonia-son-says
9:00 AM: From the NYC Office of Emergency Management: If you see price increases for items in short supply due to COVID-19, report it by calling 311 or visiting NYC.gov/dcwp.
8:55 AM: US unemployment claims hit 6.6 million -- another record high -- as layoffs accelerate in face of #coronavirus. 
7:30 AM: US equity futures traded higher a day after shares tumbled more than four percent. The major futures indexes are indicating an increase of 1.8 percent when trading begins on Thursday.
MORE DETAILS: https://www.fox5ny.com/news/stock-futures-rise-following-4-tumble
7:00 AM: Watch 'Good Day New York' live now at this link: https://www.fox5ny.com/live
6:28 AM: The latest numbers for NY, NJ, and CT: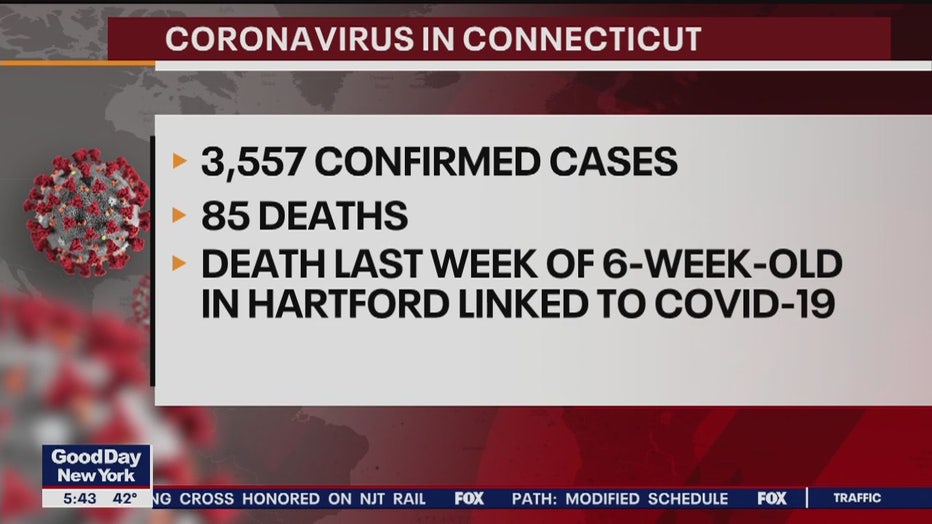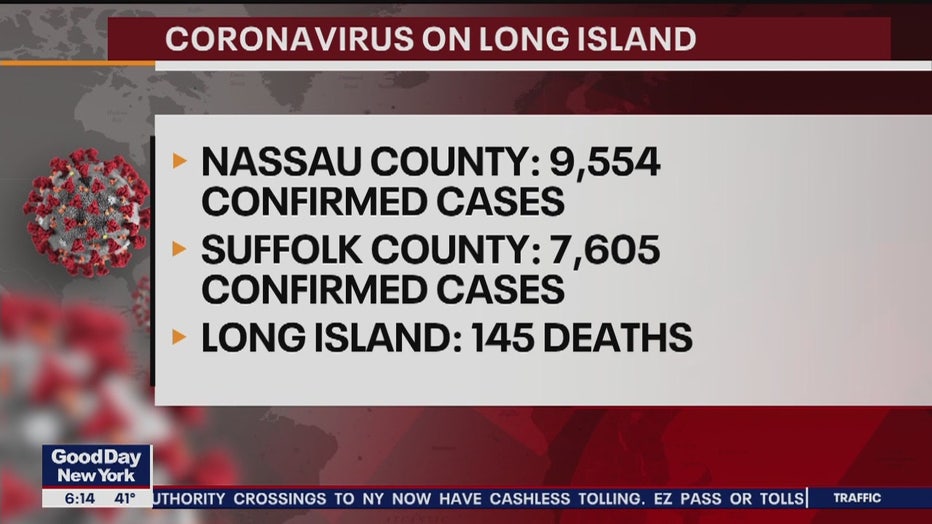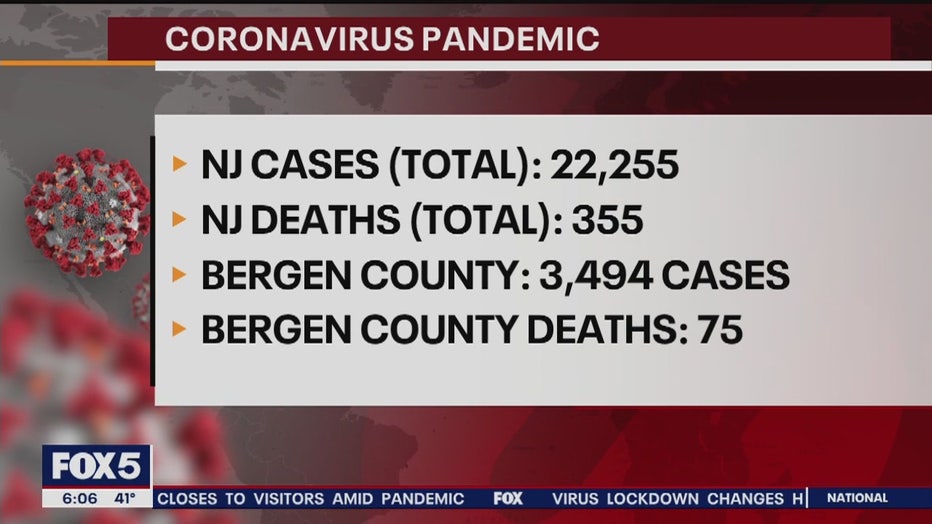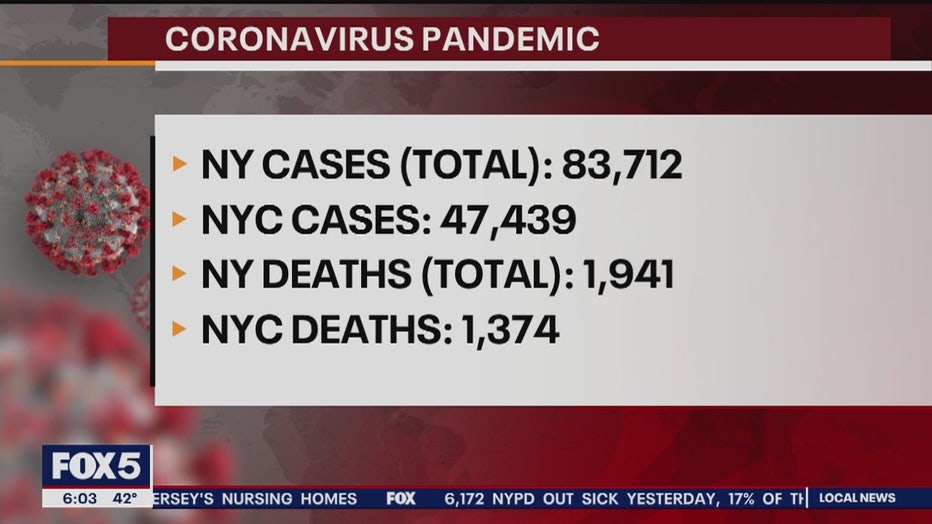 6:15 AM: Mass Transit Changes. Visit MTA.info for updates on NYC Transit.