Survey: Over half of Americans plan on eating out for Thanksgiving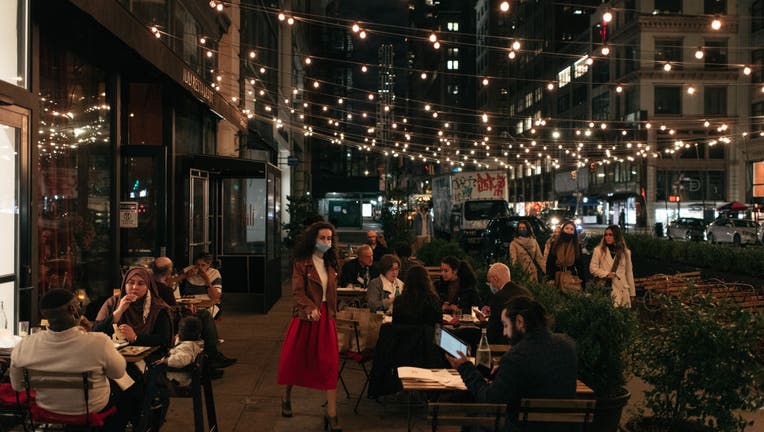 article
NEW YORK - Who needs the hassle of doing the dishes anyway? 
According to a new survey, over half of Americans say they will order from or dine at a restaurant for Thanksgiving this year. 
The survey of 1,000 U.S. consumers by restaurant software company Popmenu revealed that 32% of respondents planned to opt for takeout or delivery for the holiday, while 17% say they are gearing up to dine in person at a restaurant.
RELATED: 'How many pounds per person?' and other last-minute turkey questions, answered
The new trend is particularly pronounced among people under the age of 35, with 42% planning to order takeout or delivery, and 20% intending to enjoy their Thanksgiving meal at a restaurant.
And why would so many people prefer to eat out for the holiday? Well, flatly, it's easier.
RELATED: Macy's Thanksgiving Day Parade in NYC: 2023 route, street closures, balloons, performances and more
Nearly two-thirds of respondents said that eating Thanksgiving dinner at a restaurant was more convenient, while 35% said they preferred avoiding the hassle of cooking and the same number said they appreciated professionally cooked food.  
"More consumers are trading in their aprons for the convenience, taste and potential cost-savings of having restaurants cook Thanksgiving dinner for them," said Brendan Sweeney, CEO and co-founder of Popmenu. 
RELATED: Step back in time with these vintage holiday recipes
Owing to still high prices for groceries nationwide, 24% of respondents said they believe that eating out at a restaurant is more cost-effective than purchasing all the ingredients for a homemade Thanksgiving dinner. 
If you are planning to go out for Thanksgiving this year, Popmenu has some easy tips for a smooth holiday dinner experience: 
Do Your Homework: Research menu options, portion sizes, allergens, and budget on the restaurant's website.
Order Directly: To avoid third-party fees and secure preferred pickup times, order directly from the restaurant's website.
Reserve Early: Popular eateries fill up quickly; use reservation sites like OpenTable to stay informed.
Expect Delays: Factor in potential delays even with specific pickup/delivery windows and reservations.