'How many pounds per person?' and other last-minute turkey questions, answered
For many, purchasing and cooking a turkey for Thanksgiving requires a lot of considerations and planning. 
The bird is often the main event, and one of the best things about preparing a Thanksgiving dinner is getting to eat the leftovers. 
RELATED: Step back in time with these vintage holiday recipes
Here are some last-minute questions and answers if you're tasked with buying and cooking the turkey this year:
How many pounds of turkey per person should I buy?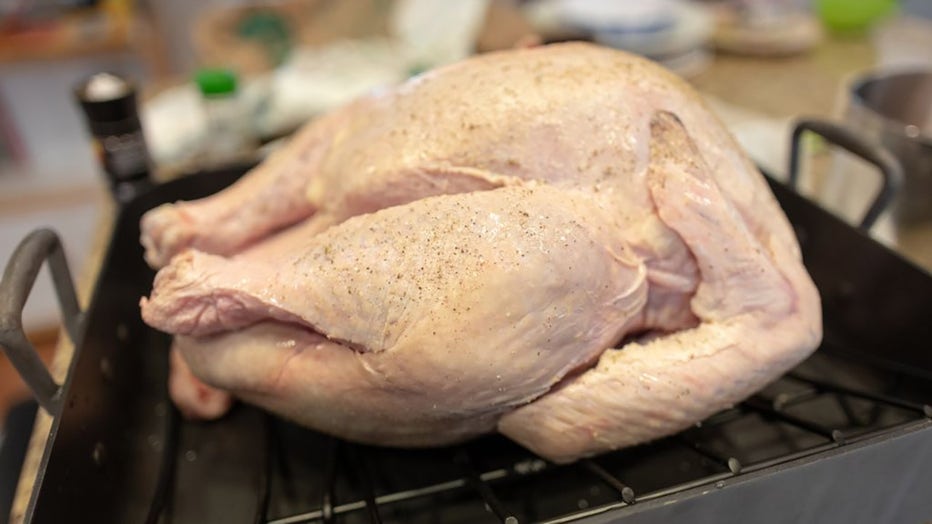 FILE - Raw turkey on roasting pan during preparation of a traditional Thanksgiving holiday meal on Nov. 23, 2019. (Photo by Smith Collection/Gado/Getty Images)
The first step in cooking the turkey is determining how much is needed. A general rule is 1 pound of turkey per person, according to Butterball, which operates a turkey "Talk-Line" offering help to cooks. 
However, the amount of turkey needed can vary depending on dinner plans and guest preferences, Butterball adds.
Others, like the Food Network, suggest planning for 1.5 to 2 pounds per guest. This also takes into account the bones and other parts of the bird.
RELATED: Martha Stewart says she canceled her Thanksgiving
How many pounds of boneless turkey breast per person?
Those cooking for a small crowd could opt to skip the whole bird and go for a turkey breast.
For boneless breast meat, cooks should plan for about 1/2 pound (8 ounces) per guest, according to the Food Network and others. 
RELATED: Thanksgiving dinner 2023: Breaking down the cost of the average holiday feast
When should you thaw your Thanksgiving turkey? 
While frozen, a turkey is safe indefinitely, according to the U.S. Department of Agriculture.
However, as soon as it begins to thaw, any bacteria that may have been present before freezing can begin to grow again. 
So, when should you start thawing your turkey? The USDA suggests allowing approximately 24 hours for each 4 to 5 pounds in a refrigerator set at 40 °F or below.
In addition, place the turkey in a container to prevent the juices from dripping onto other foods.
What's the best way to thaw a turkey?
Three safe ways to thaw a turkey are in the refrigerator, in cold water, and in the microwave oven, according to the USDA.
Thawing turkey in the fridge
When thawing a turkey in the refrigerator, you'll want to plan ahead. 
Refrigerator thawing times:
4 to 12 pounds — 1 to 3 days
12 to 16 pounds — 3 to 4 days
16 to 20 pounds — 4 to 5 days
20 to 24 pounds —5 to 6 days
A thawed turkey can remain in the refrigerator for 1 or 2 days before cooking. 
Thawing turkey in cold water
When thawing the bird in cold water, allow about 30 minutes per pound, the USDA says.
"First be sure the turkey is in a leak-proof plastic bag to prevent cross-contamination and to prevent the turkey from absorbing water, resulting in a watery product," the USDA says on its website.
Next, submerge the wrapped turkey in cold tap water, making sure to change the water every 30 minutes until the turkey is thawed. Cook the turkey immediately after it is thawed.
Cold water thawing times:
4 to 12 pounds — 2 to 6 hours
12 to 16 pounds — 6 to 8 hours
16 to 20 pounds — 8 to 10 hours
20 to 24 pounds — 10 to 12 hours
The USDA said a turkey thawed by the cold water method should be cooked immediately. After cooking, meat from the turkey can be refrozen.
Thawing a turkey in the microwave
Yes, you can even safely thaw a turkey using a microwave. Make sure to follow the microwave oven manufacturer's instructions when defrosting a turkey. 
Next, plan to cook it immediately after thawing, because some areas of the food may become warm and begin to cook during microwaving, the USDA says.
RELATED: Alternative Thanksgiving meals: From vegan to cultural differences
How do you deep-fry a turkey safely?
Some say deep-frying is the only way to enjoy a turkey on Thanksgiving Day, but it can pose serious hazards.
Thanksgiving is the peak day for home cooking fires, with more than three times the daily average for such incidents, according to the National Fire Protection Association. The NFPA even warns against frying your own turkey at home altogether and just purchasing one from the store.
But for those home cooks who just have to do it themselves, here are a few tips to guide you – including preparing a safe space, watching the oil, getting the temperature right, and cleaning up cautiously.
RELATED: Thanksgiving travel: Here are the holiday foods you can bring through TSA
At what temperature is turkey done?
Is the turkey done yet? There's only one definite way to be sure – and that's the temperature, according to Butterball. 
Using a meat thermometer, check the following places on the turkey and look for these temperatures:
180°F in thigh
170°F in breast
165°F in stuffing
"Remember to insert the meat thermometer close to, but not touching, the thigh bone," Butterball says. 
This story was reported from Cincinnati. Stephanie Weaver and Catherine Stoddard contributed from Los Angeles.