Step back in time with these vintage holiday recipes
When it comes to holiday traditions, perhaps there's none more warm and mouth-watering than the food table.
Staples like turkey and stuffing live on as holiday meal centerpieces, but recipes at Thanksgiving and Christmas dinner tables have certainly evolved since the first Thanksgiving in 1621.
If you're looking to make a retro splash at your holiday gathering, here are a few vintage dishes you can try – and some ideas on how to eat like the pilgrims and Native Americans did in Plymouth, Massachusetts. 
Old School Cheese Ball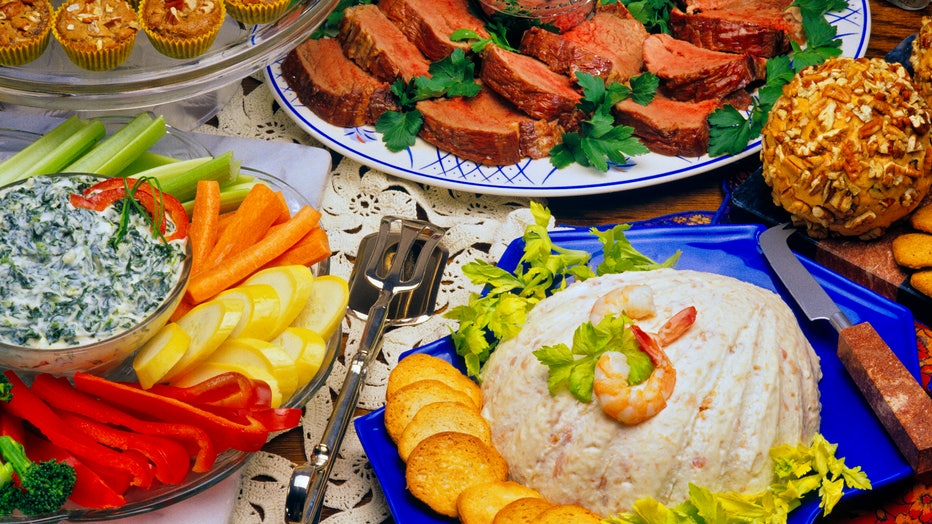 Buffet meal that includes a cheese ball (Photo by J. Graham/ClassicStock/Getty Images)
This classic appetizer is good for both Thanksgiving and Christmas, and is low in cost and labor. 
READ MORE: When should you thaw your Thanksgiving turkey? USDA explains
Here's a cheese ball recipe from food.com:
2 (8 ounce) packages cream cheese (not low fat or non-fat because it needs to be thick)
1 (5 ounce) jar Kraft Old English cheese spread (sometimes I add an extra jar of this and make it into 2 balls)
1 (5 ounce) jar Kraft roka blue spread
1 teaspoon garlic powder (or more to taste)
1 tablespoon Worcestershire sauce
1 cup chopped pecans
Get the recipe. 
Ambrosia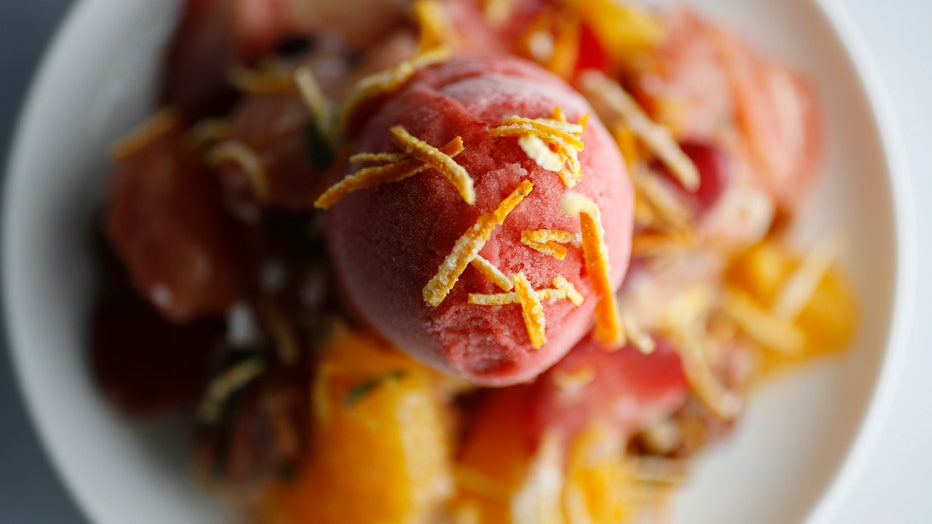 The Citrus Ambrosia dessert at Haven restaurant in Houston (Photo by Karen Warren/Houston Chronicle via Getty Images)
The creamy, coconut-y no-bake dessert has been a staple in the Deep South since at least the 1860s, according to the Associated Press.
READ MORE: Thanksgiving travel: Here are the holiday foods you can bring through TSA
Purists will tell you a classic ambrosia contains only one fruit – namely, oranges – and coconut, but variations will call for several fruits, along with whipped cream, marshmallows, toasted nuts and coconut.
Here's a recipe for classic ambrosia from browneyedbaker.com:
11 ounce (311.85 g) can mandarin oranges, drained
8 ounce (226.8 g) can crushed pineapple, drained
2 cups (180 g) sweetened shredded coconut
2 cups (150 g) miniature marshmallows
8 ounce (226.8 g) container Cool Whip
Get the recipe.
Molded Cranberry Salad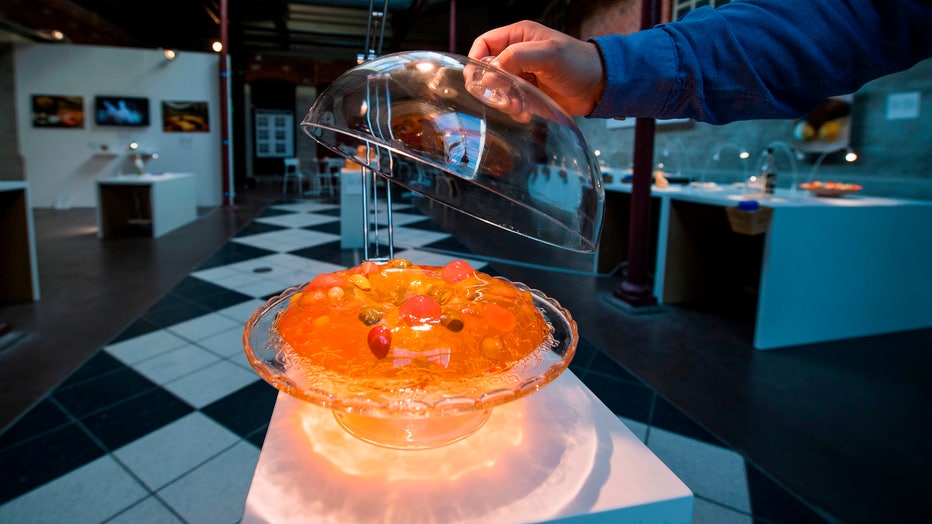 A "Jell-O Salad" (Photo credit JONATHAN NACKSTRAND/AFP via Getty Images)
Jello salads were all the rage in the '50s and '60s. You can pay homage to the molded delicacy of yore by adding a molded cranberry salad to your holiday table. Here's a recipe from Southern Living:
1 (8-oz.) can crushed pineapple in syrup
Boiling water
1 (3-oz.) package raspberry-flavored gelatin
1 (14-oz.) can whole-berry cranberry sauce
1 cup drained mandarin oranges
1 teaspoon orange zest
Get the recipe.
What was eaten at the first Thanksgiving?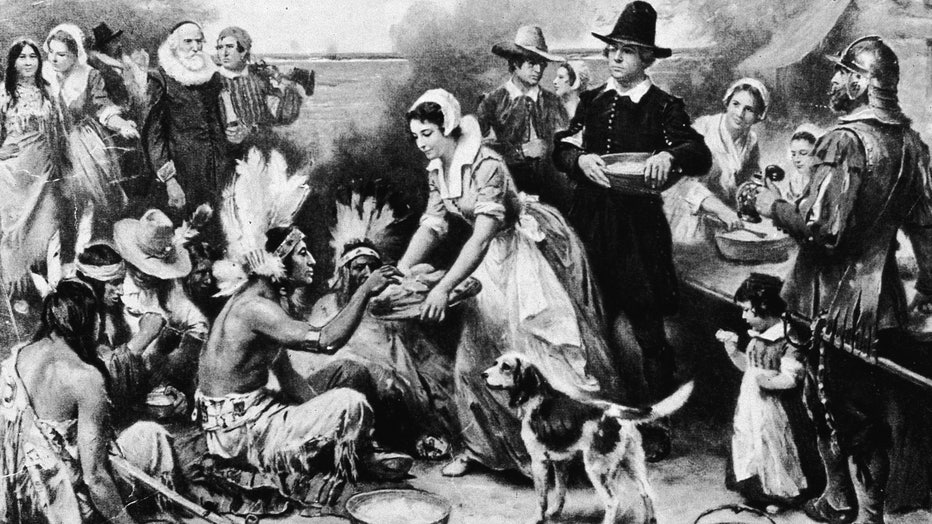 Illustration depicting the Pilgrims serving food to Native Americans at the first Thanksgiving dinner in 1621. (Photo by American Stock/Getty Images)
The first Thanksgiving had plenty of turkey, but there was no cranberry sauce for the bird and there were no mashed potatoes and gravy to pass around: according to Smithsonian Magazine, white potatoes came from South America and sweet potatoes came from the Caribbean. Neither had been introduced in North America by 1621.
And while the pilgrims and Native Americans did break bread, it was made from corn, not wheat.
Here's a little inspiration for more modern takes on Plymouth-era Thanksgiving eats.
Venison Mincemeat Pie
Venison, an "absolute" at the first Thanksgiving, is leaner than red meat and still high in protein.
Here's a recipe for venison mincemeat pie from Game and Fish Magazine:
2 cups ground cooked venison
1 cup chopped suet (can substitute pork back fat)
¾ cup currants
½ cup chopped dried apricots (optional)
2 tablespoons blackstrap molasses
3 cups chopped tart apples
¾ cup seedless raisins
¾ to 1 cup stock
4 tablespoons apple or beach plum jelly
1 ½ cups light brown sugar, tightly packed
1 teaspoon cloves
½ teaspoon nutmeg (or mace)
¼ cup cider
Bear fat pie crust
Get the recipe. 
Seethed mussels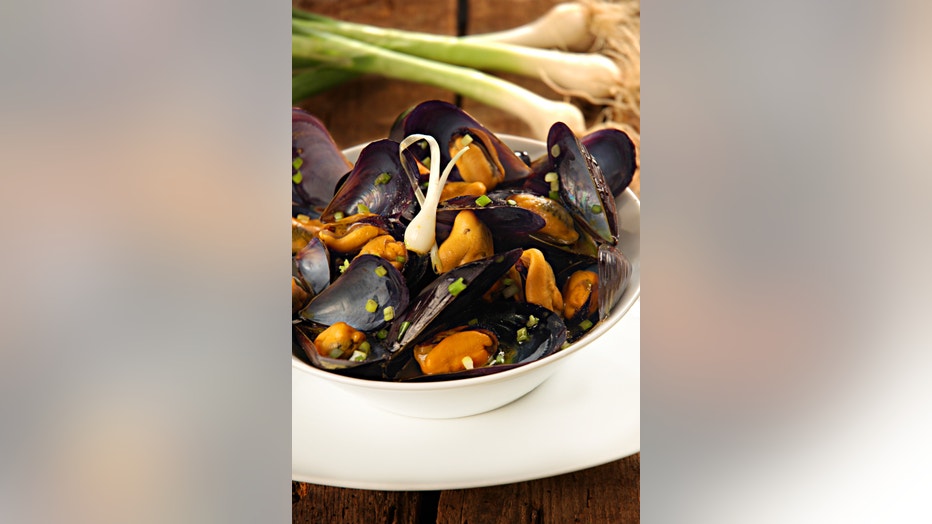 Steamed Mussels (Photo by: REDA&CO/Universal Images Group via Getty Images)
Wildfowl and deer weren't the only main courses likely served at the first Thanksgiving. They probably also had seafood like eels, lobster, clams and mussels.
Online magazine British Food in America adapted this seethed mussels recipe from Giving Thanks:
-1 Tablespoon unsalted butter
-1 clove garlic, chopped
-¼ cup minced parsley
-¼ cup red wine vinegar
-½ cup water
-salt
-pepper
-2 lb bearded and scrubbed mussels
Get the recipe here.
Roasted Butternut Squash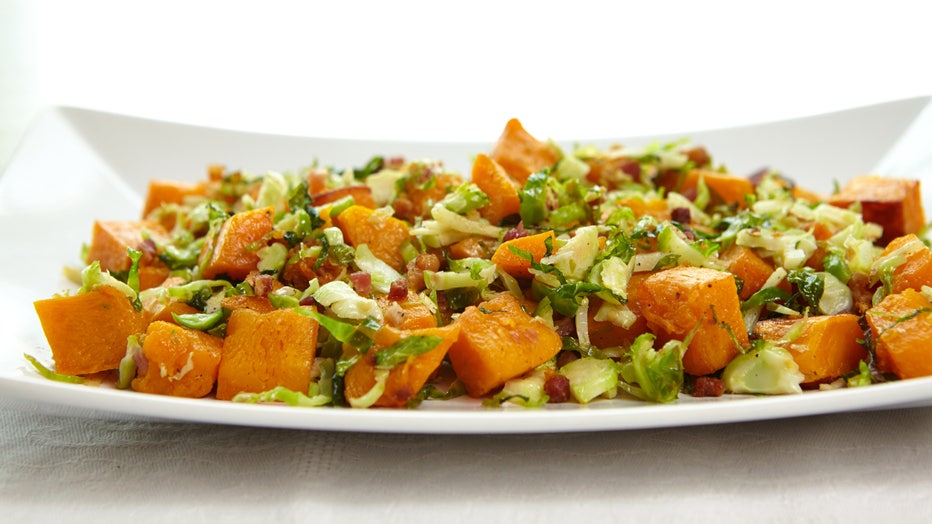 Roasted Butternut Squash with Pancetta and Shaved Brussels Sprouts for Mindful Makeovers / Nourish (Photo by Marge Ely for The Washington Post via Getty Images).
The Wampanoag tribe ate a "varied and extremely good diet," including beans and squash.  Smithsonian Mag reports. Here's a classic butternut squash dish from Well Plated by Erin:
1 large butternut squash about 3 pounds, peeled, seeded, and cut into 1-inch cubes
1 1/2 tablespoons extra-virgin olive oil
1 1/2 tablespoons pure maple syrup
1 3/4 teaspoons kosher salt do not use table salt, or the recipe will be too salty (or reduce the amount and add a bit at the end as needed)
3/4 teaspoon ground cinnamon
1/2 teaspoon ground black pepper
1 tablespoon chopped fresh rosemary
Get the recipe here.