Coyote spotted roaming in Queens, Long Island has hip and pelvic fractures
NEW YORK - The coyote spotted this week wandering through backyards and city streets in parts of Queens and Long Island suffered from a hip and severe pelvic fracture, the Sweetbriar Nature Center in Smithtown said.
In an update on Facebook, the center said he was rushed to the animal hospital at Best Friends Veterinary Care, where radiographs revealed the injuries.
This is why the animal was so easily caught, the center said.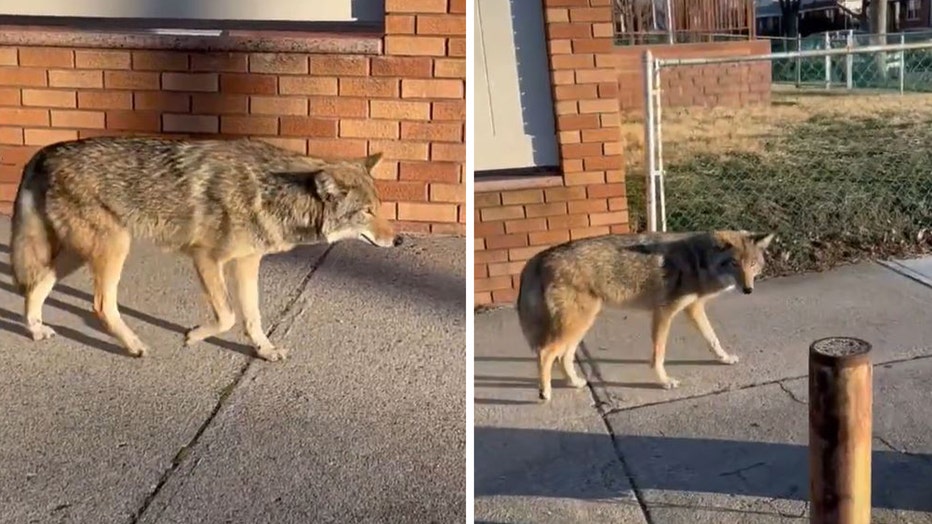 Screengrabs show the coyote found wandering in Queens. (NYPD 105th Precinct)
"He will recover in our 5 star accommodations for the next few weeks, getting all the rest and relaxation that is required for him to heal," the center said. "He will then be re-radiographed and hopefully avoid surgery."
The center is accepting donations. 
"I think we will call him Wile E. Coyote unless someone has a better name???" the center said.
Long Island's first official resident coyote apparently settled into a small park in Queens as early as 2009, the center says.
"Long Island coyotes are known as Eastern Coyotes, and are generally larger than coyotes out west" the center said. "DNA testing suggests this may be due to interbreeding with grey wolves. We will soon know about this boy as DNA and blood samples were taken."
Police first responded to a report of a coyote Wednesday morning in the area of 81st Avenue and 257th Street in the Glen Oaks neighborhood. Video shared by the New York Police Department's 105th Precinct shows the animal slowly strolling down a sidewalk. 
RELATED: Coyotes spotted in the Bronx
RELATED: Marist College student bitten by coyote on campus
"This morning, (Neighborhood Coordination Officers) assigned to Sector Eddie were alerted by residents of this individual wanted for the attempted kidnapping of The Road Runner," the police precinct joked in a tweet. "With help from our friends in (New York City Police Department Emergency Service Unit), the individual was taken into custody without incident."
Other photos shared by NYPD Chief of Special Operations Wilson Aramboles showed the coyote in a resident's backyard.