Coyote spotted strolling through Queens neighborhood
QUEENS, N.Y. - A coyote was spotted this week wandering through backyards and city streets of a Queens neighborhood and is now in the care of a nature center.
Police first responded to a report of a coyote on Wednesday morning in the area of 81st Avenue and 257th Street in the Glen Oaks neighborhood. Video shared by the New York Police Department's 105th Precinct shows the animal slowly strolling down a sidewalk. 
"This morning, (Neighborhood Coordination Officers) assigned to Sector Eddie were alerted by residents of this individual wanted for the attempted kidnapping of The Road Runner," the police precinct joked in a tweet. "With help from our friends in (New York City Police Department Emergency Service Unit), the individual was taken into custody without incident."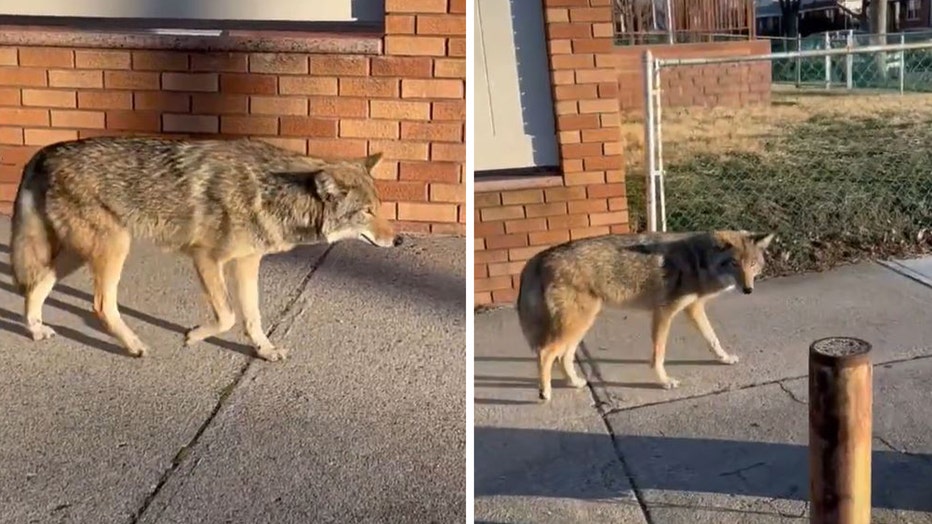 Screengrabs shows the coyote found wandering on March 8, 2023, in Queens, New York. (Credit: NYPD 105th Precinct)
Other photos shared by NYPD Chief of Special Operations Wilson Aramboles showed the coyote in a resident's backyard.
The animal was later captured and brought to the Sweet Briar Nature Center in Smithtown on Long Island. 
This wasn't the first time a coyote has been spotted in New York City. Last fall, FOX 5 NY photojournalist Brenda Rivera recorded a video of a coyote roaming the Riverdale section of the Bronx. 
About 85 miles north, a student at Marist College in Poughkeepsie, New York, was bitten by a coyote in February. The student was treated for the bite on the leg and was said to be OK.
At the time of the bite, officials said several "aggressive" coyote sightings had been reported since September 2022 near the town of Hyde Park.
On its website, the New York City Department of Parks and Recreation maintains that coyotes are common throughout the state of New York, including urban areas.
"Seeing a coyote for the first time can be an exhilarating or an alarming experience. If you see a coyote, do not panic," the department states. "Most coyotes are not dangerous to people. Nationwide, only a handful of coyote bites are reported each year."