NYC migrant crisis: Heated protests held outside new Staten Island shelter
STATEN ISLAND - Monday was another day of heated, but peaceful protests, outside the shuttered St. John Villa Academy, which is currently being used to house asylum seekers on Staten Island.
Hundreds of demonstrators turned up to voice their opposition against the now 300-bed makeshift shelter.
At one point, an outsider taunted protestors, and police had to escort him away from the crowd.
Sunday protests turn violent
The protests Monday came after tensions flared Sunday outside Gracie Mansion at an anti-migrant rally organized by Guardian Angels' founder Curtis Sliwa.
Demonstrators clashed with counter-protesters on the corner of E. 86th Street and East End Ave., where the situation escalated into physical violence, resulting in five arrests.
According to the NYPD, the following arrests and charges were made:
32-year-old man charged with assault and resisting arrest.
31-year-old woman charged with assault.
81-year-old woman, 80-year-old man and 69-year-old man charged with obstructing governmental administration and disorderly conduct.
The 69-year-old man was identified as Sliwa.
Lower court ruling reversed 
Initially, a Staten Island Judge ruled in their favor, saying Mayor Eric Adams' administration cannot use an old Catholic school building now owned by the city to house migrants.
However, the city fought back and a few hours later, a higher court judge reversed the lower court ruling, meaning the migrants could stay put. 
The mayor's office said less than %2 of the 59,000 asylum seekers the city is caring for are being sheltered on Staten Island. 
Local politicians have since sent a letter to the Office of Emergency Management, urging the city to establish an 11 p.m. curfew for migrants staying at the shelter.
White House letters
In two letters obtained by Politico, the Biden Administration pushed back at criticism that it hasn't done enough for New Yorkers.
Homeland Security Secretary Alejandro Mayorkas reportedly sent the pair of letters to Gov. Kathy Hochul and Mayor Adams, citing "structural and operational" issues that were identified during a week-long assessment of the city's performance.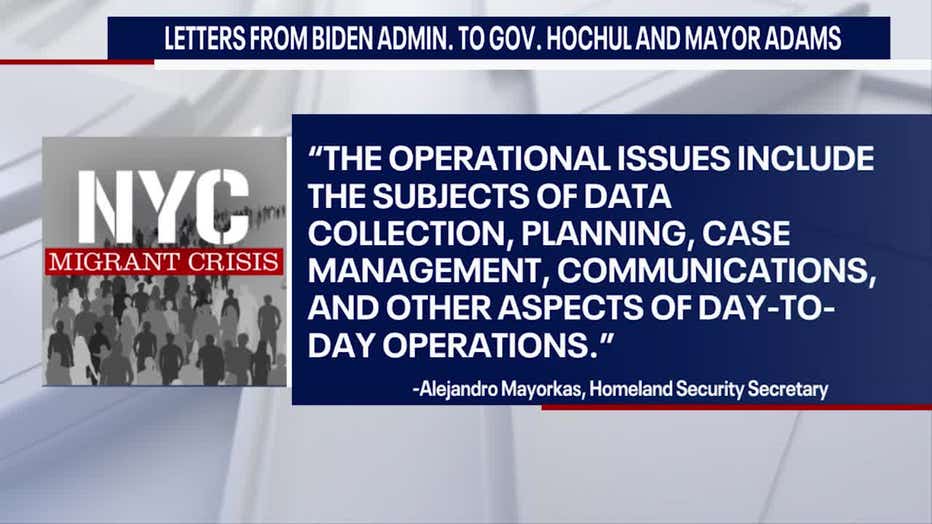 "The structural issues include governance and organization of the migrant operations, including issues of authority, structure, personnel, and information flow," he said. "The operational issues include the subjects of data collection, planning, case management, communications, and other aspects of day-to-day operations," he said.