NYC winter storm: How much snow fell in your area? Find out here.
NEW YORK - A winter storm brought some snow to parts of the tri-state area Monday night into Tuesday. 
Download the FREE Fox 5 NY weather app and always stay updated on storms.
Apple App Store: https://apple.co/2GrlPnz Google Play Store: http://bit.ly/2IPSlTd
While areas in and around New York City saw mostly a changeover to rain, several inches of snow were reported in other parts of the state, as well as areas of New Jersey.
Check out the snow totals in inches for your area below from the National Weather Service:
Albany County
Colonie: 3.2
Albany: 3.1
Allegany County
Whitesville: 1.3
Wellsville: 1.0
Rushford: 1.0
Columbia County
Germantown: 5.5
Ancramdale: 3.6
Copake: 2.0
Dutchess County
Pine Plains: 4.5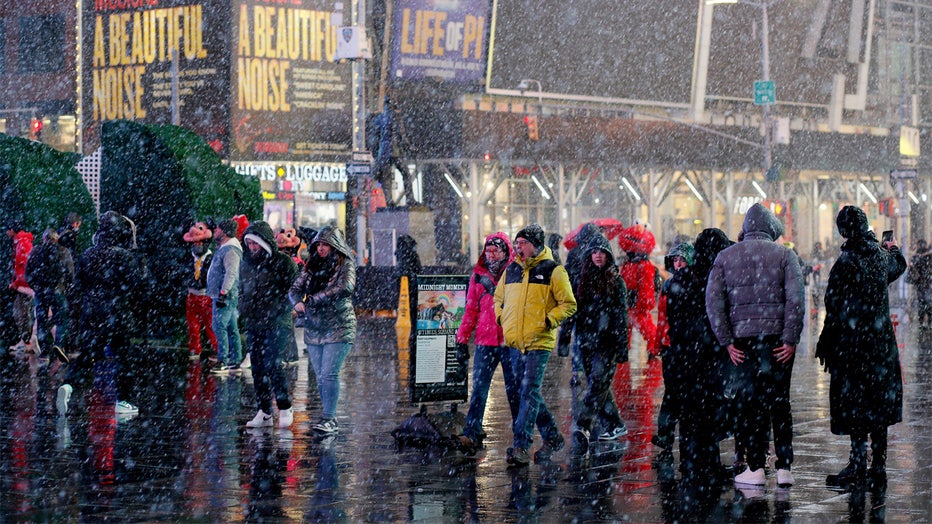 People visit Times Square during the snowfall. (Photo by LEONARDO MUNOZ/AFP via Getty Images)
Erie County
Kenmore: 4.0
Snyder: 3.8
West Seneca: 2.8
Kenmore: 3.1
West Seneca: 2.5
Fulton County
Northville: 1.6
Genesee County
Stafford: 4.2
Greene County
Catskill: 4.5
Greenville Center: 4.0
Halcott Center: 4.0
Hunterdon County
High Bridge: 2.0
Stantom: 1.3
Three Bridges: 1.3
Flemington: 1.2
Lewis County
Constableville: 5.6
Highmarket: 4.0
Lowville: 2.0
Mercer County
Trenton Mercer Airport: 1.0
Middlesex County
Hopelawn: 2.1
Metuchen: 1.9
North Brunswick: 1.4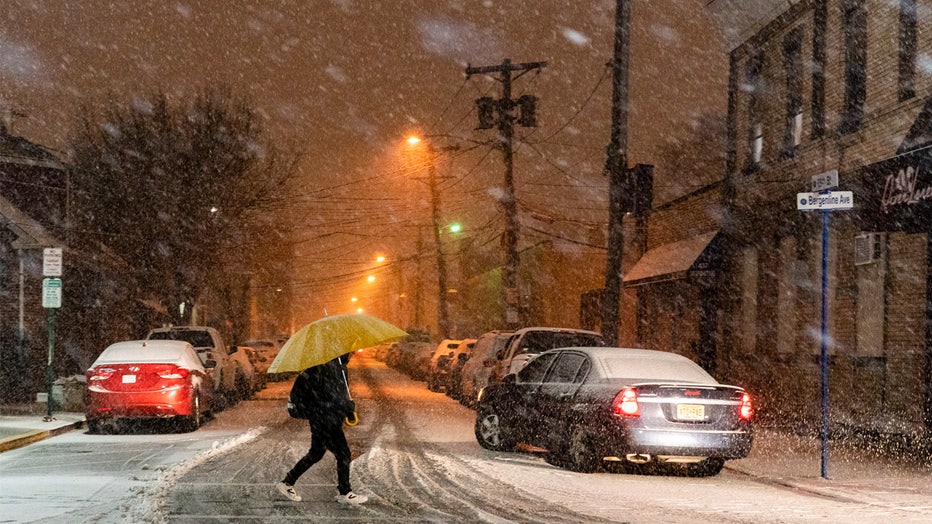 A man covers himself of snow during the winter storm in Hoboken. (Photo by Eduardo MunozAlvarez/VIEWpress)
Monroe County
Pittsford: 3.1
Fairport: 2.6
Morris County
Boonton: 2.0
Chatham: 2.0
Randolph: 1.0
Montgomery County
Palatine Bridge: 4.0  
Niagara County
North Tonawanda: 3.5
Sanborn: 3.2
Lockport: 2.2
Lockport: 2.2
Newfane: 2.0
Lockport: 1.8
Ontario County
Geneva: 2.6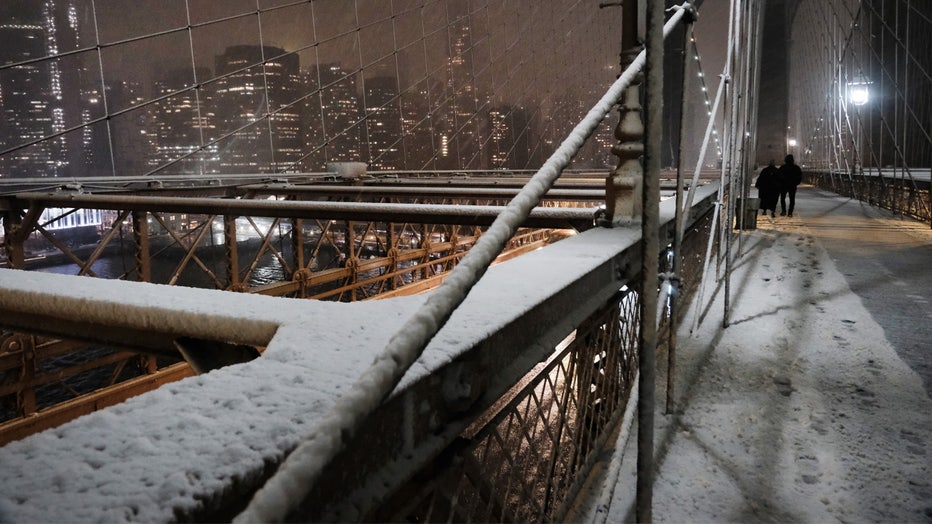 Snow falls as people walk across the Brooklyn Bridge. (Photo by Spencer Platt/Getty Images)
Oswego County
Mexico: 3.2
Rensselaer County
Speigletown: 2.0
Berlin: 2.0
Petersburg: 2.0
Hoosick Falls: 1.0
Saratoga County
Galway: 4.0
Clifton Park: 3.1
Ballston Spa: 3.0
Schenectady County
Aqueduct: 3.5   
Schoharie County
Richmondville: 5.0
Middleburgh: 3.0
Somerset County
Neshanic Station: 2.0
Warren: 2.0
Bridgewater: 1.5
Belle Mead: 1.3
Sussex County
Wantage Twp.: 4.3
Sparta: 2.0
Warren County (NJ)
Blairstown: 2.5
Stewartsville: 2.2
Warren County (NY)
 Warrensburg: 2.0
 Lake Luzerne: 1.6
 Queensbury: 1.5
Washington County
Whitehall: 0.5   
Hebron: 0.5
Wyoming County
Warsaw: 6.0
Silver Springs: 3.0
Warsaw: 2.5
Attica: 2.2
Weather Resources
Follow the FOX 5 Weather Team on Twitter