Ghislaine Maxwell lawyer fighting for new trial or conviction reversal
NEW YORK (AP) - A federal appeals court should reverse the conviction of Ghislaine Maxwell or grant a new trial on charges that she joined and enabled the sexual abuse that Jeffrey Epstein committed on scores of teenagers and young women for more than a decade, her lawyers argued in court papers Tuesday.
The arguments the lawyers submitted to the 2nd U.S. Circuit Court of Appeals largely repeated claims she unsuccessfully made to a trial judge who sent her to prison for 20 years.
The 61-year-old British socialite argued through her lawyers that the convictions violate an agreement Epstein reached with federal prosecutors 15 years ago, they violated the statute of limitations and should be tossed because a juror failed to reveal he was a victim of child sex abuse.
She also cited judicial error and a miscalculation of the federal sentencing guidelines range as reason to reject her conviction and sentence.
Maxwell is serving her sentence at a low-security federal prison in Tallahassee, Florida, where yoga, Pilates and movies are available.
RELATED: Ghislaine Maxwell transferred to low-security Florida prison
She was convicted in December 2021 of luring teenage girls to be sexually abused by Epstein, an American financier who had hundreds of millions of dollars and an appetite for daily massages used to persuade vulnerable and mostly financially desperate girls to engage in sexual acts for hundreds of dollars.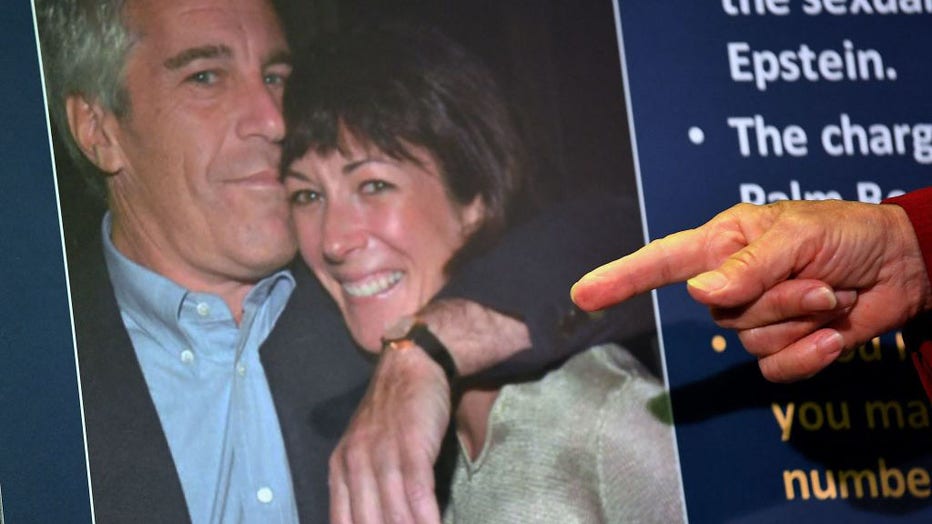 Acting US Attorney for the Southern District of New York, Audrey Strauss, announces charges against Ghislaine Maxwell during a July 2, 2020, press conference in New York City. (Photo by Johannes Eisele/AFP via Getty Images)
Her lawyers had unsuccessfully argued previously that Maxwell became a scapegoat for prosecutors desperate for someone to blame after Epstein killed himself in a federal prison cell in August 2019 as he awaited trial on sex trafficking charges.
Her trial featured testimony from some women who were victimized when they were children as well as the testimony of pilots who dropped the names of famous men — Britain's Prince Andrew, Bill Clinton, Donald Trump — who flew on Epstein's private jets.
Evidence showed that Epstein had transferred over $30 million to Maxwell, his onetime girlfriend, during and after a stretch of years from 1994 to 2004 when they were most closely connected.
Lawyers for Maxwell, a once privileged daughter of a shipping magnate, said in court papers that prosecutors never should have been able to press their case against her because a deal Epstein reached in September 2007 with federal prosecutors in Florida protected not only himself from prosecution but "any potential coconspirators."
RELATED: What is going on with Ghislaine Maxwell's sex abuse trial?
They also argued that a law used to convict her no longer applied once her accusers reached the age of 25, which all of them had by the time of the trial.
The lawyers repeated their claims that a juror's disclosure to reporters after the verdict that he had failed to reveal that he was a victim of child sex abuse even though he had been asked were grounds to reverse the verdict. They said the trial judge mishandled the controversy.
RELATED: Ghislaine Maxwell Trial: Juror regrets not disclosing sex abuse
And they wrote that Maxwell's "deplorable conditions of confinement" at a federal jail in Brooklyn prior to trial left her "so disoriented and diminished that she was unable meaningfully to assist in her own defense, much less to testify."
They also criticized the judge for letting three of four women who testified about sexual abuse they suffered to use pseudonyms even though one granted an interview with the Daily Mail after the verdict and another made public statements even before testifying.