FBI seized NYC Mayor Adams's phones, iPad amid fundraising investigation
A source says the mayor's camp found an individual who acted 'improperly' within the campaign.
The FBI had seized New York City Mayor Eric Adams's phones and iPad on Monday, days after federal agents raided the home of a top fundraiser, FOX 5 NY has confirmed.
These devices were returned a few days later – but this is the first time that the FBI is directly touching the mayor in their investigation into whether Adams's 2021 campaign accepted illegal donations. 
"As a former member of law enforcement, I expect all members of my staff to follow the law and fully cooperate with any sort of investigation — and I will continue to do exactly that. I have nothing to hide," Adams said in a statement released Friday.
A source tells FOX 5 NY's Morgan McKay that the mayor's office proactively called the FBI last week after news of the raid on the Brooklyn home of Adams' chief fundraiser, Brianna Suggs. 
The source said they found an individual who acted "improperly" within the campaign but would not go into detail about who this person was or what they're being accused of.
The seizures happened after an event Monday night, according to a statement from the mayor's attorney, Boyd Johnson.
FOX 5 NY has learned that FBI agents approached Adams on the street Monday night and asked his security detail to step away, They then climbed into the mayor's SUV with him and handed over a court-authorized warrant to seize his electronic devices.
Afterward, the source tells FOX 5 NY the mayor found additional devices that he turned over to the FBI's Southern District of New York office and provided their codes for unlocking.
Adams had previously said he didn't have anything to fear from the investigation, even as an attorney for his administration acknowledged being in contact with federal authorities. Adams said nothing publicly about his phones being seized when he met with reporters on Wednesday and said he wasn't aware of any wrongdoing by members of his campaign team.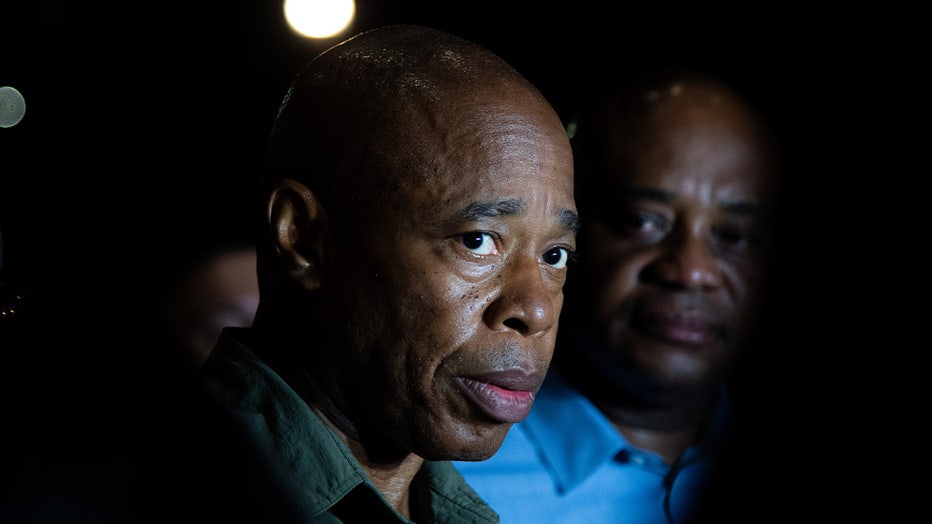 New York City mayor Eric Adams speaks during a press conference in Bogota, Colombia, October 7, 2023. (Photo by: Chepa Beltran/Long Visual Press/Universal Images Group via Getty Images)
Johnson added Adams has "not been accused of any wrongdoing" and is continuing to cooperate with the investigation. 
In an interview with FOX 5 NY's Rosanna Scotto recorded Thursday, Adams continued to defend himself and members of his campaign. He said he canceled his planned visited to Washington, D.C. on the day of the raid because he wanted to be back in the city to "make sure that things were stable."
"When you have something impactful like that, that's an impactful experience to go through. And I wanted to be in the city. That's just how I lead," Adams said.
The focus of the investigation hasn't been publicly disclosed by prosecutors, but a search warrant obtained by the New York Times indicated authorities are examining whether the Adams campaign conspired with the Turkish government to receive donations from foreign sources, funneled through straw donors.
The Associated Press contributed to this report.