State of Emergency in NYC, NY, NJ due to historic flooding
NEW YORK - A State of Emergency was declared in New York, New York City, and New Jersey after the remnants of Hurricane Ida brought historic levels of flooding across New York City and the Tri-state area.
"I am declaring a state of emergency to help New Yorkers affected by tonight's storm," Gov. Kathy Hochul tweeted. "Please stay off the roads and avoid all unnecessary travel."
The governor later issued a statement with more details, saying the state of emergency applied to Dutchess, Nassau, Orange, Putnam, Rockland, Suffolk, Sullivan, Ulster, and Westchester Counties and all of New York City.
"Torrential rainfall has resulted in flash flooding, power outages, travel disruptions and damage in impacted areas posing a threat to public health and safety," Hochul said. "I am directing State agencies, including the Division of Homeland Security and Emergency Services, the Department of Transportation, Thruway Authority, and others to take appropriate and immediate action to help respond and recover from this disaster."
"I'm declaring a state of emergency in New York City tonight. We're enduring an historic weather event tonight with record breaking rain across the city, brutal flooding and dangerous conditions on our roads," Mayor Bill de Blasio tweeted Wednesday night. "Please stay off the streets tonight and let our first responders and emergency services get their work done. If you're thinking of going outside, don't."
In New Jersey, Gov. Phil Murphy also declared a State of Emergency throughout the state, asking residents to stay home, stay off the roads and stay safe. 
A travel ban has been put into effect for all of New York City until 5 a.m. Thursday morning. All non-emergency vehicles are required to be off the streets and highways. 
RELATED: NYC power outages spike as NWS declares city's 1st flash flood emergency
The National Weather Service issued its first-ever Flash Flood Emergency for Manhattan, Brooklyn, and Queens until 3 a.m. 
"A Flash Flood Emergency is issued for exceedingly rare situations when a severe threat to human life and catastrophic damage from a flash flood is happening or will happen soon," the National Weather Service said. 
The New York office then added: "For clarity on the difference between a regular Flash Flood Warning and the Flash Flood Emergencies we've issued earlier tonight... This was an exceedingly rare event with 6-10" of rainfall falling over a several hour period. Take these warnings (and emergencies) seriously!!"
It also confirmed at least one tornado and video on social media showed homes reduced to rubble in Mullica Hill, a southern New Jersey county just outside Philadelphia. Another video showed water rushing through Newark Liberty International Airport.
The Port Authority of New York and New Jersey, which operates the airport, tweeted at 10:30 p.m. that all flights were suspended and all parking lots were closed due to severe flooding. All train service to the airport also was suspended.
The National Weather Service recorded 3.15 inches of rain in New York's Central Park in one hour, far surpassing the 1.94 inches that fell in one hour during Tropical Storm Henri on the night of Aug. 21, which was believed at the time to be the most ever recorded in the park.
New York's FDR Drive, a major artery on the east side of Manhattan, was underwater by late evening and subway stations and tracks became so flooded that the Metropolitan Transportation Authority suspended all service. Videos posted online showed subway riders standing on seats in cars filled with water.
Other videos showed vehicles submerged up to their windows on major roadways in and around the city and garbage floating down a street in Queens.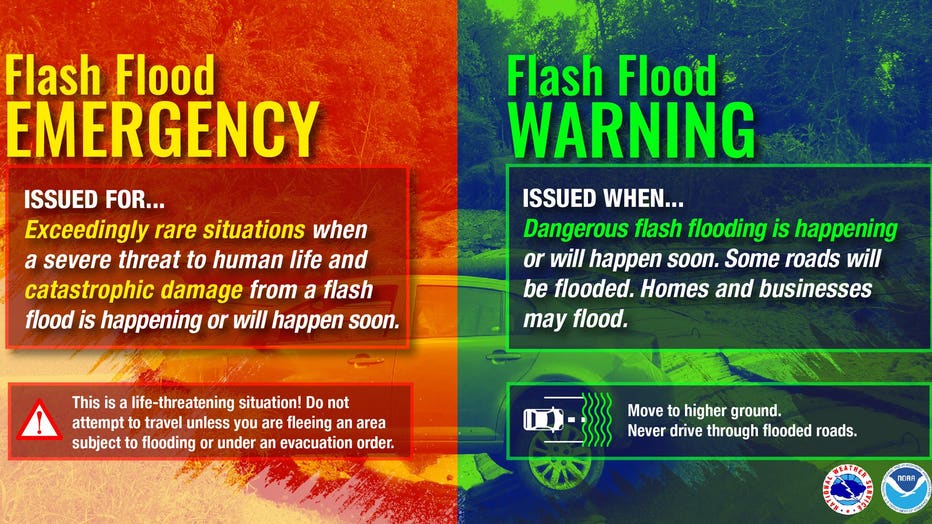 (NOAA National Weather Service)
At the U.S. Open tennis tournament in Queens, television footage showed fans who had watched matches under the Arthur Ashe Stadium's retractable roof slogging through several inches of water as they left.
Few parts of the region were untouched, and residents huddled inside and endured the anxiety brought on by tornado warnings that gradually moved north and east with the storm.
The roof collapsed at the Postal Service building in Kearny, New Jersey, with people inside, police Sgt. Chris Levchak said. Rescue crews were on scene into the night, with no immediate word on the number of people or severity of injuries.
The Metro-North Railroad is currently suspended due to the storm, along with the Long Island Rail Road, which has suspended service on all lines between Penn Station and Jamaica, and between Atlantic Terminal and Jamaica. The Port Washington branch is also suspended.
All NJ Transit rail service has been suspended due to the storm as well.
With The Associated Press.
Get breaking news alerts in the free FOX5NY News app | Sign up for FOX 5 email newsletters | Get the Fox 5 Weather App