14-year-old slashed on Brooklyn subway
NEW YORK - The New York City Police Department is looking for a man they say slashed a 14-year-old boy on a subway in the Bushwick section of Brooklyn.
It happened Tuesday around 3 p.m. inside the station located at Jefferson Street and Wyckoff Avenue.
According to police, the boy was on the southbound "L" train. As it pulled into the station, police say the man bumped into the victim as they both exited the train. 
Police say a verbal dispute led to a physical altercation, which is when the suspect allegedly slashed the victim in the arm with an orange handled box cutter before fleeing.
The boy sustained a laceration to his left arm. EMS transported him to NYC Health and Hospitals/Bellevue, where he was treated and released.
The suspect is described as a 25-year-old man with light complexion, around 5'7" tall, weighing 165 lbs., medium build and short dark hair.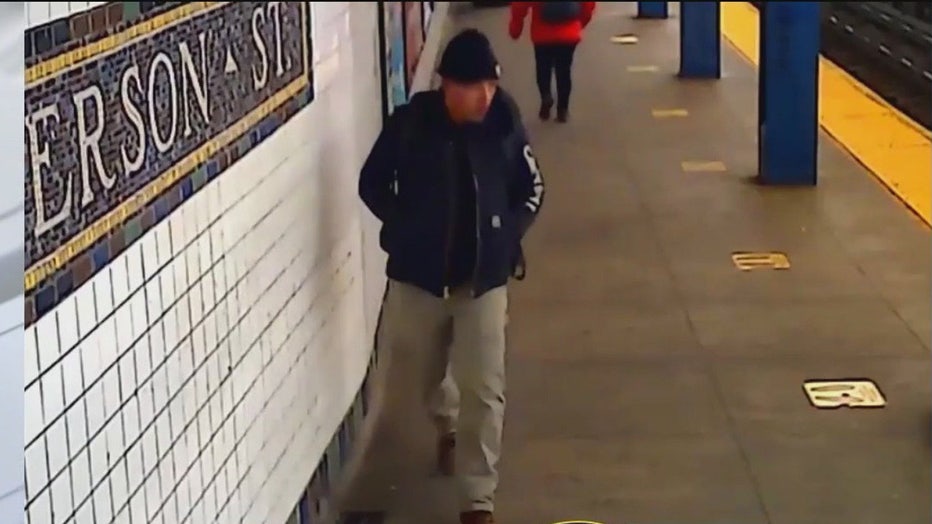 Police seek this man in connection to a slashing on a Brooklyn subway. (NYPD)
He was last seen wearing a dark-colored hooded jacket, a dark-colored knit cap, light colored pants and brown boots.
Anyone with information is asked to call the NYPD's Crime Stoppers Hotline at 1-800-577-TIPS (8477). The public can also submit their tips by logging onto the Crime Stoppers website.
Also in Bushwick, police released images earlier this week of the couple they say engaged in a sex act last month on a MTA bus in Bushwick.
The incident took place around 2:40 p.m. on Friday, Dec. 16, 2022 at a bus stop at Wyckoff Avenue and Myrtle Avenue.
According to police, a 13-year-old girl boarded a Q58 MTA bus and went to sit at the back of the bus. The girl then noticed a man and woman who were sitting in the seats across from her were performing a sex act in public view.
Police are asking for the public's assistance in identifying the couple to face public lewdness charges.
The couple got off the bus at the Palmetto Street and Wyckoff Avenue stop.
The man is described as having a light complexion, medium build, brown hair, and facial hair. He was last seen wearing a black winter jacket with a hood and black pants.
The woman is described as having a light complexion, medium build, and black hair. She was last seen wearing a black face mask, a black jacket, a black & white striped shirt, blue pants and carrying a brown handbag and a yellow scarf.