On eve of retirement, Bart Yasso reflects on being 'mayor of running'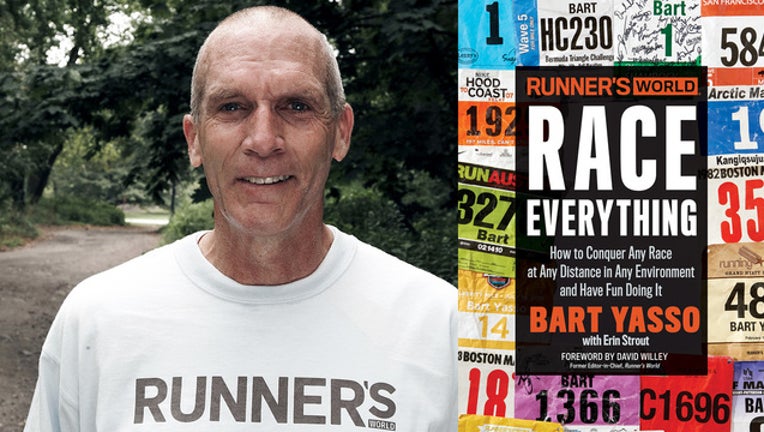 article
NEW YORK - For thousands of runners both elite and not, Bart Yasso epitomizes the heart and soul of the global running community. In 40-plus years, he has run thousands of footraces on all seven continents, matched some great athletes stride-for-stride, celebrated with champions, and shared in the joy of a hard-fought finish with the runner at the very back of the pack.
For the past 30 years, Yasso, 61, has worked for Runner's World magazine. In his role as the chief running officer (yes, that title is and is pretty bad-ass), Yasso travels most of the year to races and sporting events around the world representing Runner's World and, more importantly, making friends, who affectionately refer to him as the "mayor of running."
Age and several bouts with Lyme disease have curbed Yasso's speed but not his enthusiasm. But even as he gets ready to retire from Runner's World at the end of 2017, Yasso is still on the road promoting RW and his latest book, Runner's World Race Everything: How to Conquer Any Race at Any Distance in Any Environment and Have Fun Doing It (with Erin Strout, Rodale Books, 2017).
The ambitious book highlights his favorite races (including, of course, the New York City Marathon) and includes training tips and plans for everything from that small local 5K to the world's biggest ultramarathon, the Comrades Marathon in South Africa (an approximately 56-mile race of 20,000 runners). Yasso had wanted to run it since the 1980s. When opportunities to run it arose, health problems kept from the start line. Finally, in 2010, Yasso tackled the race and finished the course with 27 minutes to spare before the 12-hour cutoff.
Yasso meets so many people in his travels that you could forgive him for not remembering you. But the amazing thing is that he very often does, as when we recently spoke on the phone about his book and career. I mentioned that a year ago I came to the Runner's World Half and Festival in Bethlehem, Pa., to run all four races (which he helped design; Bethlehem is his hometown). He replied, "I know! ... You are awesome."
No, Bart, you are awesome.
Here is our conversation, edited for length and clarity.
You and coauthor Erin Strout have written a kind of hybrid book. It's a memoir but also a "how to" for runners wanting to tackle different races. What was the genesis?
YASSO: OK, here's this 21-year-old Bart who starts to run and he thinks he knows it all. He didn't know it all, obviously. But you know when you're 21, 22, you kind of think you know it all. And then there is this old Bart in his 60s ready to retire after 40 years of doing this stuff and 30 years at Runner's World. So Old Bart was teaching the Young Bart, "This is how you do it. This is what I learned over all these years."
I said this to myself every day: "When the gun goes off we all follow the same path to the finish line. But if there's 5,000 in the race, there's 5,000 different ways people got to that starting line." Everyone has a story and everyone has a journey. And I've been fortunate enough to experience a lot of runners' journeys. Going to races 30 years representing Runner's World [has] been a joy. I had to pick my favorite races, which is really hard to do because there's like 50 great races. So having Erin help me is just priceless to me. She understands that it's my voice. You have to work with an editor that understands what message you want to get out and then [helps] you get that message out.
Your title at Runner's World is "chief running officer," which sounds pretty awesome. And then you've had the unofficial title of "mayor of running." It sounds like a dream gig. During the 30 years of this dream gig, were there some hiccups along the way or some hassles?
YASSO: I have the best job in the world but it's the best job in the world if you're a runner. My job is pretty arduous. But I don't know if there were hiccups. I don't think I've done everything right. But obviously, I've done a lot of it right to get these titles, which I don't even know where the stuff starts. And then it's like wildfire—it spreads, everyone calls me the "mayor of running." Who first said that? I have no clue. But I take it as an honor and I like it.
What people don't know is the emotional side of my job. I meet people and they tell me, "I used to weigh 400 pounds. I was literally going to die if I didn't make a change." And here they are now getting ready to run a marathon. They picked this activity and it saved their lives—that's beyond priceless. I don't know why people come up to me and share their story. But it happens to me all the time and some of the stories are very emotional. There are some pretty heavy stories—people with children with severe disabilities and they use running to really keep them focused so they can be the best parent they can be. Or someone that loses a spouse. Or suicide—the people contemplating suicide and somehow turn to running and it saved their life. Man, wow.
I take a lot of those stories to the Runner's World office to our editorial team—"OK, I met this person, here's their contact information, here's what they've overcome just to get to the starting line." So it's really fun when those stories come to life, and right in front of my eyes.
It sounds like experiencing running all over the world is really just experiencing an infinite number of human stories—not just running stories.
YASSO: The human stories are what it's all about. I always say that running is the commonality but it's not about running in the big picture. I have this kid who wrote me letters all the time and he has a disability. He has an IQ of a 5-year-old even though he's 37 years old. He writes me these letters, which are hand-written and look like they're written by a 5-year-old. But he called me his running buddy. I met him and got him in the New York City Marathon and the kid is awesome. And he can run but he can't function in the world outside of when he's out there running. So stories like that fire me up and keep me going.
So with all the races that you've run, was there one that you that you didn't ever get to do?
YASSO: Comrades [Marathon in South Africa] was the one—and I ended up getting that do it. So I'm at peace my running. If I never do another race that's cool by me. I'm at peace with what I've accomplished.
What do you have planned for after you close up the mayor's office for the last time?
YASSO: What exactly I'm going to do I really don't know. December 31st is my official retirement. That's for real. I think, 'I don't want to work at all' and then I get all these offers to do a little bit of work. So I'm still sorting it all out. I'm still going to stay somewhat connected to the [running] community, there's no doubt about it. Just not at the level I have been for the past 30 years or so.
What are some things that you love about the New York running community and the New York City Marathon?
YASSO: There's nothing I dislike about New York. Running in the New York City Marathon is arduous just because of getting 50,000 people out to Staten Island, all that stuff logistically they have to do, but somehow they do it. And I just love that race.
I just think of one word the whole time I run New York: Diversity. The diversity of runners in the race—runners from 140 countries—and then of course physically seeing the diversity of the makeup of the City of New York. It's incredible. It's a cool experience.
The book has some advice about running the New York City Marathon. Can you highlight one piece to give the readers who are running on November 5?
YASSO: Between [Miles] 14 and 16. That is what I love about that race. You're running on the 59th Street Bridge, devoid of noise, it's so quiet, a beautiful view of the city. And then you come off the bridge and then there's total chaos. Crowds go crazy on First Avenue. And I always tell people, "Don't pick it up on First Avenue—it's only Mile 16 you still have 10 miles to go." But what happens is everybody picks it up so you don't know you picked it up. The crowd just moves you, you can't help it. And I was told the first time I ran back in 1982: "Don't pick it up at Mile 16" and I was doing my splits every mile and I picked it up and I tried not to pick it up. I mean it just it just happens.
But a mile before that when you're up on the 59th Street Bridge and there's no cars and there's no spectators and you just hear the breathing of the runners and the pitter-patter of feet. And you can look at the skyline of Manhattan.
Oh my God, it's a priceless view. And that is worth the entry fee right there.
###
Arun Kristian Das creates content, a.k.a. stories, for Fox5NY.com and related social media platforms. He has run more than a hundred races, mostly in the back of the pack. On November 5, 2017, he will try to run from the edge of Fort Wadsworth to just outside Sheep Meadow in his second New York City Marathon.