NYC winter 2023: How much snow, extreme weather could we see?
NEW YORK - What's in store for winter 2023-2024 in the NYC area? FOX 5 NY's Nick Gregory shares his winter weather outlook, including snow predictions and his long-range storm forecast.
Looking ahead to the next few months as winter arrives, many may be wondering if New York City will experience more weather extremes, with lots of snow and nor'easters. Or will it be a more routine winter with average snowfall? And, the question on everyone's mind, when will it first snow in New York in winter 2023?
We'll take a look at factors examined to make predictions and answer common questions for the 2023-2024 winter in New York City, New York State, New Jersey and Connecticut in the sections below. 
If you're impatient and need to know now without understanding the why, use the links below to jump between sections:
What is El Niño?
When choosing ingredients to make a long-range forecast, we need to look at weather patterns around the world. It's also important to look at what's happened in the past to see if we can apply that to the future.
One of the main ingredients is the El Niño-Southern Oscillation, OR ENSO. 
South American fishermen first noticed periods of unusually warm water in the Pacific Ocean back in the 1600s and gave it the name El Niño, or "little boy."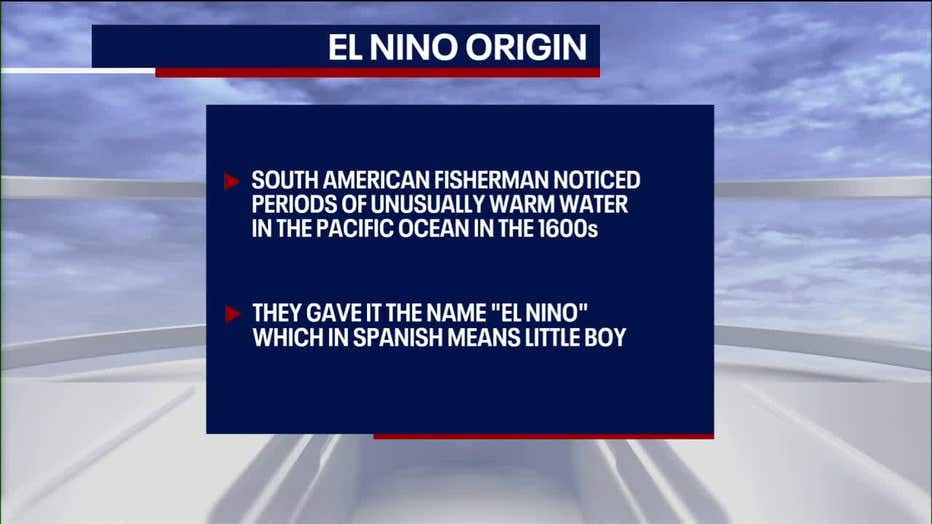 Graphic shows the origin of El Niño: In the 1600s, South American fisherman noticed periods of unusually warm water in the Pacific Ocean. They gave it the name "El Niño," which means little boy in Spanish.
In today's modern world, when above-average sea surface temperatures occur in the eastern Pacific Ocean, it's known as an El Niño phase. 
What is La Niña?
When sea surface temperatures are colder than average, the phase is called La Niña.
The last four winters were under the La Niña phase, but now, we've moved into an El Niño phase, which results in a stronger subtropical jet stream.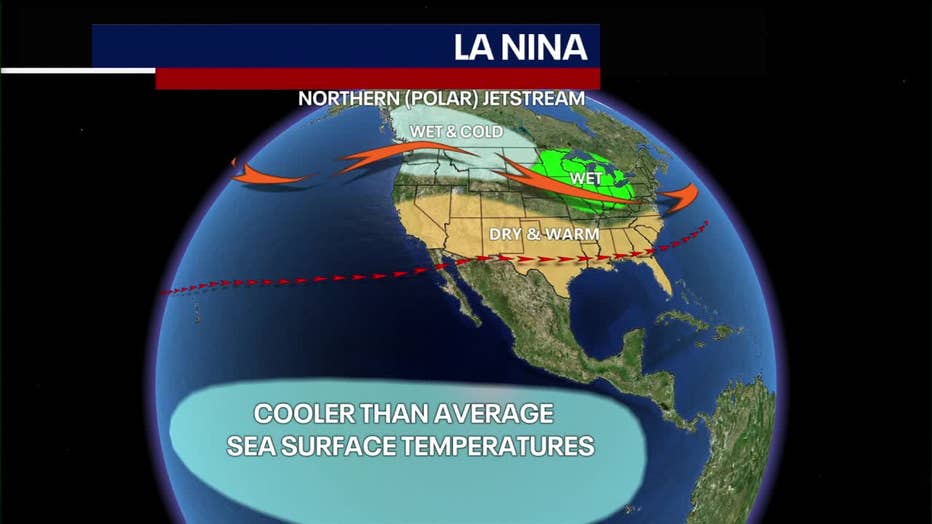 It can bring drier and warmer weather from the Northwest across to the Midwest, cool and damp conditions across southern states, and wetter-than-average conditions for the East Coast and the Northeast.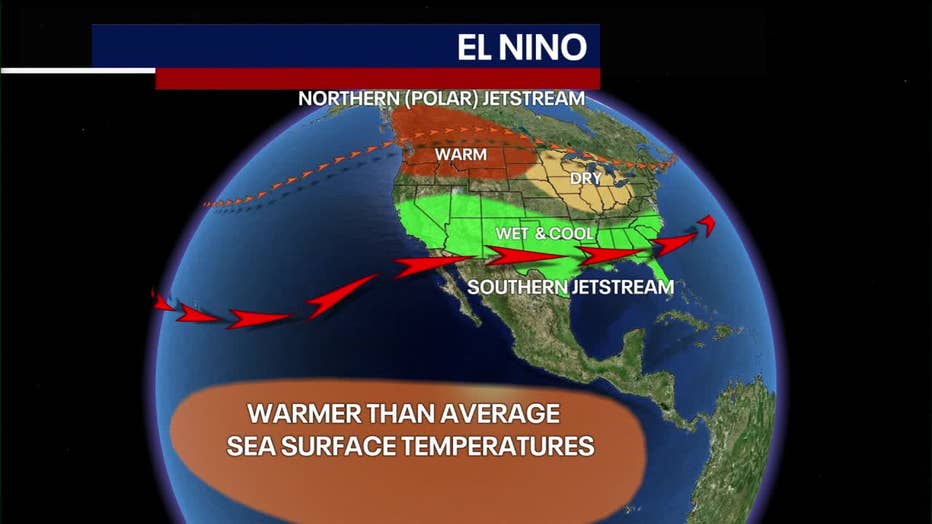 The upcoming winter will likely bring a strong El Niño.
Knowing that, let's look at what happened in the area during previous strong El Niño winters.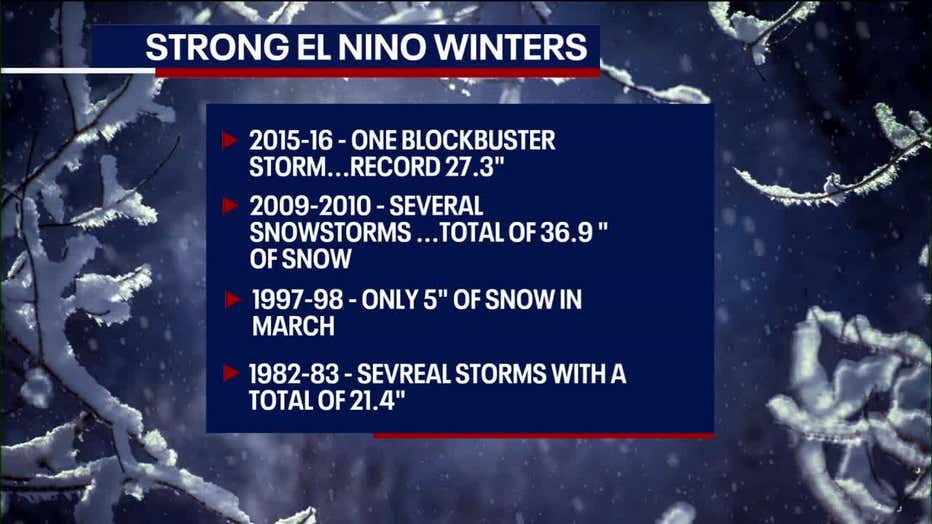 2015-16: One blockbuster snowstorm dropped a record 27.3 inches of snow in January, but not much snow fell the rest of the winter
2009-10: Several snowstorms resulted in a total of 36.9 inches of snow.
1997-98: Only 5 inches of snow fell in one snowstorm, which didn't happen until March.
1982-83: Several storms dropped a total of 21.4 inches for the winter.
The variability can be attributed to two other ingredients – the polar vortex and the NAO, or North Atlantic Oscillation. 
A northern polar vortex keeps the arctic air in Canada, while a fractured one brings cold air southward.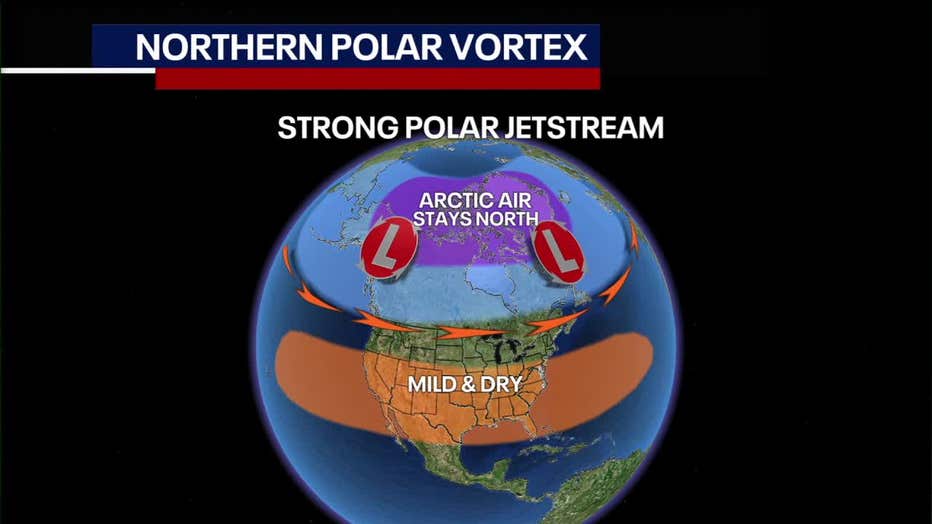 The NAO is a pressure difference across the Atlantic Ocean. 
The negative phase occurs with weak low and high pressure in the Eastern Atlantic, creating a block.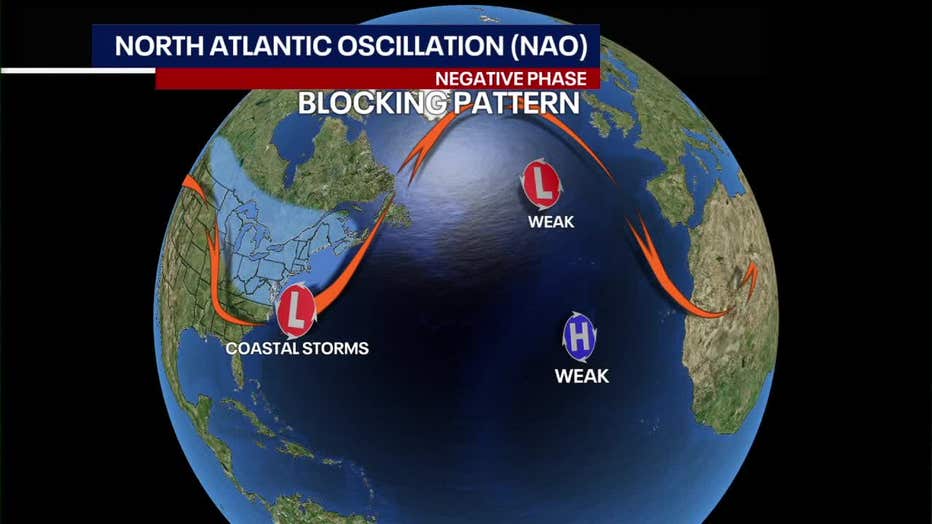 Colder air is forced southward, resulting in major East Coast snowstorms. 
The positive phase allows for a more northern jetstream, resulting in warmer conditions and little in the way of snowfall. 
The polar vortex and NAO can only be predicted accurately a few weeks in advance, but each phase can last for several weeks.
According to FOX 5 NY's Nick Gregory, with a strong El Niño expected, the U.S. will experience a warmer-than-average winter.
NOAA is forecasting above-average temperatures across most of the northern and central U.S., with near average temps across the south.
As for precipitation, higher than average amounts are expected across the south, also for the East Coast and northeastern states, and drier than average for the northern Rockies and Great Lakes.
How cold could it get in the NYC area? Will there be a nor'easter this winter?
For the Tri-State area of New York, New Jersey and Connecticut, it looks like temperatures will be above average for most of the winter, with not much cold or snow appearing from December through mid-January.
Historically, the first measurable snow (accumulation of one inch or more) tends to fall in the NYC area around Dec. 13. The earliest measurable snowfall was on October 29, 2011, when 2.9 inches fell days before Halloween.
Colder outbreaks won't really arrive until late January into February, which is when most of the snow will fall.
With a strong El Niño, there could be a few nor'easters, but many will likely end up being borderline rain/snow events for New York City and coastal locations. 
This is where we'll see what role the polar vortex and NAO will play in bringing down cold air. With the right timing, one or more of the coastal storms could dump heavy snow.
Anywhere from 16 to 24 inches of snow could fall this winter along New York City and the coast. This is a bit below the average 28 inches.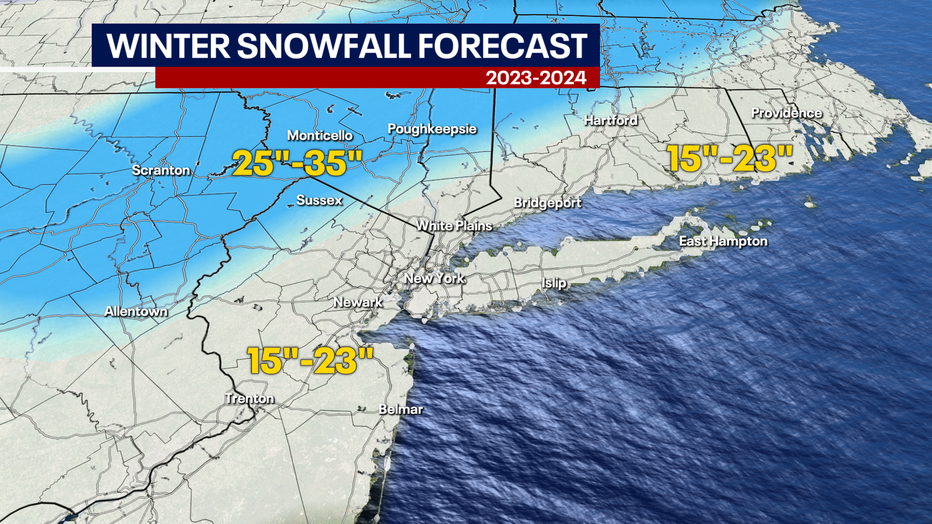 Map shows the snowfall total forecast for NYC, NY, NJ and CT for winter 2023-24. (FOX 5 NY)
The northern and western suburbs may end up with 25 to 45 inches of snow.  Lesser amounts may occur further north.
Want to learn more about what we can expect this winter? Tune in to "Weather Extremes," a FOX 5 NY special, airing Thanksgiving Day at 9 a.m., 5:30 p.m. and 10:30 p.m.