Uptick in marijuana-related ER visits among kids causes concern for New York parents
Emergency rooms in parts of New York have seen an uptick in visits from school-aged kids who have gotten sick after ingesting or inhaling synthetic marijuana. 
"That's terrifying because you want to send your kids to school thinking they are going to be safe and they come back with more issues than they go in with," one Westchester County mother told FOX 5 New York. 
The rise in ER visits for these types of cases comes after New York legalized the sale of recreational marijuana in March 2021. 
RELATED: More kids being sickened by marijuana edibles at home: Study 
"We have seen an increase in marijuana consumption and the presentations in the emergency department are reflecting that all of these compounds can alter brain chemistry and affect other organs as well," Dr. Jamil Rizqalla, associate medical director of the emergency medicine department at Montefiore Nyack Hospital, told FOX 5. 
Lt. Dean Politopoulos, public information officer with the Yonkers Police Department, said his officers have seen a particular uptick of kids getting their hands on weed gummies.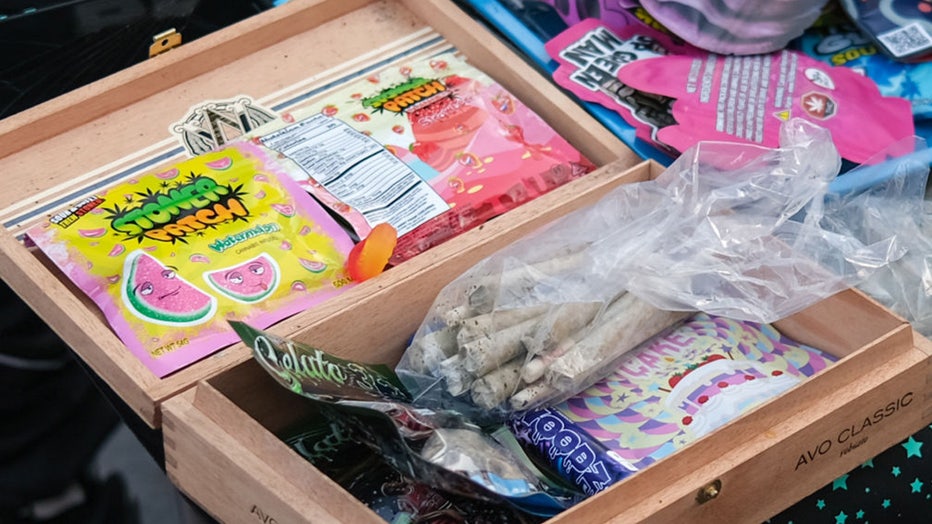 FILE - Pre rolled joints and gummy infused candy are sold on 4/20 on World Weed Day in Washington Square Park on April 20, 2022 in New York City.  (Alexi Rosenfeld/Getty Images)
Weed gummies are edible marijuana products that are infused with tetrahydrocannabinol, better known as THC, the psychoactive ingredient in marijuana, according to the Children's Hospital of Orange County in California. 
"THC is what gives users a sense of a 'high,'" their website reads. 
This type of cannabis product can come in many forms such as chocolate bars, lollipops, fudge, popcorn and even ice cream. 
"The truth is, a lot of this stuff we don't know what it's manufactured with, what it's laced with, tainted with," Politopoulos added. 
RELATED: Flavored cannabis marketing is criticized for targeting kids
Both the police and emergency room doctors are urging parents to warn their children to be careful. 
Whether it's vaping or consuming edibles or smoking marijuana, the experts say overdoing it can damage a young person's developing brain.