Donald Trump spared mug shot, handcuffs after turning himself in on felony charges
NEW YORK - Donald Trump turned himself in Tuesday after being indicted on charges related to hush money paid during his 2016 presidential campaign. 
Trump was not placed in handcuffs or subjected to a booking photo. It was concluded that there was no reason to subject the former president to handcuffs or a mug shot. Trump, however, was fingerprinted. 
He was informed he has been charged with 34 felony counts for falsifying business records in the first degree. Trump pleaded not guilty. Trump was inside a Lower Manhattan courthouse for about an hour, sitting before a judge to be arraigned. No cameras were allowed inside during the arraignment, though some media were allowed to take photographs in the brief moments before the proceedings began.
The purpose of the mug shot is to allow law enforcement to have a photographic record of all arrested individual. The reason for handcuffing defendants is to prevent escape, prevent the person from injuring others, or to maintain a quiet and peaceable trial. Choosing to restrain a defendant is within the discretion of the trial court in most jurisdictions.
RELATED: Trump to speak from Mar-a-Lago after arraignment Tuesday
Last month, Trump's now-estranged lawyer, Michael Cohen, who is at the center of the case against Trump told MSNBC that he expected Trump would "absolutely" be fingerprinted and photographed if he was arrested.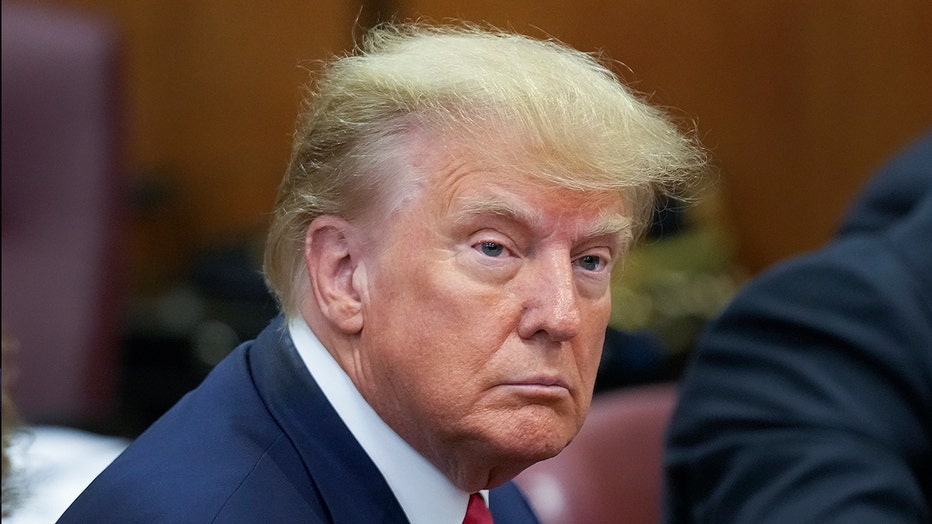 Former U.S. President Donald Trump sits at the defense table with his defense team in a Manhattan court on April 4, 2023 in New York City. Trump was arraigned during his first court appearance today following an indictment by a grand jury that heard
On Good Day New York, a criminal defense attorney and former prosecutor Arthur Aidala agreed.
"He won't do a 'perp walk' where he's going to be in handcuffs, but he's got to go into the building, he's got to go somewhere in the D.A.'s office, he's got to be fingerprinted, there'll be a mug shot of him, he's got to stand in front of a Supreme Court judge, plead 'not guilty' to an indictment, and then walk out," Aidala predicted.
Trump mug shot T-shirt
The Trump campaign sent an email to supporters near the time his arraignment was scheduled to begin, offering a "free" T-shirt with a $47 donation that featured a fake mug shot image of Trump, today's date and the words "NOT GUILTY," according to the Huffington Post. 
The shirt also features the numbers 45 and 47, representing his first presidential term and a second one, if he were to win in 2024.
False photos circulate on social media
Highly detailed, sensational images have inundated Twitter and other platforms in recent weeks, amid news that Trump was indicted and faces criminal charges.
But many of the visuals are not remotely real. The images — and scores of variations littering social media — were produced using increasingly sophisticated and widely accessible image generators powered by artificial intelligence.
RELATED: These Trump arrest photos are fakes, but they're everywhere
Misinformation experts warn the images are harbingers of a new reality: waves of fake photos and videos flooding social media after major news events and further muddying fact and fiction at crucial times for society.
"It does add noise during crisis events. It also increases the cynicism level," said Jevin West, a professor at the University of Washington in Seattle who focuses on the spread of misinformation. "You start to lose trust in the system and the information that you are getting."
Trump's next court date revealed
Trump is scheduled to leave Manhattan following his arraignment and head back to Florida, where he's scheduled a 2024 presidential campaign rally later in the evening at his Mar-a-Lago club. 
At the arraignment, dates were set for the next hearing and deadlines for discovery, in which the district attorney's office must turn over all its information to Trump's lawyers, and motions, which include any requests to shift the venue or dismiss the case outright. That process usually takes months.
Trump's legal team hasn't commented on their next steps in the investigation, though it's common for defense attorneys to ask for a venue change or file a motion to dismiss the case as premature.
Trump is due in court again on Dec. 4, 2023. 
Meanwhile, Trump is facing several other legal investigations from Atlanta to Washington that are pressing forward.
This story was reported from Los Angeles.